Covid-19 Response Fund: One Year On
Final allocation of funds distributed to partner organisations
Of all the milestones in the life-span of Common Goal, April saw arguably the most solemn of the movement to date.
April 8 marked a year since Common Goal launched its Covid-19 Response Fund — an effort put forth by the movement to support vulnerable communities in the midst of the pandemic.
It also marked the third and final round of funding allocation — which saw a further €220,742 shared out among 24 partners and football-based community organisations.
While it may have been another reminder of the difficulties faced over the past year, the milestone also proved what can be achieved by a united response from the professional football industry in support of the communities that make it thrive.
THIRD AND FINAL ROUND OF FUNDS ALLOCATED
The third and final round of funds have been allocated across 16 different countries in five different regions in the world: Africa, Asia-Pacific, North America and the Caribbean, Europe, and Latin-America.
Each of the organisations that received funds use football as a tool to help improve the lives of young people in their communities; from empowering young girls in India to live independently amid the pressures of forced marriages at the OSCAR Foundation, or helping to connect homeless young people and adults to jobs and education opportunities throughout the US with Street Soccer USA.
All 24 organisations represent locations in which the virus has exacerbated existing inequalities and for a number of these communities, new issues have arisen, including: lack of access to sanitation, hygiene supplies, social isolation, food scarcity, and health services.
Over the past year organisations have been tackling these problems through food and hygiene supply handouts, home visits, Covid-19 education seminars, funding and sponsorship of those living in extreme poverty due to the pandemic.
A lack of access to educational tools and facilities has meant young people are being deprived of the right to develop socially and academically. Likewise, financial insecurity, domestic violence, and poverty faced have proliferated due to the virus.
Many organisations, like Soccer Without Borders in Nicaragua have offered SMS services, online counselling and educational classes throughout these unprecedented times, becoming an integral part in the lives of many within their communities this past year; but have been placed under great financial strain in the process.
IMPACT OF ROUND TWO
In October, we announced that the second distribution of funds from the Covid-19 Response Fund was initiated, bringing the total number of community organisations reached to 37, across 27 different countries.
Round two of funding saw €52,188 shared across ten football-based community organisations in nine countries with its impact felt on the ground.
"We have been able to continue our holistic programme of education, sport, nutrition, and healthcare to make sure marginalised youth in Phnom Penh don't get left behind as a result of the pandemic," said Vicheka Chourp, Country Manager at Indochina Starfish Foundation (ISF) in Cambodia.
In normal times, ISF's goal is to help children living in extreme poverty to build a brighter future, where they have access to quality education, healthcare and sport.
Growing unemployment rates as a result of Covid-19 have forced many ISF families further into poverty, with 90% losing over half of their earnings in the early stages of the pandemic, and a third losing all sources of income.
With ISF's own schools closed, students no longer had access to regular school meals and the ongoing economic impact of Covid-19 significantly increased the risk of child hunger and malnutrition.
Support from the Common Goal Covid-19 Response Fund enabled ISF to provide health, education, and livelihood support to 553 families in their Education Programme who live in 21 urban-poor areas of Phnom Penh, reaching approximately 3,155 beneficiaries.
Furthermore, 7,510 monthly food parcels with an additional 692 packages were provided to families living in hardship, while 214 students received ongoing catch-up education, and 432 students received state school support through a variety of face-to-face, virtual, and remote learning activities.
A number of communities have also benefited from the installation of medical desks, testing stations and quarantine locations, keeping them as safe as possible during the pandemic.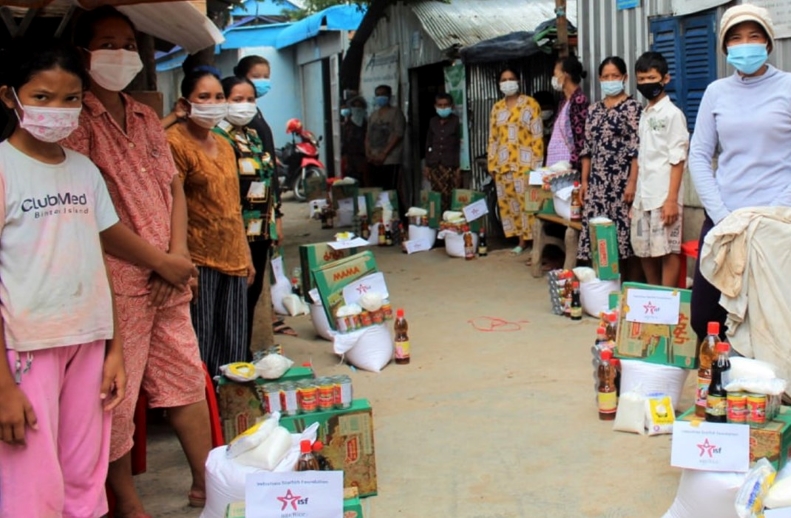 In Kenya, the response fund ensured that Vijana Amani Pamoja (VAP) were greatly assisted in the distribution of sanitation and hygiene supplies (soap, hand-sanitisers, face masks).
The organisation reported the distribution of 124 mini hand washing containers to the families of their programme beneficiaries and the provision of 1000 litres of liquid soap to those in their community without access to clean sanitation during these times.
The fund has also helped provide ongoing educational activities through online-learning and activities to ensure young participants can keep fit and active during these troubled times.
Fundación Educere in Chile reported that more than 50% of the children, adolescents and young people with whom they work were able to advance in their educational trajectory and stay in school despite the series of socioeconomic and health difficulties generated and maintained by the Covid-19 pandemic.
Football Foundation in South Africa found that one of their biggest concerns during the pandemic has been the food security of children.
The funding assisted them in providing soup kitchens for the young people in their programmes and their families, ensuring a nutritious, daily meal to grow and stay healthy as well as family food parcels for when family members contracted Covid-19 and had to isolate.
TOTAL FUNDING OVERVIEW
Through a collective effort by Common Goal members, ranging from football players to football industry leaders, and beyond the football industry itself, the movement managed to raise and distribute a total of €499,590.
61 Common Goal partner organisations received funding, reaching 35 countries, and affecting hundreds of communities around the world.
The first round of funds were distributed in May of 2020, with €226,660 reaching 27 Common Goal football-based partner organisations across 22 countries.
Fundraising efforts were bolstered by a number of activities through which Common Goal, in collaboration with its members and partners, called for collaboration, solidarity and individual responsibility from the world of football and the wider global community. 
After the announcement of the Response Fund's launch, it was followed by the first two episodes of Common Goal's first ever Live Match series. 
Hosted by Juan Mata alongside athletes such as Mats Hummels, Pau Gasol, Amanda Sampedro, Serge Gnabry, alongside community organisations, and healthcare professionals working on the front line, together they helped raise awareness on how football can help support vulnerable communities around the world in their response to coronavirus.
UEFA Foundation for Children also wasted little time in offering institutional support.
With less than 24 hours passing after the launch of the Response Fund the organisation sent out a clear message of solidarity within the global football community.
As part of its own annual 'Match for Solidarity' fundraising event, the foundation pledged 1% of its annual project budget to the COVID-19 Response Fund.
Further support arrived in the form of the Danone Nations Cup — the world's biggest football tournament for young people aged 10-12.
Leading international event organiser World Football Summit also pledged 50% of the proceeds from their Live Summit in November to the fund.
Multiple Common Goal members also selected the Response Fund as where they would pledge their 1% over the last year, including Chelsea striker Timo Werner, Danish football Club FC Nordsjælland and Everton star Izzy Christiansen among many others.
Organisations supported by the Common Goal COVID-19 Response Fund:
America Scores, Angaza, Asociación Civil Andar, Asociación Civil Gurises Unidos, Asociación Civil Los Pioneros, Associação Cristã de Moços do Rio Grande do Sul (ACM), Bauleni United, Sports Academy (BUSA), Carolina for Kibera, Centre des Jeunes pour la Paix- Grands Lacs (CJP), Centro de Educación y Desarrollo Comunitario (CEDEC), Childreach Nepal, CHoG - CHAMPIONS ohne GRENZEN e.V., Delta Cultura Cabo Verde, Enabling Leadership - Just for Kicks, Football for All in Vietnam (FFAV), Football to Develop Destitute (FODEDE), Football United, Football/Grootbos Foundation, Fundação Esportiva e Educacional Pró Criança e Adolescente (EPROCAD), Fundación de las Américas para el Desarrollo (FUDELA), Fundación Educere, FundLife International, Fútbol Más (Mexico), Future Stars Academy, GOALS Haiti, Grupo Desportivo de Manica (GDM), Horn of Africa Development Initiative (HODI), Indochina Starfish Foundation, Instituto Fazer Acontecer (IFA), Instituto Formação, Jambo Bukoba, League of Tolerance (LOFT), love.fútbol, Moving the Goalposts Kilifi, Oasis (former South African Homeless Street Soccer), OSCAR Foundation, Palestine: Sports for Life (PS4L), Pasión Petare - Amigos del Deportivo Petare, Project GOAL, Proyecto Cantera, Pure Game, Servicios de Educación y Promoción Juvenil (SEPROJOVEN), Single Leg Amputee Sports Association (SLASA), Soccer in the Streets, Soccer without Borders (Nicaragua), Society Empowerment Project (SEP), South East District Youth Empowerment Association (SEDYEA), Sport - The Bridge, Sport in Action, Starfinder Foundation, Street Soccer USA, The Goal, Tiempo de Juego, training4Changes, United Action for Children (UAC), United Through Sport, Vijana Amani Pamoja (VAP), Watoto Wasoka, Youth Environment Service (YES), Youth Football Club Rurka Kalan, Yuwa.