For My City
"Football has helped me to become a good leader, a follower, and a responsible citizen"
My name is Bernard Basas and I am a young leader at FundLife in the Philippines.
Like many of the young people that walk through FundLife's doors for the first time, when I arrived, I was shy, had low self-confidence, and wasn't very good at communicating with others.
I didn't have a lot of friends and now, in hindsight, I see that these issues were really holding me back.
I decided to join FundLife for this very reason — but I had no idea the level of impact it would have on my life and it didn't take long for it to begin to feel like a second home
Football has transformed me from a shy, awkward teen, into a valued and active member of my community.
And when Covid-19 came along, I knew that we would have to step up for the children and elderly in our corner of Tacloban City.
Initially I arrived as a player, where on the football pitch I learned lessons that I'll carry long after I hang up my boots.
Teamwork, discipline, perseverance, goal setting, handling success and failure, time management and keeping fit — all of these things I use when I work, live and interact with other people in "real" life.
But as fun as I found the playing on the pitch – I didn't find my real calling until I worked through the different programmes at FundLife to eventually become a coach.
Through coaching I have found true fulfilment.
Football has taught me to be a good leader, a follower and a responsible citizen. Each day I try to teach the young kids that take part in training sessions the importance of being all of these things and having the courage to face problems and resolve them in a mature way.
Just like how I learned to show respect to my elders and seniors, the kids that follow in my footsteps learn the same. Everything we coach here involves skills we all need in our daily lives and together the kids and I have had some great times that I'll never forget.
In one way, my proudest moment is when my players won a football tournament, despite only having five months of training and no prior football experience. It was amazing to see how quickly these players learned and incredible that they managed to win.
What makes me most proud, is seeing the happy and smiling faces of the children that we're teaching.
Watching them improve, witnessing the change they make, not just being a kid but becoming more confident in the person that they are, that is why I do this.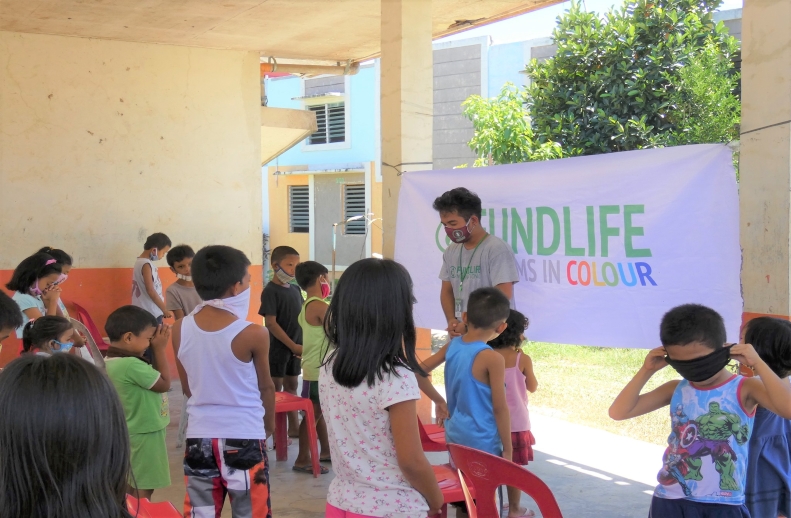 Like the rest of the world, the Coronavirus has hit my city hard, and we have had to adjust our training sessions and programmes accordingly.
Some became virtual learning, as we tried to get approval from local governments to set up community based sessions to talk with kids about Covid-19.
I am a mentor and coach at the Small Group Community Based Sessions. In this programme we are only able to engage with young people in low-risk areas. Though it's tough it's all we can do at the moment.
During these sessions we talk about important topics concerning Covid-19 but I also try to continue with the topics we were educating the children on before the pandemic. Topics like nutrition, gender equality, safe spaces, abuse and things of that nature.
We work in small groups, making sure everything is socially distanced and corona proof, starting the sessions with an educational topic and ending it with fun activities combined with football to address the topics in a fun way.
These sessions give the young participants some time to relax from all the stress at home and just play, as children should.
For me personally, I have found the lockdown a serious obstruction to my studies. My college course is quite technical, and very practical based, so the online lessons have been pretty difficult to follow.
I do not have proper internet connectivity and data available to me all the time which makes it harder to learn and follow lessons.
But for others it has been much worse. Some were without any source of income, and many to this day have nothing.
With FundLife I have spent many of the days delivering food packs and hygiene essentials to the children and people in our community who need it.
We are having to show perseverance — one of the many things I have learned during my time here.
When I reflect on my personal journey I am really thankful for all I have gained here.
Football has influenced my life a lot. It has helped me gain friends, good relationships with others and made me who I am today. It is my passion.
Attending FundLife sessions helped me a lot. It helped me to become a leader in my community, it gave me a job, and now that I have started my own family I could not be more grateful for my role here.
I can't even imagine who I was before, it has completely changed my attitude and given me resilience, leadership qualities, respect, and patience.
It has given me a better version of life, and brought me from nothing to something.
Thanks to them I am more determined than ever to help out my city during the ongoing crisis.