Common Goal Covid-19 Response Fund
The Impact So Far
This year was the year the coronavirus pandemic brought the world as we know it to a halt. And when it comes to the negative impacts the global crisis has had upon our society, it's difficult to find any facet of what the world once was as being unaffected by the havoc it's wreaked.
In an effort to support those vulnerable communities, where Covid-19 has exacerbated existing inequalities, Common Goal launched its Covid-19 Response Fund to provide additional resources to the football-based community organisations Common Goal has teamed up over the years as they sought to address the onset of challenges.
Since its launch in April 2020, to date €383,191 has been raised from the collective effort, spanning the entire football industry.
The first round of funds were distributed around the world in May, enabling organisations to deliver essential support services in both direct and indirect response to the coronavirus pandemic; from helping support the provision of essential frontline health services, to food distribution, and securing long-term support to young people in the aftermath of the crisis.
In October, the second distribution of funds of the Covid-19 Response Fund was initiated, bringing the total number of community organisations reached to 37, across 27 different countries.
With no sign of the virus slowing down anytime soon, and the vaccine's rollout also seeming to be delivered to more developed nations, Common Goal will continue raising funds. The next allocation is planned for the early months of 2021.
The challenges these communities face
Around the world, the virus has had its most devastating impact in deprived areas across the developing world, where underserved communities are seeing existing challenges amplified.
The issues they face are multi-faceted in nature and can manifest as lack of access to sanitation, hygiene supplies, social isolation, food scarcity, and health services.
In many of these areas there was little or no access to information on how to react to the crisis. In others, isolation of young people in underserved communities has arisen due to a halt in services that once provided a sense of belonging and emotional support.
A lack of access to educational tools and facilities has also meant young people are being deprived of the right to develop socially and academically. Likewise, financial insecurity, domestic violence, and poverty faced have proliferated due to the virus.
How the fund is tackling coronavirus
Common Goal works with more than 140 football-based community organisations operating in deprived communities that are uniquely positioned to deliver essential support services needed to help combat the effects of the Coronavirus pandemic.
These organisations directly impact more than 200 communities, across 90 countries, with a global reach of over two million people.
Thus far, the COVID-19 response fund has enabled the distribution of sanitation and hygiene supplies (soap, hand-sanitisers, face masks), and the installation of handwashing stations across many of our network organisations. The fund has been responsible for food and cash distribution keeping many organisations afloat under extreme financial duress.
A number of communities have also benefited from the installation of medical desks, testing stations and quarantine locations, keeping them as safe as possible during these times.
The fund has also helped provide ongoing educational activities through online-learning and activities to ensure young participants can keep fit and active during these troubled times.
"The help was much needed. Together we can face all problems — and football is a language we all share! Let's not stop playing!"
In 2012, CHAMPIONS ohne GRENZEN (CHoG) was founded to provide support for new arrivals and refugees to Germany, as well as establish a welcoming and lasting culture of diversity.
Refugees are experiencing the effects of the crisis in their day-to-day lives and many official and civil-society structures and contact points are currently unavailable.
They lack advice on local guidelines and have issues with their benefits or social security as well as employment and family situations.
For many, social isolation, boredom, the lack of exercise is likely to have a detrimental effect on their physical and mental well-being and concerns have been raised about refugees' abilities to protect themselves adequately against the virus in mass asylum centres with shared amenities.
With the support of the COVID-19 Response Fund Champions Ohne Grenzen has been able to conduct online training sessions during lockdown, provided phone and online counselling services and delivered care parcels and letters to its women's team, a demographic who have suffered greatly due to the lockdown restrictions.
The football based service has provided homework and language learning support and lent IT equipment to ensure participants were able to complete their studies online.
"It is our greatest wish that the support continues to put all Sports for Development organisations back on track and enable them to face the future properly."
Over one million children live on the streets in Cameroon. This is mostly due to the economic downturn that took place in the region in the late 80s and early 90s. When families struggle, the children in Cameroon suffer first, especially children in underserved and marginalised communities. United Action for Children was founded to keep young people off of the streets.
The Coronavirus has presented families throughout Cameroon with many issues; with many homes having no access to running water and soap — making it difficult to practise regular hand washing as a key prevention measure.
Also prevalent has been a lack of information, protective gear, and basic necessities, such as medicine, food, and water.
As a result United Action for Children has managed to distribute face masks to more than 1,500 hundred people and ensured 600 children can continue to learn at home during lockdown through the provision of learning and reading materials.
3,000 people were reached through door-to-door awareness raising, SMS messaging and small socially distanced group meetings orchestrated by the organisation and over 1,700 people benefitted from the mobile hand washing stations.
"Our biggest achievement during the COVID-19 pandemic relates to the various initiatives restoring comfort to people's lives."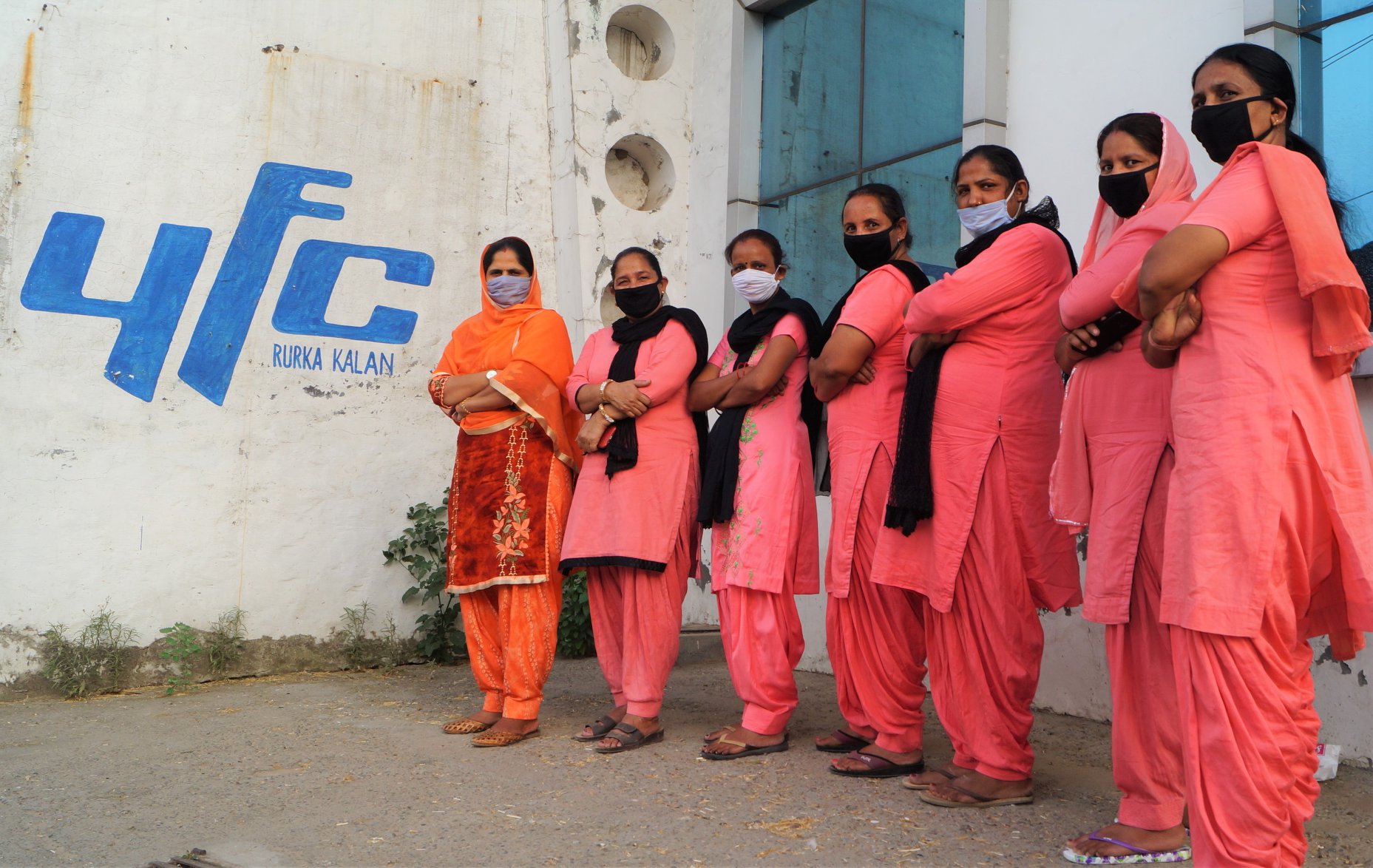 Normally, YFC Rurka Kalan's goal is to empower underprivileged children and young people, guiding them to create positive lifestyles.
The sports-based programmes teach young people a wide range of skills useful in becoming independent leaders and adults.
In COVID-19 times, many issues have arisen; from lack of menstrual health products for girls and women and lack of appropriate virus preventative tools and measures, to a lack of mental relief for families because of being locked up in their homes and an increase of domestic violence during lockdown.
To date, YFC has been able to distribute food kits to 1,700 hundred families, set-up quarantine rooms around the village of Rurka Kalan and distributed 20,000 face masks within the community to those who could no longer afford them.
YFC has also helped to raise awareness by creating and putting up posters on health guidelines in shops, clinics and other places around the area as well as remunerating women for stitching face masks for distribution within the community.
For more information on how you can contribute click here.