November Highlights
Creating global change through football during World Cup season
As the eight Common Goal members headed to the World Cup this month, stakeholders from across the game showed the other beautiful side of football by coming together to help advance the Global Goals.
From multiple new star additions joining the movement such as Pervis Estupiñán to teaming up with FOX Sports and much more, it has been an action-packed month at Common Goal.
New Members
We kicked off November by welcoming Brentford FC's crafty winger Sergi Canós to the movement. Sergi decided to direct his 1% to the communities which helped make him the player he is and even took a trip to Colombianitos, a Colombian football for good organisation, fresh after joining the movement.
"I think it is a big thing that we all, as footballers are united and we do things to help our communities," said Sergi.
More on Sergi joininig the movement here.
The momentum kept up as Aleksa Pejic, Reena Wichmann and Tom Iorpenda all took the 1% pledge in the year's penultimate month.
Last but definitely not least, Ecuador and Brighton and Hove Albion defender Pervis Estupiñán used the moment before he played in the World Cup's opening match to shed light on how football can promote social change.
"It's time to give back to my country everything it has given me," said Pervis.
More on Pervis joining the movement.
KICKFAIR x Willi Orban
Prior to Willi Orban's Champions League match with Shakhtar Donetsk, he met up with young leaders from KICKFAIR who raised over 11,500 euros for Team Up For Ukraine.
 Dani Olmo on how Croatia and football have shaped him
Dani Olmo documented how his transfer to Dinamo Zagreb shaped him as a person and led him  to allocate his 1% to the Croatia-based organisation Cross Cultures that aims to bridge communities affected by war.
"Let's be clear, I didn't join Dinamo to profoundly change as a person – I was a kid, I wanted to play, I joined for football," said Dani.
"It just so happens that the experience became something deeper. The place came to mean more than I ever imagined."
Dani's full piece here.

Natalia Gaitan X Magaly Torres
Despite Natalia Gaitán and Magaly Torres growing up being told the sport they love is a 'man's game,' they both have put football at the centre of their lives. The two grew up in different countries, Natalia in Colombia and Magaly in Mexico, but their efforts to use football to drive gender equality across Latin America brought their paths together.
Over the summer at Semana Gol y Paz, a SOMOS Equidad festival organised by Fundación Selección Colombia and Fútbol Con Corazón Colombia, Natalia and Magaly linked up. The two shared stories about the obstacles they faced playing football growing up and discussed how SOMOS Equidad is breaking down barriers for girls across the region.

FOX Sports and Common Goal Team up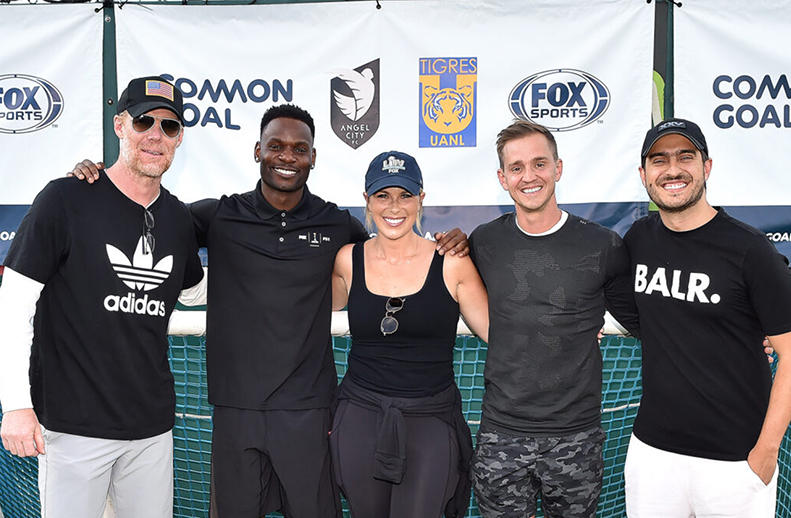 FOX Sports teamed up with Common Goal for the 2022, 2023, and 2026 World Cups to help make football more diverse, inclusive, and accessible. FOX Sports' commitment made them the first national FIFA World Cup broadcaster to dedicate 1% of their World Cup airtime to the Common Goal movement.

"We are thrilled to join the Common Goal movement and utilise our wide-reaching platform along with the power of soccer to drive positive social change," said Terri Hines, Executive Vice President, Communications, FOX Sports.
In addition to dedicating at least 1% of airtime to the Common Goal movement, FOX Sports will support and fund community football festivals for young people.
Speaking on the announcement, Common Goal Co-founder Jürgen Griesbeck commented, "There's no stopping this positive momentum, and I'm confident that FOX Sports becoming part of Common Goal will inspire other soccer stakeholders to join the movement."
Full article here.