If She Can See It, She Can Be It
Moving the Goalposts and Soccer Without Borders share Collective Impact award for battling gender inequalities
More good news from the Beyond Sport Collective Impact Awards as Moving the Goalposts Kilifi and Soccer Without Borders Uganda were announced as winners for their work in reducing gender inequalities through football-based education.
The two African football-based community organisations were named the recipients of the 2020 Sport for Gender Equality Collective Impact Award by Beyond Sport, a non-profit that celebrates, supports, and raises awareness and funding for organisations using sport to help make the UN Sustainable Development Goals a reality.
The award will see both the Common Goal partner organisations share a prize of £225,000 with two other organisations on the continent (Sport-Aid Development Trust and Pamoja Initiative), in order to allow them to work together during the year to advance United Nations Global Goal 5: Gender Equality.
In addition to grant funding, Beyond Sport stated they will present the four prize winners with the "business support tools and strategic guidance to support their collective efforts to accelerate sustainable social change through sport."
"It's a very huge opportunity for us," said senior programme coordinator of Soccer Without Borders Uganda, Catherine 'Mina' Kabanyana speaking to Beyond Sport.
"In the past two years, we have been building on getting gender equality on the pitch, on the side-lines and in the organisation.
"Football is a good tool for young women because football teaches a lot of things. It's not all about passing around the ball. Football teaches decision-making, it teaches teamwork, it builds the confidence of these young women, and they can carry that confidence into other aspects of life, which empowers them.
"It's very important to have role models, to have coaches these girls can look up to. It doesn't only take cones, bibs, and a ball to get girls on the pitch. They need to be able to see someone that they look up to.
"We have this saying that says, if she can see it, she can be it. The issue with our society is we don't have role models that these girls can see that it's possible to play soccer."
Soccer Without Borders Uganda has trained over 60 female coaches throughout Uganda through its Women Take the Lead series, and offers daily football, literacy, and life-skills classes to over 400 refugee children each week, over 40% of whom are girls. By comparison, according to FIFA, just 3% of football players on the African continent are girls.
However, Soccer Without Borders has already sought to change this reality through its East Africa Global Goal 5 Accelerator in collaboration with Common Goal, partnering with other football-based community organisations from Kenya, Tanzania, Ethiopa, Congo – all coming together in Uganda to strategize on bringing girls to the pitch.
Executive Director of Moving the Goalposts Dorcas Amakobe was likewise honoured to accept the award on behalf of her organisation and equally excited at the prospect of working together in collaboration with the other winners.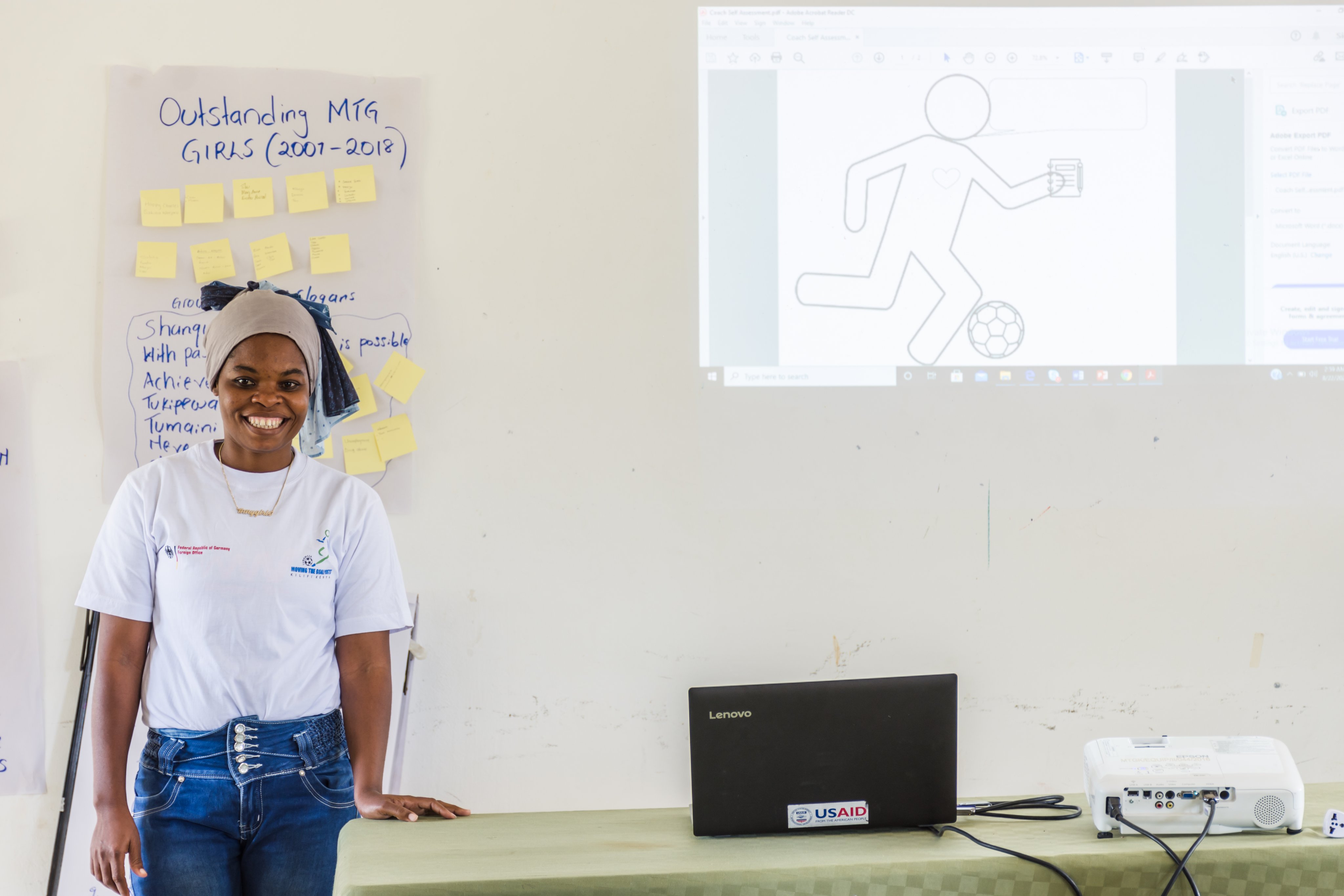 "When Moving the Goalposts started our programme, girls were really left behind. The role of girls was to take care of children, child bearing – girls roles were only to be at home in the household," she told Beyond Sport.
"But Moving the Goalposts is trying to position girls towards positions of leadership, trying to ensure that girls can be able to access education, girls can participate equally in access to employment and girls can participate in political conversation that happens at the community level."
The coastal counties of Kilifi and Kwale are among the regions in Kenya with the highest rates of poverty and illiteracy.
Girls are often the hardest hit with high rates of teenage pregnancy due to a lack of information to enable them to make informed decisions.
Additionally, they are often excluded from secondary education as their parents lack the financial means and, as a result of cultural perceptions, often give preference to the education of sons over daughters.
Moving the Goalposts Kilifi (MTG) seeks to change this. The organisation uses football to empower young girls and women by providing them with a safe place where they can play football, educate themselves about reproductive health and rights, create opportunities for themselves and become leaders in their communities.
Through Common Goal, MTG have teamed up with Australian international and Atlético Madrid Femenino midfielder Alex Chidiac.
Since taking the pledge back in 2019, Chidiac's 1% salary helps in using football to support girls and women overcome social obstacles in coastal Kenya and create a safe space for them to understand their rights and take up leadership roles in their communities
"We are trying to partner with communities, partner with the girls, their parents and trying to change their perception of how they look at girls, how they value girls," added Amakobe.
"Football was considered a masculine sport and also a sport that had a lot of opportunities that is surrounded around being the centre of the community, where everyone comes to watch.
"Football in itself is power because people regarded anyone who is participating in football to be very powerful.
"We thought this was an opportunity for us to start conversation with the community around how they perceive girls when they are playing something that is considered purely a male sport, creating opportunities for people to see girls in positions where they had only seen men.
"In our programme, we ensure that only girls run the programme, and we started seeing girls coach, girls referee. That's why we chose football because it was a great conversation starter."