August Highlights
Celebrating Five Years
In August, we heard from members on Common Goal's fifth anniversary about how football can drive social change across diverse topics. Tessel Middag shared her piece on how the women's game can lead in creating a game that puts people and planet first. We also welcomed Afghanistan's national team captain who helped evacuate over 300 people last year, and looked back at the 1971 unoffical World Cup.
Common Goal Turns Five
To celebrate Common Goal's fifth anniversary, stakeholders from across the game shared why they believe football is a powerful tool for social change. 
Juan Mata started the anniversary off by sharing his piece, "What Football Can Be." In it he gave insights into his journey with Common Goal and laid out his hopes for the future. His full piece here. 
GOAL interviewed dove into five pressing topics with five players for the movement's fifth birthday. Adama Traore spoke on the intersection of football and anti-racism, Willi Orban spoke on the game's role in helping the people of Ukraine, Carloine Weir talked about gender equality in football, Sofie June Pedersen laid out why she thinks football has a role to play in tackling climate change, and Collin Martin wrapped up things by touching on the important of LGBTQ+ inclusion on and off the pitch. Full article here. 
The Mirror spoke with Meikayla Moore, Duncan Watmore and others at Common Goal to talk about the movement's impact. Full article here. 
Tessel Middag on the Euros, football history, and the future of the game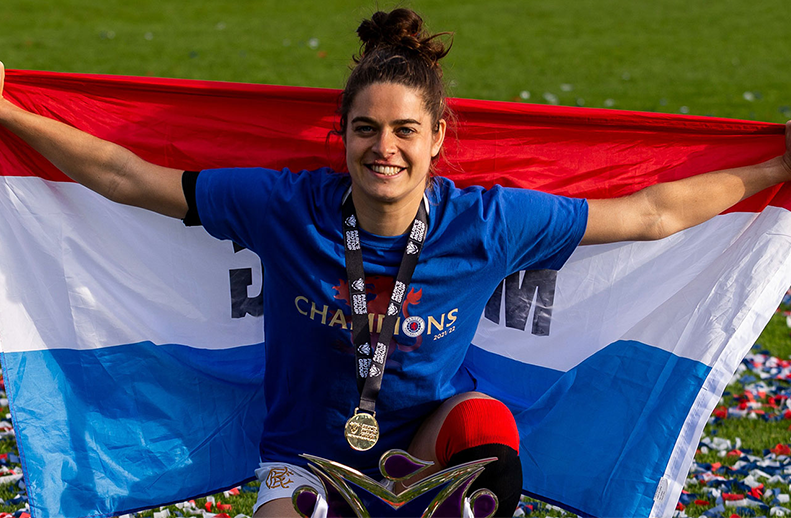 Professional footballer for Rangers FC and Common Goal member, reflected on how the women's game can create a different future for football. 
"For a long time, the narrative about the women's game has been how it can catch up to the men's game but maybe we're framing it in the wrong way," wrote Tessel. 
"With the women's game, we can think about it differently – we have the chance to create a game that puts people and planet over profit." 
Tessel's full piece here. 
A look back at the little-known tournament that shattered records 
This August, we dialled back the clock five decades to 1971 and took a look at the 1971 unofficial World Cup. 
At the final, 110,000 fans pilled in the Azteca Stadium to watch Denmark take on the hosts, Mexico. 
Denmark's goalkeeper Birte Kjems remembers the crowd's enthusiasm at the game. She told the Guardian, "When we walked out, the shouting and drumming was so loud that we couldn't even hear each other when we tried to talk." 
The question arises – how did the 1971 tournament garner massive crowds even by today's standards during an international backdrop that not only largely dismissed the women's game but disallowed it? 
Full article here. 

Afghanistan's national team captain joins Common Goal 
Before the fall of her nation, Afghanistan's national team captain Farkhunda Muhtaj was jumping ahead in her career. The then 23-year-old played professionally, coached football at York University, helped run the non-profit she co-founded, and taught at a high school in Ontario, Canada – the province she grew up in.  
But everything changed last August.  
"It didn't even take a moment for me to act," said Farkhunda, referring to the call she got from the Afghan Football Federation (AFF) on August 19, 2021.  
The midfielder was helping prepare her Afghan side for the Asian Cup qualifiers in September when she was asked to help evacuate players.  
Farkhunda was told, "Their lives are at risk. If anyone knows they're footballers, they'll be threatened – literally just for playing football." 
Full article on how she helped evacuate over 300 people, many of whom were on Afghanistan's youth national team, and why she decided to join Common Goal here.