Watoto Wasoka
One organisation's drive to increase gender equality through football
A few years ago, a three-day football tournament bringing nearly 600 girls from 47 teams together in the region with the world's lowest girls' football participation rate was almost unthinkable.
But, in East Africa, Common Goal Impact Organisation Watota Wasoka are taking the initiative to rewrite the narrative and leave a lasting impact in the area that will be felt for generations.
Last month, in partnership with La Liga, Watoto Wasoka hosted their second annual Women's Derby in Kampala, Uganda.
Registration was free to encourage as many girls onto the field as possible, and every player went home with sanitary pads as part of Watoto Wasoka's wider effort to use football as a tool for menstrual health education.
"It's important for girls to have access to football programmes because football, just like sport in general, empowers girls to break barriers and prejudices around gender discrimination," said Francis Mugoya, CEO of Watoto Wasoka.
"For the girls, it's a time to not only play football, but also make friends, share experiences, enjoy food, and lots of fun during the women's day week."
Last year the tournament saw 22 teams take the pitch and, just one year on, the Women's Derby is quickly becoming one of the largest football events for girls in the area.
This year the three-day Derby brought together 572 girls from 47 teams and saw community members of all ages cheer players on from the sidelines of the Old Kampala secondary school.
Not only did the event enable girls to display their football skills with 269 goals being scored over 94 matches, but the tournament brought opportunities for the girls by way of talent scouts, media attention, and educational offers.
Looking forward, Watoto Wasoka seeks to continue to use the beautiful game to advance gender equality. Starting this April, they are organising a beginner's coaching course for women to create more female role models in the community.
But growth in the Ugandan women's game hasn't been easy to come by. It's taken activism and determination to break down the widespread notion that football is a game for only half of society: boys.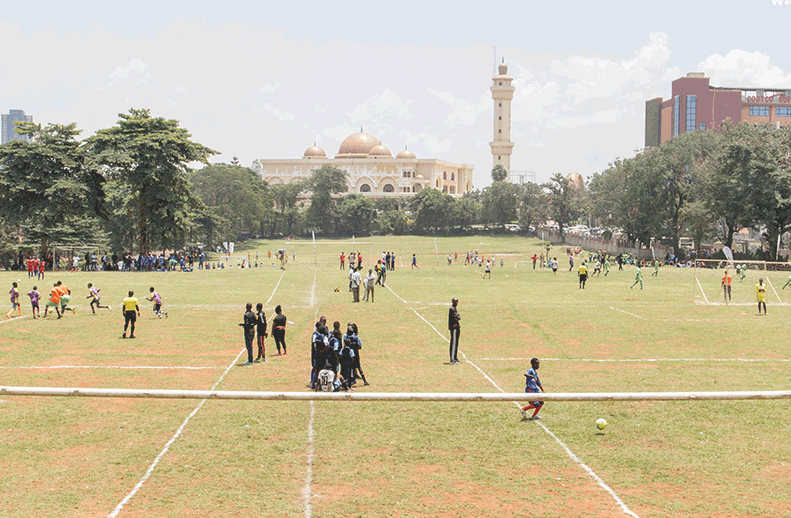 Sharon Namatovu – head of the girls' programme at Watoto Wasoka – describes setting up the programme as an uphill battle.
"When we started, we got a lot of negativity from family members and the community," noted Sharon.
As she tried to get girls to join her programme, parents and community members would often tell her their daughters can't join because they have to stay home and do housework.
Strict gender roles like these have kept girls from picking up the game and contribute to the vast gender discrepancy in the African game.
But in 2020 Sharon took part in the Global Goal 5 Accelerator – a Common Goal collective project using football to drive gender equality.
Soccer Without Borders hosted a multi-day workshop that kicked off the Accelerator. For Sharon, this event was a game-changer.
She always wanted to make an impact but, as she says, "didn't know where to start."
"Being part of the Accelerator gave me the confidence that, even if I'm not given a chance to play, I can provide a chance for the young girls."
Equipped with new tools and motivation, immediately upon returning to Watoto Wasoka, Sharon set out to start a girls' programme and change mindsets.
"We work with local leaders to try and change their attitudes," commented Sharon.
"With coaches, we tell them that, if you can manage to get boys to come and play, it's the same way you can get girls to play football."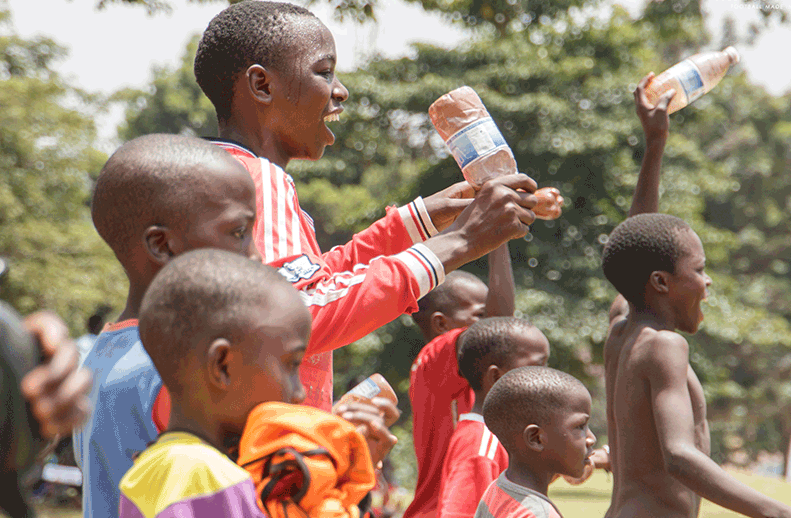 Following the Global Goal 5 Accelerator, Watoto Wasoka reflected on the inequalities within their programme and sought ways to improve.
For example, they implemented a new rule to drive gender equality — every boy's team that plays in one of their leagues or tournaments has to have a girls' programme.
It's part of Watoto Wasoka's belief that "men need to be activists for gender equality because inclusion is a team effort."
As Mugoya goes on to say, "Boys and men need to be taught to be activists for gender equality because it's men in the first place who are the biggest perpetrators of gender discrimination.
"Teaching girls about their rights and empowering them to become the best versions of themselves is very good, but it serves no purpose if boys and men are not taught to support the efforts by girls to enjoy these rights."