Team up for Ukraine
Creating an immediate response and long-term support for the people of Ukraine
The Common Goal movement stands in solidarity with Ukraine and demands an end to the war. The movement is launching a collective emergency response, and urges the world of football to act collectively to enable long-term sustainable support for those affected by the war.
The world of football has stood up and demonstrated its support for the people of Ukraine. The Common Goal movement is activating its team of organisations, players, brands and other stakeholders in football to work together to provide immediate humanitarian aid and ensure long-term support to those affected by the war. Everyone who is looking for a way to contribute can make a donation, take a stand or use their platform to amplify the initiative. Common Goal also welcomes everyone in football and the wider society to get in direct touch if they wish to identify other ways in which they can support.
To donate: www.common-goal.org/donate

The initial phase of the initiative has been developed with football for good organisations who are already providing immediate support, including: League of Tolerance (Ukraine), Cross Cultures Project Association (Ukraine & Moldova), Trenuj Bycie Dobrym (Poland), Oltalom Sports Association (Hungary), and Policy Centre for Roma and Minorities (Romania).
The initial phase will focus on: 
Securing basic supplies, medicines, and transport to safer locations for volunteers, participants, and families of organisations in Ukraine
Securing accommodation, medical assistance, logistics, and stress relief support for displaced people from Ukraine arriving in neighbouring countries
Providing access to psychosocial support, school or childcare placements, and basic football for good activities including integration, therapy, and social capacity activities in host communities.
To support their work, stakeholders in football and the wider society can make a donation to a collective fund that will then be allocated directly to communities where resources are needed most.
Oleksandr Fomichov, Founder of League of Tolerance, is convinced of the importance of a collective response: "These are difficult times for everybody, but your support can save lives and give hope for those who are suffering the most. War is merciless, but it is also the time when people help each other and do not stand aside. It is in our power to help extremely vulnerable young people and their families - and empower them to take life-changing steps towards safety."
In addition to donating to the emergency response, Common Goal calls on players and other stakeholders in football to use their platform to stand in solidarity with the people of Ukraine and amplify the message.
While immediate humanitarian aid is crucial, Common Goal also recognises the need for sustained support to those affected. It is here that football can be a powerful tool to support the integration of people affected by forced migration and, when possible, resettlement, and reconciliation processes.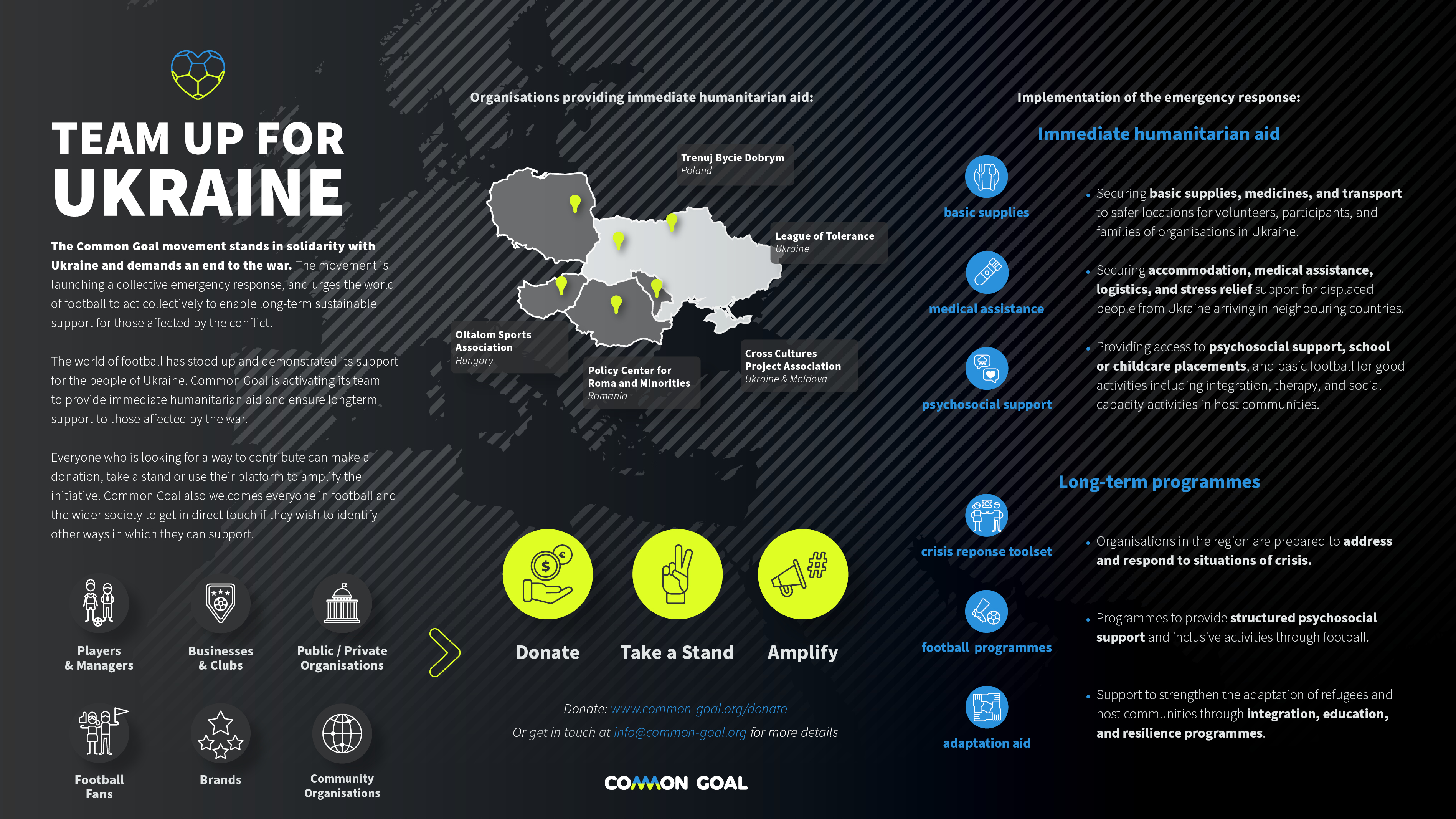 The second phase will see the initiation of long-term programmes to support young people, families, and communities affected by the war. It will be developed in collaboration with Common Goal Community member organisations that have expertise and experience using football in post-conflict situations and in support of communities affected by forced migration and displacement.
Long-term programmes will be implemented in collaboration with a wide number of partners in Europe and will require sustainable support from stakeholders in football.
Such programmes will enable the following:
Organisations in Ukraine and the region are equipped with the tools and knowledge to address and respond to situations of crisis 
Vulnerable young people will have access to programmes that provide structured psychosocial support and inclusive activities through regular football for good sessions
Refugee and host communities are supported to adapt to new realities and form strong bonds through integration, education, and resilience programmes
In the weeks, months, and years to come, football can play a crucial role in supporting the humanitarian crisis that arises from the war in Ukraine. Only by working as a collective and offering sustainable solutions will the world of football be able to provide sustainable long-term support for the communities affected by the war and help the next generation rise. 
To get involved and support the Common Goal emergency response, click here or get in touch for more details (info@common-goal.org).