SV Werder Bremen joins Common Goal
The club becomes the first German team to take the 1% pledge
A week after SV Werder Bremen were promoted to the Bundesliga, the club known for driving social change committed to pledging 1% of their ticket and sponsorship revenues to the Common Goal movement and created an option for employees to take the pledge as well.

This move makes SV Werder Bremen the third professional club, and the first German one to take the pledge after the Danish club FC Nordsjælland made the commitment in 2018 and Oakland Roots from the US did so in 2020.
"Our Common Goal membership is a milestone and a historical moment in our commitment to social sustainability, which we are very proud of," said Klaus Filbry, Chairman of the Management Board at SV Werder.
"Through the 1% mechanism, we enable all members of the Werder family to contribute to our social commitment and create equitable opportunities."
Over the years the Green-Whites have used football and their platform in the community to promote inclusion and enable young people to reach their full potential. Just last year the club took home UEFA's Grassroots Award for their commitment to engaging with and creating opportunities for communities across the city.
One of SV Werder Bremen's biggest social impact initiatives is SPIELRAUM, a programme which harnesses the power of sport to connect young people. The programme runs regular sports-based training sessions, engaging a diverse group of young people across Bremen and Lower Saxony. Through the initiative, SV Werder Bremen enables young people to take responsibility and cultivates a new generation of physically and socially active community members.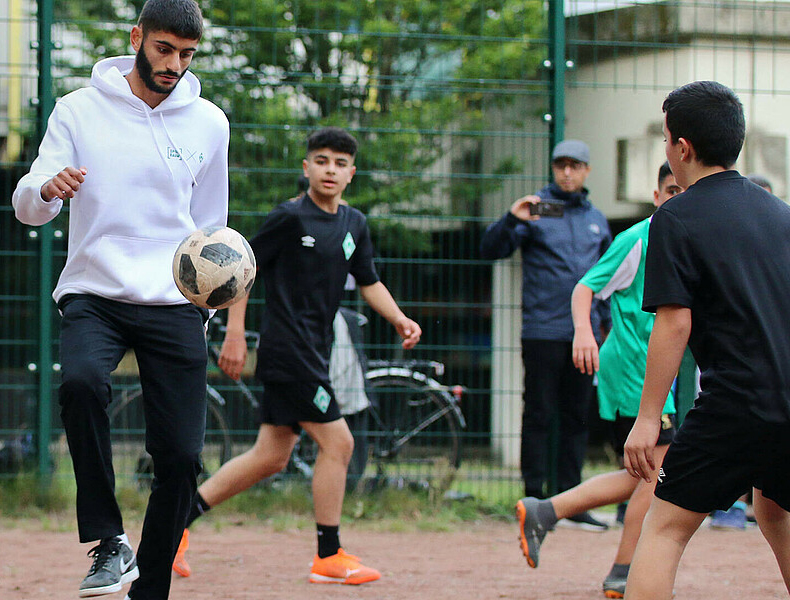 After undergoing Common Goal's quality assessment, where the SPIELRAUM was examined over several months to ensure it aligned with the standards of the movement, it is now part of the Common Goal Community meaning Common Goal members can direct their pledge to the initiative.
As SV Werder Bremen's Director of CSR Anne-Kathrin Laufmann noted, "Through the successful certification of our SPIELRAUM project, our sponsors, fans, employees, and members of the Common Goal movement will have the opportunity to financially contribute and strengthen our commitment to promoting physical activity and personal development amongst young people in Bremen and Lower Saxony."
In line with the club's commitment to their community, SV Werder Bremen will put part of their pledge towards SPIELRAUM to increase the club's impact throughout the local area.
Laufmann sees Bremen's pledge and the potential for more Common Goal members' support as a key step in SPIELRAUM building new locations and reaching more community members.
This membership serves as a model to clubs around the world, showing how teams can support their local community and elevate their impact through their pledge.
"It's great that Werder Bremen is now the first club from the Bundesliga to join Common Goal," said one of Common Goal's first German members and former SV Werder Bremen player Serge Gnabry.
"When we set out almost five years ago as an initiative launched by players and coaches, we had the hope that we could reach as many players from football as possible and inspire them to join through contributing 1% to social projects. The fact that it is now coming to this and that we now welcome Werder Bremen, the third professional club at Common Goal, is a great thing." 
Common Goal CEO Jürgen Griesbeck added:  "Bremen's membership shows that a club's own local social commitment and an initiative geared to the football industry as a whole, such as Common Goal, are not only compatible with each other, but can complement each other effectively."