SOMOS Equidad Launches
Global Goal 5 Accelerator begins new project in Latin America under the name SOMOS Equidad.
The Global Goal 5 Accelerator's second phase, SOMOS Equidad (we are equity), launched on 16th November in Latin America. Using the Goal 5 Accelerator's framework, SOMOS aims to reach 3,200 girls and boys across 18 communities throughout Mexico, Costa Rica, Colombia, Ecuador, Uruguay, Peru, and Chile in 2022. The project not only seeks to empower girls on the pitch but also aims to break down societal mechanisms that contribute to gender inequalities at large. 
The Global Goal 5 Accelerator's first phase ran from 2020-21 in East Africa, the region with the lowest girls' participation on the planet and involved nine organisations: Malaika (DRC), Moving the Goalposts (Kenya), TYSA (Kenya), Future Stars Academy (Tanzania), VAP (Kenya), Sport the Bridge (Ethiopia), Soccer Without Borders (Uganda) and Watoto Wasoka (Uganda).
Highlighting the project's impact, Sharon Namatovu, a young leader and coach with Watoto Wasoka, commented: "The project gave me the confidence and skills I never knew I had. With the help of the programme, I was able to organise a girls' football team and help influence girls. 

"We are planning a course to train more female coaches so we can create more female role models in our community." 

Learn more about the East African chapter here. 
Now, the ball is being passed to Latin America, where five Colombian players have been pivotal in inspiring collective action.  
In 2019 Isabella Echeverri and Melissa Ortiz spoke out about their experiences playing on the Colombian national team. In a video, directed at the Colombian Football Federation, they stated: "We feel threatened. They do not pay us. There's no international flights. The uniforms are old. The federation has cut off players for speaking up."  

These remarks sent riptides through the football world prompting active and retired players to jump to their side in support.  

It was in this moment that Echeverri and Ortiz realised their platform could break down barriers.  

That football, as Echeverri believes, "has to be used for bigger things than just playing.  

"Players have a voice and it is very important. We have to use it to share our stories and our dreams."  
Since the video, Echeverri and Ortiz joined forces with fellow professional Colombian footballers Natalia Gaitán, Vanessa Córdoba, and Manuela Acosta. The five, unified by their passion to improve gender equality in and around the game, sought a way to make an impact, to improve conditions in the women's game, and enable more girls to play.  

That's when they learned about the Common Goal movement, as well as how football for good organisations like Soccer Without Borders, Women Win, and Fundacion Selección Colombia, are working to eliminate gender inequality on and off the pitch. Through Common Goal and the Global Goal 5 Accelerator, they found a framework and project that aligned with their vision, and SOMOS Equidad was born. 

As Ana Arizabeleta, the Executive Director at Fundación Selección Colombia explains, "In Latin America, football is an industry with many inequalities which have only been exacerbated throughout the pandemic. SOMOS Equidad strives to use the sport to change that, to advance gender equality for generations to come.

"It is a huge and growing effort by many actors who deeply believe in the need to work as a team, to leave egos and logos behind to tackle the main challenges we face as humanity." 
As Echeverri outlines, SOMOS seeks not just to increase girls' participation in football across Latin America but, "to impact the lives of the children, their families, and leaders," and create systemic change.

Commenting on the Latin American project, Mary Connor, Co-Founder and Executive Director at Soccer Without Borders notes, "Advancing gender equity not only takes a team, it takes generations of leaders moving the ball forward and passing it on to the next. We are inspired by the commitment of the SOMOS players to not only take the Common Goal pledge, but mobilize organisations across the region to take action together.

"Soccer Without Borders is excited to contribute what we have learned through our work in Nicaragua, and we look forward to supporting the coach captains to lead within their own organizations and communities." 
In addition to the leading partner organisations – Soccer Without Borders, Women Win and Fundación Selección Colombia, SOMOS Equidad will bring together 12 football for good organisations in the region:  Fútbol Más, Servicios de Educación y Promoción Juvenil (SEPROJOVEN), Fundación de las Américas para el Desarrollo (FUDELA), Asociación Civil Gurises Unidos, Fútbol con Corazón, Fundación Tiempo de Juego, Fundación Juventud Lider, Fútbol por mi país, Rescatando sonrisas, Fundación Falcao, and Fundación Talentos y Fundación SIDOC.  
Together, they will work as a cohort to advance gender equality within the Latin American region with an initial focus on the seven countries where they operate their programmes: Chile, Colombia, Costa Rica, Ecuador, Mexico, Peru and Uruguay. 
Reflecting on the longevity and potential of SOMOS, Ana Arizabeleta says, "We are sure that this first phase of the project is only the beginning.  
"Working with dozens of organisations, allies, experts, and believers, we can advance gender equity by 2030."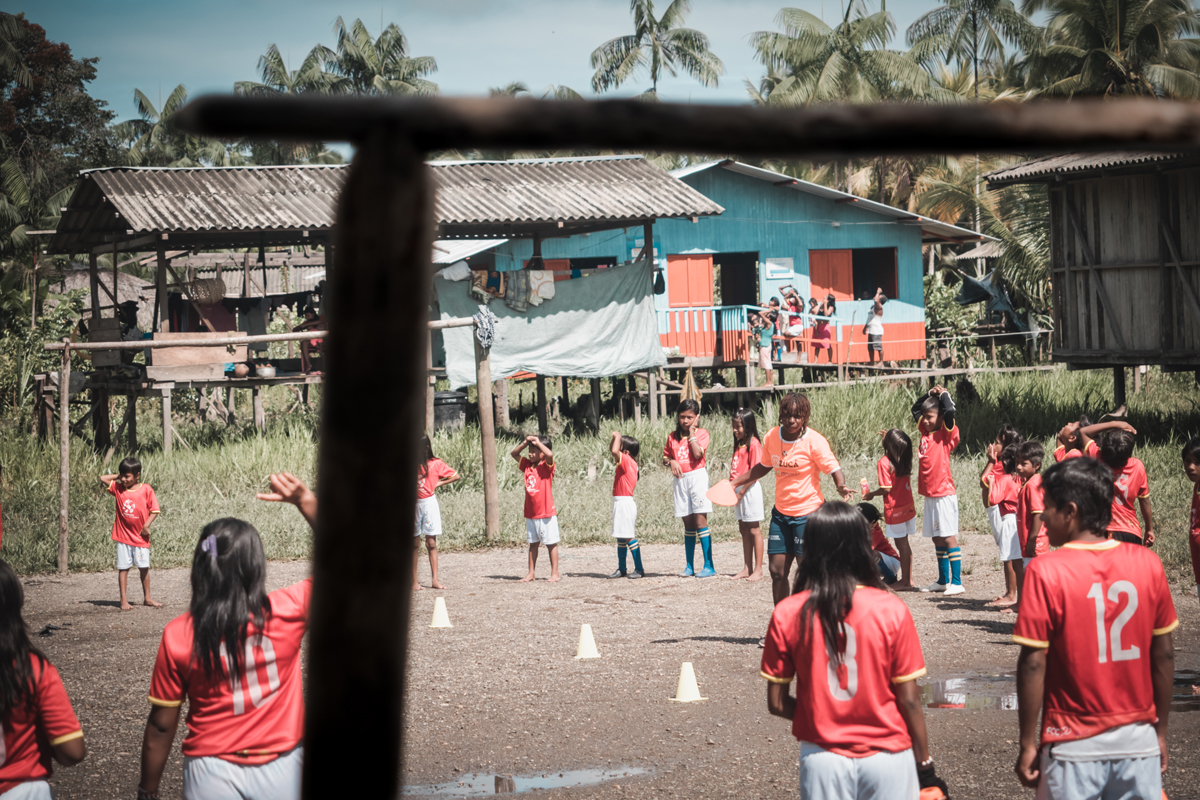 The Latin American project uses the Global Goal 5 Accelerator's framework and methodology of "on the pitch, on the sidelines, and in the organisations." 

Soccer Without Borders and SOMOS players will lead the content for the "on the pitch" and "on the sidelines" section, while the "in the organisation" content will be designed by Women Win and led by Fundación Selección Colombia.  
The train the trainers' model used by SOMOS is scalable and will have a multiplier effect. Using a coaching curriculum focused on gender and female leadership development, adapted to the Latin American context, captain coaches from each partner organisation will be prepared to train others in their organisation.  
Through active participation from professional female players and partner organisations, captain coaches will design a gender-action plan specific to their context, as well as receive training through a series of workshops and webinars. In-person sessions are set for June 2022, depending on the local COVID-19 situation.

SOMOS Equidad is a collective effort made possible through the support of Common Goal members, including Cristiane Endler, Leicy Santos, Isabella Echeverri, Natalia Gaitán, Melissa Ortiz, and Vanessa Córdoba, as well as Common Goal impact sponsors adidas and DAZN, and regional project partners.

For more information about the Global Goal 5 Accelerator click here.