Remembering Faida
Football community unites to help end gender-based violence (GBV) and invites you to join the fight
It took ten years for Faida Safari to return to the pitch at Moving the Goalpost Kilifi (MTG), a Kenyan organisation using football to increase opportunities for girls and women. But on 28th March 2022, just several months after finding her way back at age 25, her chance to play was taken away from her forever.  
Safari lost her life and her children lost their mother to an act of gender-based violence (GBV) committed by the man who repeatedly kidnapped, physically, mentally, and emotionally abused her for years and prevented her from playing for a decade. 
"I can't say exactly what football meant to her but I know it meant a lot because whenever she came back to the community, she'd come back to the programme," said Lydia Kasiwa, community engagement and football coordinator at MTG. 
This is the story of how the football for good community is uniting to end GBV and how you can get involved to help. 
"Everyone, regardless of gender, has an inherent right to life and when that fundamental fact is taken away from them it's up to us as a global community to take a stand," said Alex Chidiac, the Australian national team and Racing Louisville FC midfielder.  
Since 2019, Chidiac has pledged 1% of her salary to MTG and has been actively engaged with the organisation's efforts around increasing gender equality ever since.  
This year, when the Matilda midfielder got wind of Safari's death, she did what she knows best — she stepped up. 
Together with Unwanted FC, an Australian-based upcycling company, Chidiac is selling her old Matilda, Atletico Madrid, JEF United, Melbourne Victory, and Melbourne City kits repurposed as everything from bum bags to laptop sleeves to face masks. 
"I believe this is a sustainable approach to continue supporting the organisation and hope the donations can make a positive impact," commented Chidiac.  
Half of all sales from this collection will go directly to MTG to support the organisation's community work tackling GBV and help Safari's children ages nine, seven, and four and her two step-children ages 16 and 14. Safari's oldest biological child currently plays at MTG.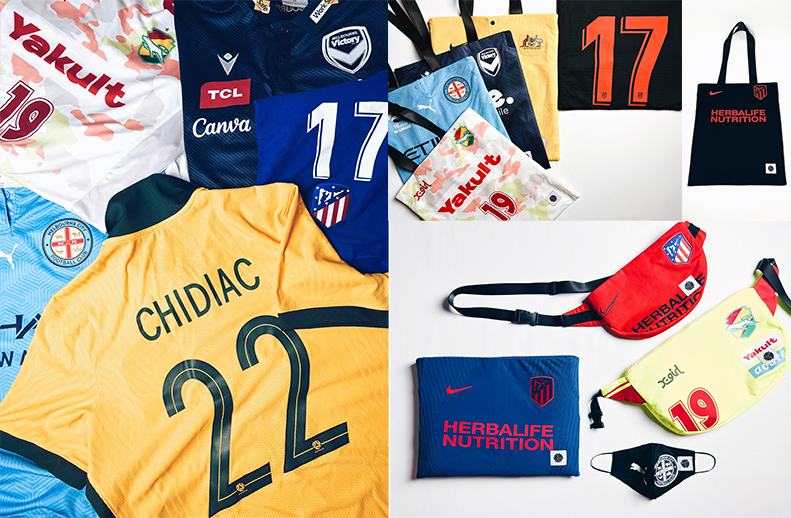 "The big question is what will happen to her kids because they have lost both their parents," said Kasiwa. After murdering Safari, her perpetrator and children's father took his own life leaving the kid's mental wellbeing, education, and welfare in a particularly fragile state. 
"The support through Alex and Unwanted FC will enable us to organise food, clothes, and education for Faida's children who have just had their whole world turned upside down," continued Kasiwa. 
"We are looking for what will be the long-term solution for their education because the risk to these kids is that they may drop out of school at some point. 
"What they need most of all now is stability and you can help provide that through one of Chidiac's repurposed kits." 
In addition to organising care for Safari's children, MTG launched a campaign to end GBV in her honour. 
"For us at MTG, we didn't want the community to feel like it's normal to take women's lives and abuse women," said Kasiwa. 
"We should not be silent on such issues and in such matters until justice is done." 
"That's why we went out and did a press conference and sent a message to the duty bearers and to policy makers asking them 'what are they doing?' because they can't keep quiet. 
"Faida is one case but there are many girls going through the same thing in the community." 
Recent data from Kilifi county's gender department shows an increase of reported GBV as of late. In 2017, there were 295 cases compared to 627 in 2021.
Specifically, MTG is pushing for the approval of a gender policy to clearly outline how such incidents will be handled. They are also mobilising community members, providing psychosocial support, and are working on training older participants in counselling methods so girls will be more comfortable talking about issues they are facing. 
Safari, like many women around the world, didn't open up about all the abuse she suffered. 
It's something that Fridah Kahindi, MTG's Kaloleni divisional assistant, says is all too common in the area. 
"There is a problem within the community that people don't come out and speak about GBV," noted Kahindi. 
"I think training the girls to support each other can help." 
MTG's Vitengeni divisional assistant Janet Konde added, "In my opinion, football is the best tool to use to bring people together to discuss issues on gender-based violence, or any issues coming from the community."