How I got to Harvard
"Football and education have helped me to chase my dreams"
I used to think my life would follow the path that was expected of a woman living in Jharkhand.
Where I come from girls are not supposed to pursue education. And we're definitely not 'supposed' to be offered a full scholarship at Harvard University like I was. 
In Jharkhand it is common for girls to be forced to quit school, to work in the fields, take care of cattle. It is also common for women to be subjected to domestic violence.
That's what I thought my life would look like but that was before I came to YUWA.
Before, I didn't dare to dream, but now I dream of one day founding an organisation just like the one that helped me achieve the impossible.
My name is Seema Kumari (17) and I am a young leader, football coach, and mentor at YUWA in India — and last month I was offered a full scholarship to Harvard University.
Football and education have helped me to chase my dreams and now I wish that my story can inspire other girls like me who might think their life is already mapped out for them.
Life for me at YUWA began when I was nine-years-old – taking part in one of their football-based life skills training at my school.
It was during this time I first had my eyes opened to some of the harsh realities of being a girl in my community, becoming educated on social issues like child marriage, safe and unsafe physical contact, educational rights, and gender discrimination to name a few.
My school at that time was understaffed and overcrowded and, even though I had the ambition to learn, it was proving difficult. So when I heard that YUWA would be opening its own school, I couldn't have been more excited.
However, I am the daughter of farmers and, though their work is admirable, my parents told me they wouldn't be able to financially support me at a school like that. If I was to attend YUWA I would have to support myself.
Impossible right?
Well, just like on the football pitch, if you work hard enough, you can often find a way to reach your goals.
So in 2015 I started coaching football and leading workshops, helping me to pay my school fees, and eventually took a seat in the YUWA classroom with pride.
Helping to coach and mentor the young girls always brings a smile to my face and I have managed to help sign up and welcome six of my younger cousins at YUWA.
It is hard to describe how much joy I feel at the thought of each one of being able to fulfil their potential.
While Football at YUWA is used to help educate you on social issues around India and Jharkand, it is in the classroom is where we progress academically.
Football has certainly made me a more confident person and helped me to find my strengths and weaknesses. It gave me the means to pay my way through school and, on a less serious note, it has helped me realise that I am perhaps a bit better at studies than sports!
But, more than that, it has helped hone my resilience and determination to make my dreams a reality.
Girls' education may not be valued in my community but it is valuable and to be celebrated. I hope I have helped to redefine what is possible for a girl from a village, and inspire hundreds more to follow in my footsteps.
For you see, YUWA has helped me realise my potential and opened my mind to opportunities outside of the country. In 2018 I was selected for a summer programme at Washington University and in 2019, the University of Cambridge in England.
Following Cambridge, I was one of 40 students selected for a one-year exchange programme in the United States. I got to return to the nation's capital, and study once again in Washington.
English is my third language, but just like nine-year-old me, I will always try my best.
At the end of the school year I was delighted to receive straight A grades. But, more than just good grades, these trips helped me to experience different lifestyles and cultures.
At YUWA we are empowered to choose our own futures and be our own person. When abroad I was free to be myself and seen truly as an equal.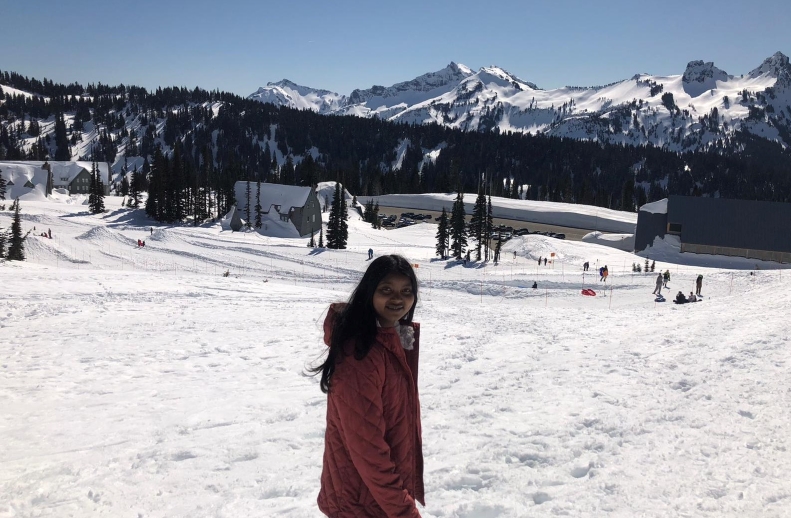 Last year I returned to my village, studying remotely with my YUWA teachers and classmates, and helping my family deal with the financial stress caused by the pandemic.
It has been a tough year for everyone but I have continued to work hard.
Only last month I got the thrilling news about Harvard and it still feels very fresh. I couldn't be more excited at the thought of it.
I am still undecided on the exact specifics of my subject choice but I am hoping to enter a field that focuses on gender equality and women's development.
My dream is to one day found an organisation for the women of my village and help them start businesses so that they can become financially independent.
I want all women in my community to find their own success.