Founding Story: Grassroot Soccer
How a US TV game show helped give rise to a football for good organisation  
When Ethan Zohn applied for Survivor, the reality TV series approaching its 43rd season, he had no idea the show would end up helping save his life and millions of others. 
Back in 2001, Ethan was, "in-between life choices" — a phrase he suggests for anyone unemployed. 
After moving to New York City for a job that fired him a week before his starting date, he decided to audition for the show. It was more on a whim than anything else.
But it worked. A few months later, he found himself in Kenya midway through Survivor's third season when an experience changed his life.
He won a reward challenge — something Survivor fans dream about, which usually entails food or comfort for the castaways. 
Ethan's prize was unusual — two goats and a trip to Wamba, a village close to season three's location. 
"I wasn't so happy about it," says Ethan, referring to the livestock he had been handed. 
After several attempts, he succeeded in selling the goats and filling his stomach with food he now had the funds to buy. That is where the reward was supposed to wrap up. 
But, while waiting for the truck to take him back to the other contestants, he noticed a group of kids.
"They had never seen anyone like me before," notes Ethan.
"They're touching my hair, my skin. I didn't know what to do so I busted out my hacky sack."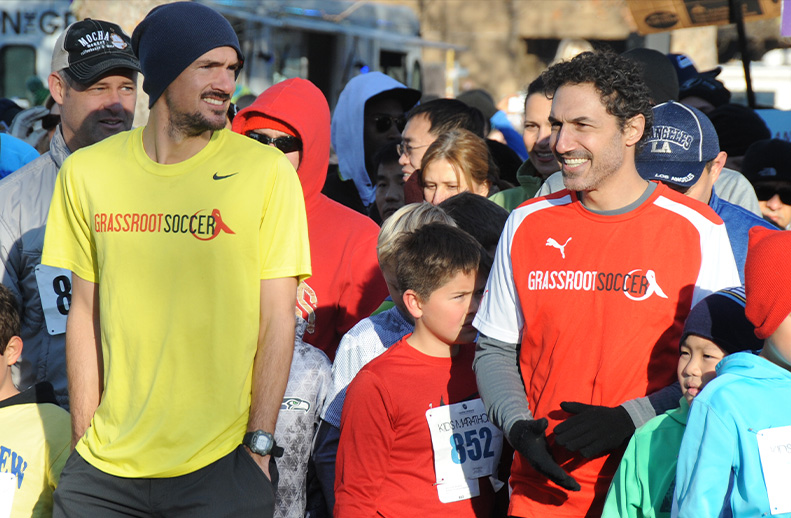 During Survivor's early seasons, contestants could bring one 'luxury' item that reminded them of home and represented them. Players gave five suggestions to producers who decided what they would end up bringing. 
Ethan, who by that point had played professional football in Zimbabwe and the United States, picked a football in four different sizes and a hacky sack, a small crocheted ball often filled with pellets or sand and used for juggling, as his final suggestions. For fear a football might go flat, the producers selected his last option.
The particular hacky sack he took was gifted to him by his late father before he passed away. It was his father's death when Ethan was 14 that got him to really focus on becoming a footballer. His brothers, teammates and the local football community reached out, supported him and helped him cope during a "really dark time" as Ethan put it.
"It turned into a beautiful moment on Survivor," says Ethan referring to the hacky sack.
He began playing with the kids in the small hospital parking lot as he waited for the van to pick him up.
"We're laughing, we're smiling, we're connecting through this sport that we all loved in this language that we all understood," reminisces Ethan.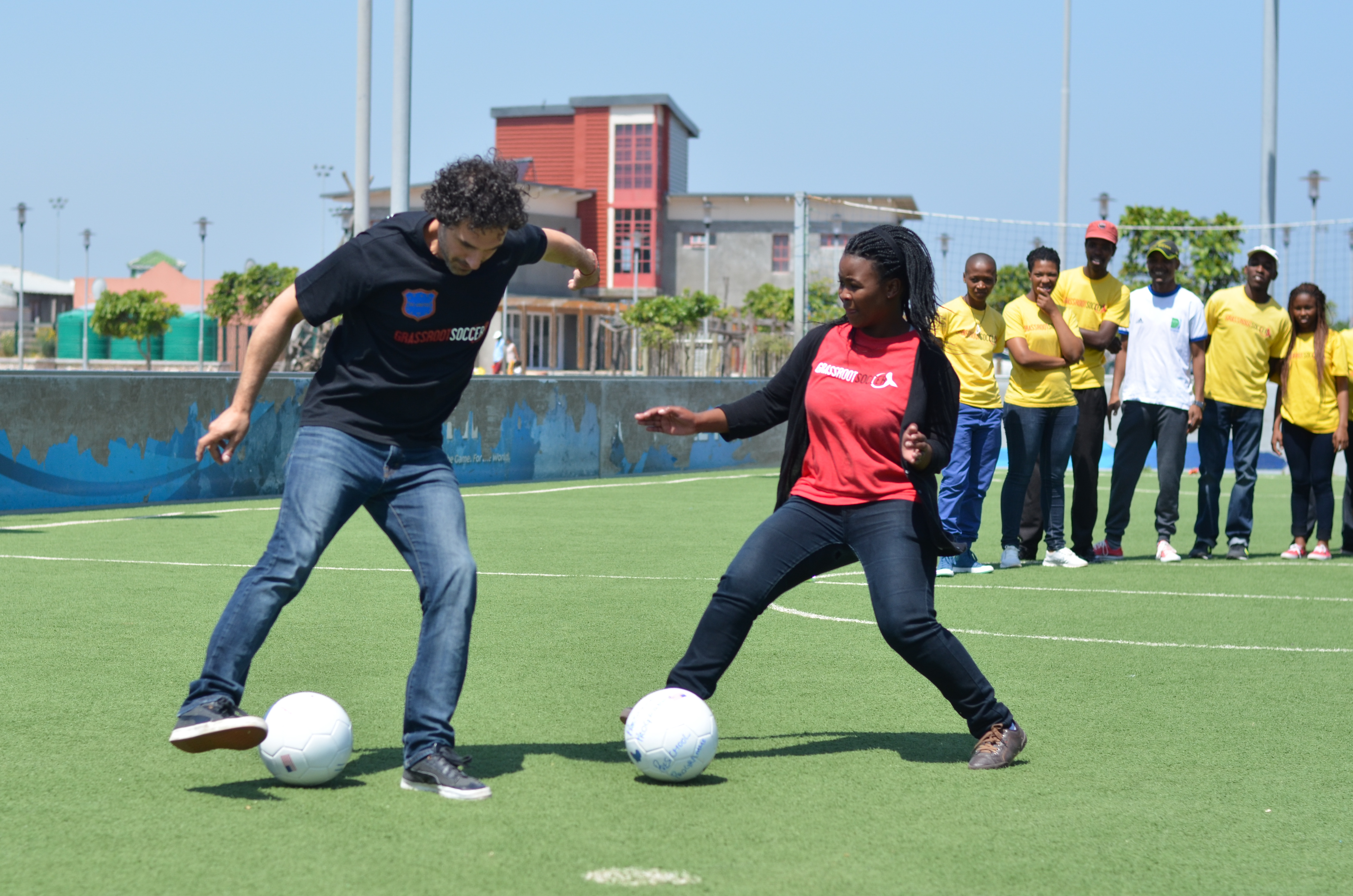 Turning to one of the nurses he asked, "'Why are all these kids hanging out in the parking lot of a hospital?'"
The nurse informed him that they were all HIV positive. In 2001, the HIV infection rate hovered close to 13% in Kenya.
"That moment, in the middle of this cut-throat game of Survivor, I had a real life experience. The seed was planted in my head that if this game goes my way, I'm going to try to use it to do good in the world," says Ethan.
At the final tribal council, when the voted-out contestants decide who should win the million dollar prize, Ethan was asked about the first selfless act he would do.
Remembering his experience with the hacky sack in Wamba, an idea sparked in Ethan's mind.
"On the spot, without eating or showering in 39 days, I came up with the idea to use the money for a charity centred around kids and soccer," comments Ethan.
The show places contestants on an island and requires them to build their own shelter from whatever they can find and forage for food. 
His answer helped convince the jury; he won Survivor and was handed a check for $1 million.
Originally, he thought of starting something in urban areas in the U.S., but after meeting up with Dr. Tommy Clark MD, Kirk Friedrich, and Methembe Ndlovu, over a dining room table in New Mexico, Ethan decided to commit part of his winnings to help start an organisation in East Africa focused on tackling HIV/AIDS.
Tommy, Kirk, Methembe, and Ethan had all played for Highlanders F.C., a professional soccer team in Bulawayo, Zimbabwe that Tommy's father, Bobby Clark, who has 17 caps for Scotland, coached from 1983-84. Tommy had spent time in Bulawayo as a teenager while his father managed Highlanders, but experienced a changed country when he returned to play for the club during the height of the AIDS epidemic.
While playing for Highlanders, the four saw the disease rampage through the community.
"Our teammates died, our friends died, we all had experiences of people that we knew passing away," notes Tommy.
Although the virus was prevalent while they played in Zimbabwe, talking about it was taboo.
"I didn't have a single conversation about AIDS during that time despite the fact that it was already killing tens of thousands of people, including people I knew," reveals Tommy, who after playing for Highlanders returned to the U.S. to earn his medical degree in paediatrics at Dartmouth College.
"Nobody was talking about it because there was so much stigma around it."
The group of four wanted to change that through a newly formed organisation: Grassroot Soccer.

"We believed that soccer players — the heroes of the game, the people that young people looked up to — that if they were convinced to speak up and become advocates, that would go a long way to reducing the stigma," explains Tommy, now Grassroot Soccer's CEO.
Grassroot Soccer developed its first soccer-based health curriculum and trained local soccer stars in Zimbabwe to serve as its first Coaches to bring the curriculum to young people . An initial research study funded by the Bill & Melinda Gates Foundation proved that the Grassroot Soccer model — which uses football, trained mentor Coaches, and a fun and supportive environment — was an effective way to engage young people in HIV/AIDS prevention programming and equip them with life-saving health information.
"No one was doing that," says Ethan.
"In 2003 most people were using soccer to develop soccer players, to get them contracts. We were using soccer to deliver life-saving health interventions.
"We took a bold but humble approach back then. Bold enough to try new things, humble enough to know we need a lot of help along the way."
As the organisation grew and expanded to new countries, a new challenge struck Ethan.
In 2009, at 35, he was diagnosed with CD20+ Hodgkin's Lymphoma, a rare form of blood cancer. 
As Ethan told yahoo, at that point in his life, cancer to him "equaled death." It was the disease that took his father's life two decades earlier.
He teamed up with CBS, the producers of Survivor, and Stand Up 2 Cancer to auction off props from the show for cancer research. 
After rounds of chemotherapy, radiation, and a stem cell transplant, he was in remission. But, 20 months later, the cancer came back.
Ethan found himself on a clinical trial. The drug he was on, ADCETRIS, was partly funded by the auctions he set up with Survivor and ended up saving his life.
Now, things look a lot different for Ethan and Grassroot Soccer. His cancer has not returned and Grassroot Soccer has evolved to take a holistic approach to adolescent health, addressing young people's most pressing and interconnected issueslike mental health and sexual and reproductive health through the beautiful game.
Ethan returned to Survivor for his third time a few years ago. After winning season three he was invited back to season eight — the show's first all-stars cast. He then returned for season 40: Winners at War, where he competed against the show's previous winners. During both of his subsequent seasons, Ethan wore a Grassroot Soccer shirt.
"Our website crashed during the premiere of Winners at War," comments Ethan.
"The shirt raised a lot of awareness which is nice and we started selling t-shirts to raise money for Grassroot Soccer." 
The organisation, which is celebrating its 20th anniversary at its upcoming World AIDS Day Gala on December 1 in New York City, has now brought its programs to more than 18 million young people in 60 countries by collaborating with local organisations around the world.  
"As the years have gone on, we've come to understand the way to have a really big impact is by working with partners who are experts in their own communities," explains Tommy.
Following the initial Gates-funded research study that proved the effectiveness of its model, Grassroot Soccer has conducted 45 research studies and partners with leading research institutions to continually improve its programs, and to contribute valuable insights to the fields of adolescent health and sport for development. 
The backbone of the organisation continues to be the trained young adult Coaches who are the ones bringing the Grassroot Soccer programs to young people. These Coaches are from the communities they work in and serve as valuable role models, mentors, and local leaders. For Grassroot Soccer, getting to know the people they are working with is key to sustainable change. 
"If a programme is going to be effective, it's got to be cool," notes Ethan. 
"And if it's going to be cool, it's got to come from the kids you serve.
"So, we actively engage with the youth to figure out what's going on. And then we work with them again to fix it."