Common Goal Launch COVID-19 Response Fund
Movement calls world to unite in support of most vulnerable
In light of the current crisis, Common Goal has established the Common Goal COVID-19 Response Fund, offering its existing framework to football players, football industry leaders and any other private or public funder as well as individuals, who want to make an immediate impact to vulnerable communities around the world hit by the Coronavirus. 
To maximise the impact of the Fund, Common Goal will use its existing network of community organisations who can deliver essential support services in direct response to the coronavirus pandemic to 200+ communities across 90 countries and to over 2 million people.
The allocation of the Fund will not only look at tackling the immediate effects of the crisis but also ensure that support continues in the aftermath of the health crisis, with the special focus on disadvantaged young people in deprived communities and in humanitarian and conflict settings. 
"It's been heartening to see so many positive responses from players and football leaders to the current crisis, but it can be hard to know what to do to really help those who need it most," said Common Goal co-founder Juan Mata.
"We are suffering a stark reminder of how interdependent we all are. To overcome Coronavirus, and the other challenges facing humanity, we need to coordinate individual efforts and work together as a team.
"I'm urging not only my Common Goal teammates, but all other players and football leaders from around the world to unite and help tackle this crisis.
"Together we can beat this, and at the same time turn this crisis into a catalyst to tackle other challenges humanity is facing which are only being heightened by the impact of the pandemic and require a collective strategy."
In addition to driving funds in response to the crisis, Common Goal has announced the Live Match platform, in which players commit the 90 minutes they are no longer spending on the pitch to create positive outcomes at this challenging time.
Mata will be the first to commit his time by hosting a 90-minute Common Goal Live Match on his Instagram channel in two halves; one in English (on April 9th) and one in Spanish (on April 12th).
During the Live Match, Mata will use the platform to connect with fans, the Bayern Munich and German international Serge Gnabry, and a football-based community organisation that he is supporting through Common Goal, to help share their experiences and encourage people to donate to the Common Goal Covid-19 Response Fund.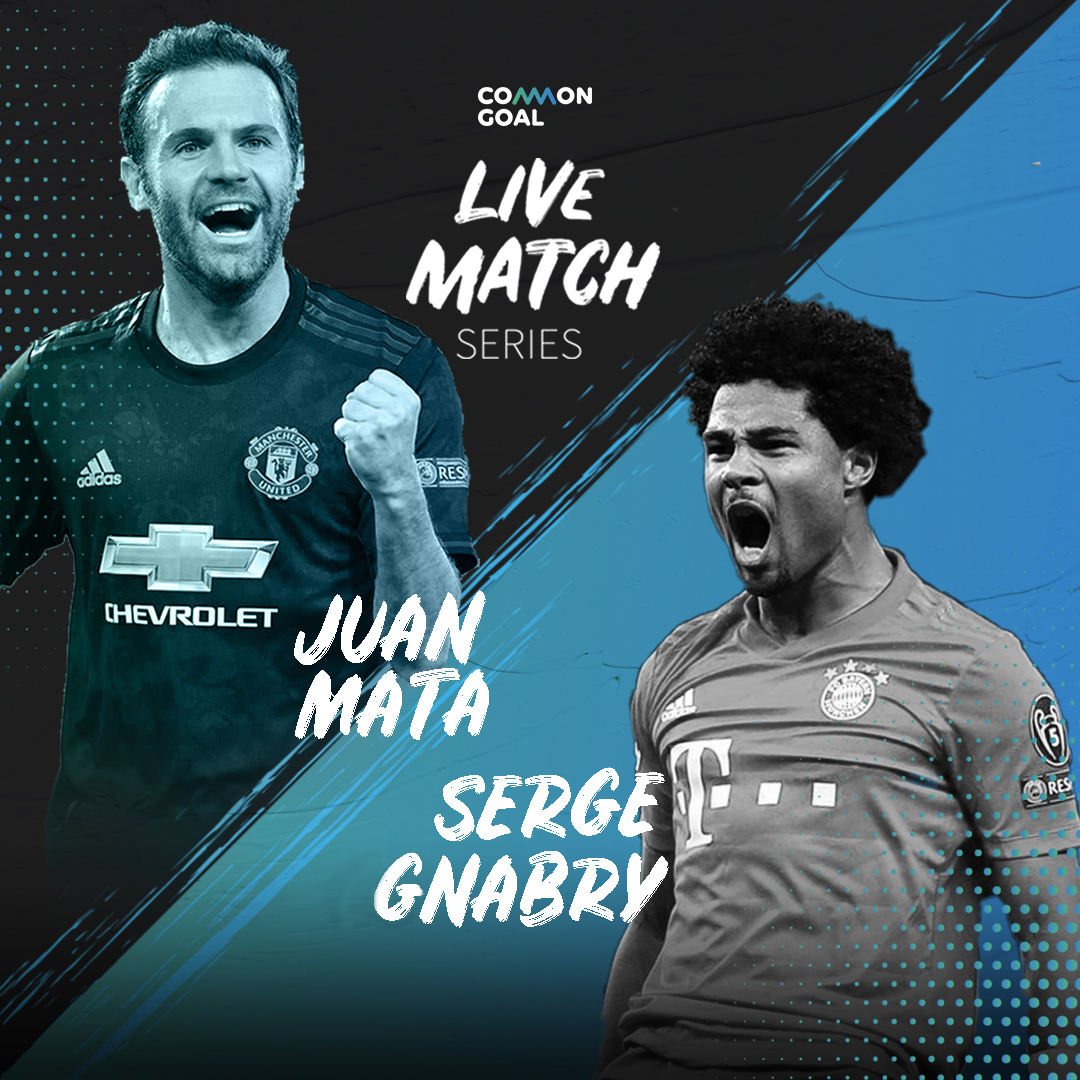 Mata will also speak with one of the world's leading medical authorities on the Coronavirus. 
"On the pitch football is not about the individual," said Gnabry. "The best player in isolation cannot achieve the best results. Off the field it's the same. We need to develop a new way of thinking across football based on international collaboration and team play."
Common Goal's strategic direction in relation to the Coronavirus crisis is consistent with the long-term vision and mission of the movement and responds to the need that experts from a variety of fields have highlighted in recent weeks in relation to the developing world: "It is essential that developed countries immediately assist those less developed to bolster their health systems and their response capacity to stop transmission," said UN Secretary General António Guterres.
"We must tackle the devastating social and economic dimensions of this crisis, with a focus on the most affected: women, older persons, youth, low-wage workers, small and medium enterprises, the informal sector and vulnerable groups, especially those in humanitarian and conflict settings." 
Common Goal CEO Jurgen Griesbeck said: "The Coronavirus has shown clearly that if we do not respond to the multiple threats humanity faces in an honest, open and collective manner, it will be very difficult to tackle any of these challenges.
"Football can raise its game and play a leading role living up to the game's essence of teamplay and take the whole of the football-loving world with them.
"Common Goal is a mechanism that enables the football industry to collectively play a role in shaping the world, without any thoughts on ownership. The best shot football players, managers and other industry leaders have of creating a positive impact on the world through football is by acting as a team."
For more information on how you can contribute click here.