Common Goal Launches Playing for Peace
Empowering young people to build peaceful and inclusive societies
According to the United Nations over 600 million young people across the globe are currently living in volatile and conflict-prone areas.
The causes of conflict and violence are manifold, deriving from issues like political tension, drug-related crime, and terrorism. The result meaning that hundreds of millions of young people are being denied the right to fulfil their dreams and potential, with many just trying to stay alive.
In 2015, the UN Security Council adopted landmark resolution 2250 on Youth, Peace and Security, acknowledging for the first time the "important role youth can play in the prevention and resolution of conflicts and as a key aspect of the sustainability, inclusiveness and success of peacekeeping and peacebuilding efforts."
Conflict prevention and resolution is more sustainable when young people's perspectives are prioritized. Engaging young people and youth community leaders in peace efforts, decision-making and institutional reform processes provides an opportunity to constructively influence areas that directly impact their lives.
With this in mind, Common Goal has teamed up with 11 football-based community organisations to launch Playing for Peace: a project that seeks to strengthen the position of young people in decision-making processes and influence peaceful conflict resolution towards the creation of peaceable, inclusive societies.
The project will train 45 young leaders across 11 Common Goal partner organisations in Africa, Asia, Europe, Latin America, and the Middle East, as local Peace Agents in areas of leadership, egalitarian thinking, non-violent communication, and conflict-resolution.
As Peace Agents, they will act as role models for other young people and will engage the wider community through a series of events.
These young leaders will engage a further 1,500 of their peers aged between 15-18 in football for good sessions to decrease the percentage of young people involved in communal conflict or inter-group violence in target communities.
"There was never a right time to start this project, but the earlier we begin, the earlier we will have a peaceful society," said Prateek Chawla, Project Manager of Playing for Peace at YFC Rurka Kalan.
"We want our young people to be empowered to shape their communities and play a key role in building peaceful and inclusive societies.
"The whole world is facing different conflicts, locally as well as globally, so we need to focus on preventing conflict at this time. In diverse communities, conflicts are a big issue for the development, respect, rights & equality, and gender barrier, for all the citizens.
"We don't want to exaggerate the importance of football. But for YFC, it represents a universal language. The football field offers children a safe place for playful encounters. We need that to get something started and give a beautiful reason to the kids to bring them on the field.
"The conflict between India and Pakistan has existed since 1947, when the British colonial power withdrew from the region. For many, the conflict seems unsolvable. Football has made the difference that politics hasn't been able to achieve in the last 71 years."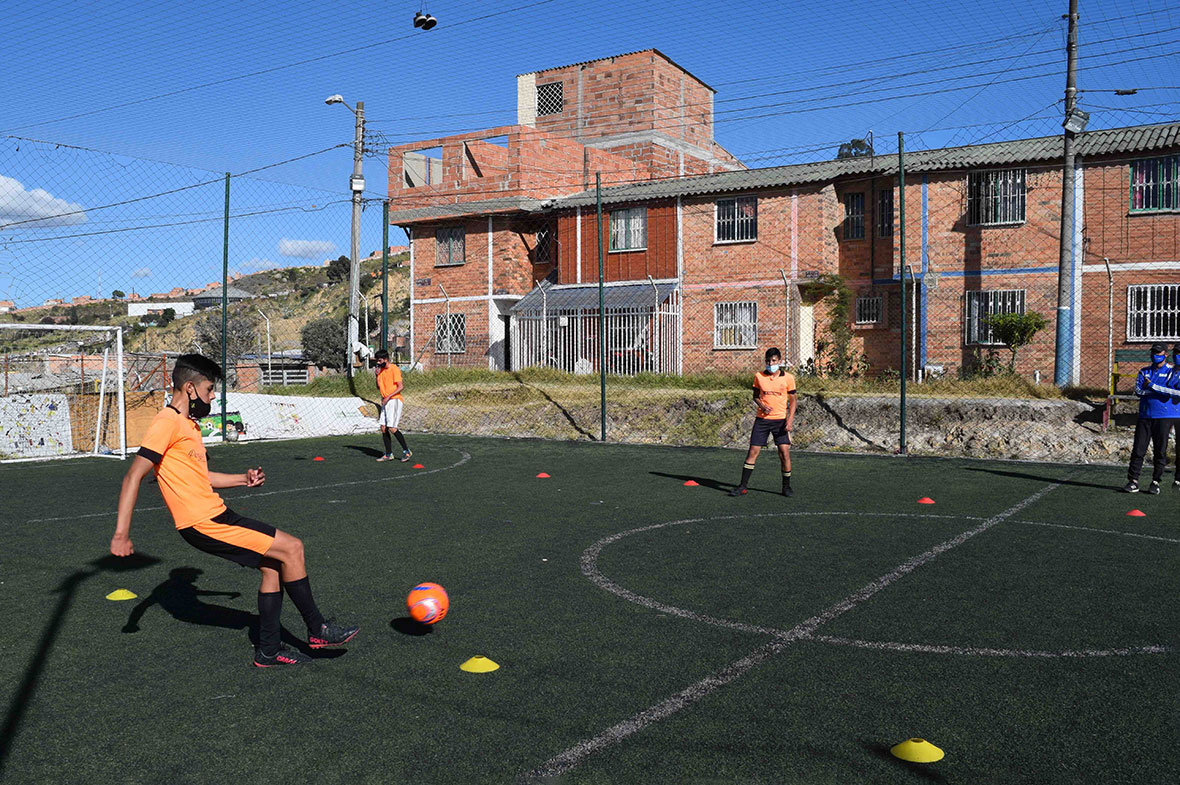 In recent years, countries like Germany have seen a worrying rise in social hostilities but also government discrimination of religious groups and migrants.
Incidents of heightening tensions range from insults towards Muslims, Jews and people of colour to physical attacks and killings.
Moreover, right-wing, neo-fascist, and anti-democratic groups rally growing numbers of supporters behind their ideologies, as do radical Islamic organisations.
Young leader Mohammad at KICKFAIR hopes Playing for Peace can help foster integration in his community.
"For me, it's about breaking down stereotypes, hearing other opinions and learning about new perspectives, learning more about what peace means to peers in other countries can also broaden my view of peace," he said.
"I believe that the topic of peace can really get attention through Common Goal. 
"Hopefully, we can all meet together in one place over the course of the three years and play street football together and exchange our different understandings of peace."
Playing for Peace will run for three years, where young leaders from the participating communities will build strong skills in the areas of leadership, inclusive thinking, non-violent communication, and conflict-resolution.
Furthermore, they can expect to gain extensive knowledge on the socio-cultural-economic setup of their communities and the underlying potential for conflict and injustice.
The organisations involved are YFC Rurka Kalan (India), KICKFAIR (Germany), The Peres Center for Peace and Innovation (Israel), Fundación Tiempo De Juego (Colombia), Asociacion Civil Andar (Argentina), Espérance (Rwanda), Yuwa (India), Dream a Dream (India), Sudhaar Society (India), Slum Soccer (India), UFC Beirut (Lebanon).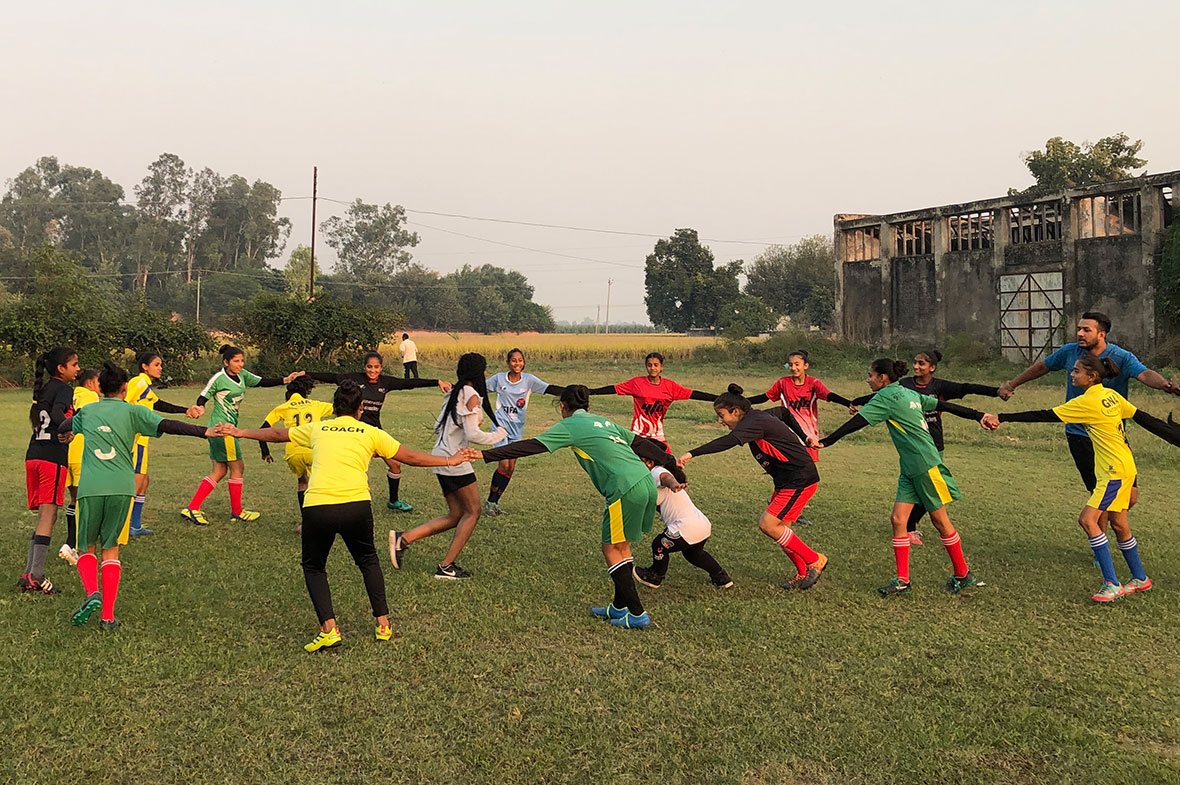 "It is exciting to work with organisations from Israel, Germany, Pakistan, Lebanon, Rwanda, Colombia Argentina, and our fellow partners in India. I always believe that we cannot work alone," said Anirban Chakraborty, senior manager at Dream a Dream.
"Dream a Dream believes that when young people develop life skills — the ability to take initiative, solve problems, overcome difficulties, manage conflict, interact with each other and understand instructions — their ability to make healthy life choices helps them to thrive and make responsible decisions for themselves and the world.
"By reinforcing values such as fair play, team spirit, and tolerance, football is a very powerful tool to bring people together and foster peace in regions that are overcome by conflicts and violence."