"Speaking about change is not enough"
Collin Martin Joins Common Goal 
For Collin Martin, speaking about the change you want to see in sport is not enough.  
Action is what's truly needed to make football a game for all — and he plans to play his part making the game more inclusive for the LGBTQ+ community. 
In 2018, when playing for Major League Soccer's (MLS) Minnesota United, he became the first active openly male gay athlete in any of the big-five American sports leagues or any top-division professional men's national football leagues. 
And now, the 26-year-old midfielder of San Diego Loyal has today announced his decision to join the Common Goal movement; pledging a minimum of 1% of his annual salary towards driving social change through football. 
"I first met the Common Goal team while I was playing in Minnesota and I was blown away by all the work they were already doing around the world," he said. 
"I decided to join because speaking about the change you want to see in sport is ultimately not enough.
"Common Goal is actively doing the work that I think is necessary to make Soccer for All a reality and I'm proud to be a part of their team. 
"I'm pledging 1% of my salary to the Play Proud project because I know how much of an influence a coach can have in a team setting.
"By giving coaches the right education on how to make their teams more inclusive, Play Proud is making sport a more welcoming place for the LGBTQ+ community."
Both in football and wider sports, Collin believes the game can and should do more to create a more inclusive environment. But he's quick to mention the other factors at play. 
"I think when we talk about the lack of out male athletes in sport and football we forget that there may be a ton of reasons outside of sport that can be effecting one's willingness to come out," continued Martin.  
"With that said however, as athletes, we spend a ton of time with our teams and in locker rooms so our experiences in these spaces can greatly impact how we feel about coming out. 
"In order for more athletes to come out our coaches, teammates, and organisations have a big responsibility in creating atmospheres where players can be themselves and can feel supported regardless of their sexuality." 
Not too long ago, Martin and his teammates took part in an innovative approach to ending hate speech which marred the USL's 2020 season — including a homophobic slur directed at himself. 
The USL reached out to Common Goal following its work with the Play Proud project to co-develop a new model rooted in restorative justice to work with pro athletes based in addressing topics pertaining to the LGBTQ+ community.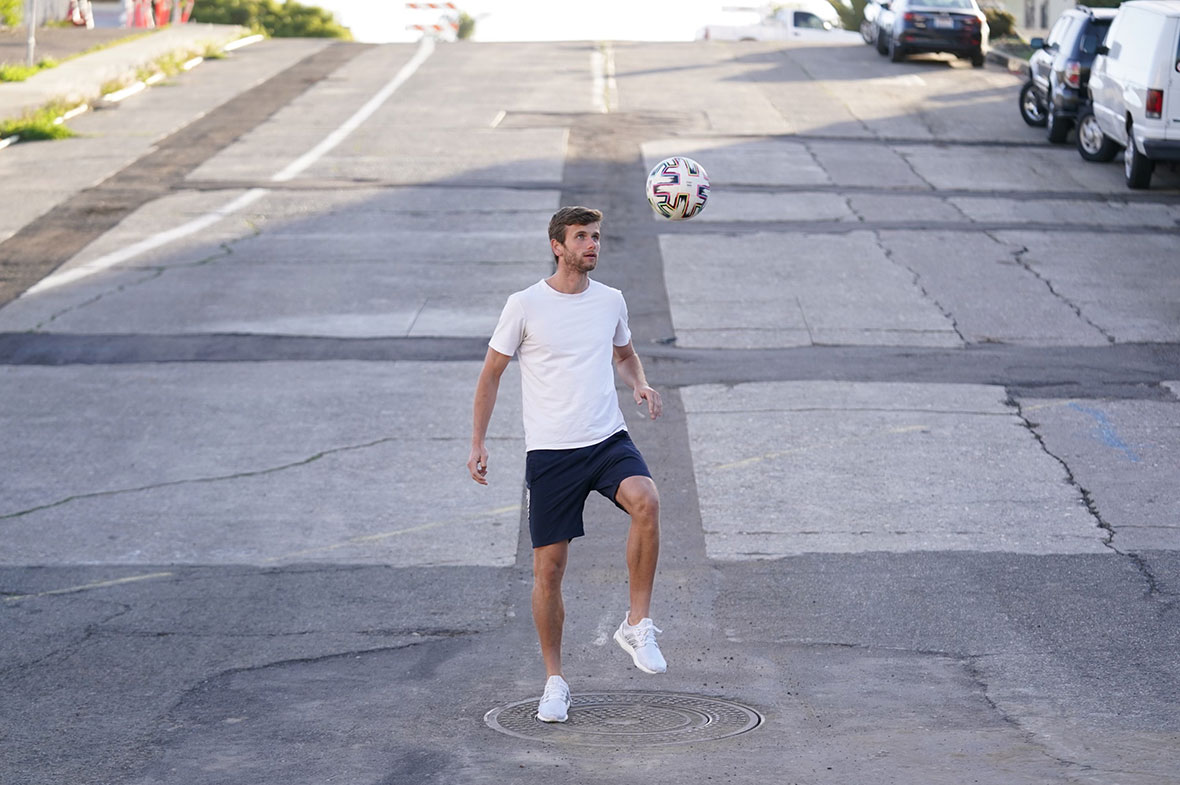 "I think the coolest part of the restorative justice workshop was getting to hear my teammates speak on personal experiences in a different setting away from soccer," said Martin.  
"When you take away the ball and the competitive aspect of sport and see your teammates for the individuals they are, you can learn a lot about your teammates and ultimately become closer as a team. 
"I'm definitely optimistic about the direction the game is going in tackling social issues and making sure football is truly a place for everyone.  
"There will always be injustices at times but now we see that people are willing to talk about these things and try find solutions. 
"Even last week with the 'rent boy' chants on Billy Gilmour you see that people are not standing for blatant homophobia or for anything that makes people uncomfortable in soccer stadiums.  
"The more we call out these things the better the game will be moving forward."