Win or lose, but always with democracy
How Sócrates used the beautiful game to aid Brazil's fight for democracy
While Plato described his master, the Greek philosopher Sócrates, as someone who was hugely pessimistic about democracy, millennia later, his Brazilian namesake staked his career and life on it.
In 1964, a Military Dictatorship seized power in Brazil with the aim of restoring financial and economic order, ridding the country of any communist elements and amending the constitution allowing them temporary authority to remove democratically-elected officials from office.
Many opposed the regime, but it was a then 10-year-old, named Sócrates Brasileiro Sampaio de Souza Vieira de Oliveira, who would later have a large impact on opposing this dictatorship.
During a coup d'état, Sócrates witnessed his father destroy many works of his beloved book collection in fear of reprisal from the military dictatorship's censorship.
"In 1964, I saw my father tear up many books, because of the coup d'état," he said.
"I thought that was absurd, because the library was the thing he liked best. That was when I felt that something was not right. But I only understood well much later, in college."
Sócrates Brasileiro Sampaio de Souza Vieira de Oliveira, known simply as Sócrates, was a Brazilian attacking midfielder.
Born in February 1954 in Belém do Pará, he and his family moved to Sao Paulo in 1960. Sócrates began playing professional football for Botofogo-SP in 1974 before transferring to Corinthians in 1978, the club at which he spent most of his career.
During his time as a professional footballer in Brazil, Sócrates achieved a bachelor's degree in medicine from the Faculdade de Medicina de Ribeirão Preto, a rare achievement for a footballer in those days.
His medical degree and his political awareness soon earned him the nickname "Doctor Sócrates", or simply "The Doctor".
In Brazil, football too was being organised in an authoritarian manner, with players not trusted to behave and therefore made to endure 'concentração', a period of enforced confinement in the team hotel 48 hours before kick-off.
During his time with Corinthians, Sócrates co-founded the "Corinthians Democracy movement", in order to challenge the club's management. They began to vote on every decision, no matter how trivial, with all votes equal, whether coming from the board of directors or the kit man.
The Corinthians Democracy movement also began to protest with, at the time, innovative methods, with Corinthians becoming the first club to use advertising slogans on their shirts.
The team began printing political slogans on their jerseys such as "Democracia" – even adding the image of a splash of blood for effect.
The vast majority of Brazilians supported the movement and the Corinthians Democracy movement was recognised as largely responsible for helping raise the political awareness of the Brazilian people.
Their democratic actions transcended football and inspired a nation by raising political awareness, encouraging Brazilians to directly participate in presidential elections and vote in the first open election since 1964 – printing "DIA 15 VOTE" (Vote on 15th) on their shirts.
They knew that the more people they convinced to vote, the more they could harm the dictatorship, however Corinthians didn't urge people to vote for someone in particular but rather simply to vote in general.
On the pitch, the team were performing well with their cause aided by the fact such established players were spouting the movement's message.
With each win and goal gaining media coverage, democracy was also being celebrated. Seeing Socrates and the Corinthian players stand up, refusing the dictatorship, helped pave the way for the restoration of democracy.
Corinthians' democratic movement revolutionised the club's style and was accompanied by success; the team won the São Paulo (Paulista) Championship in 1982 and 1983, a tournament it had not won for 30 years.
It was after securing victory against powerful rivals Sao Paulo in the 1983 final that the players took a huge banner on to the pitch that read: "Ganhar ou perder mas sempre com democracia (Win or lose but always with democracy)", a reference to the diminishing strength of the military dictatorship.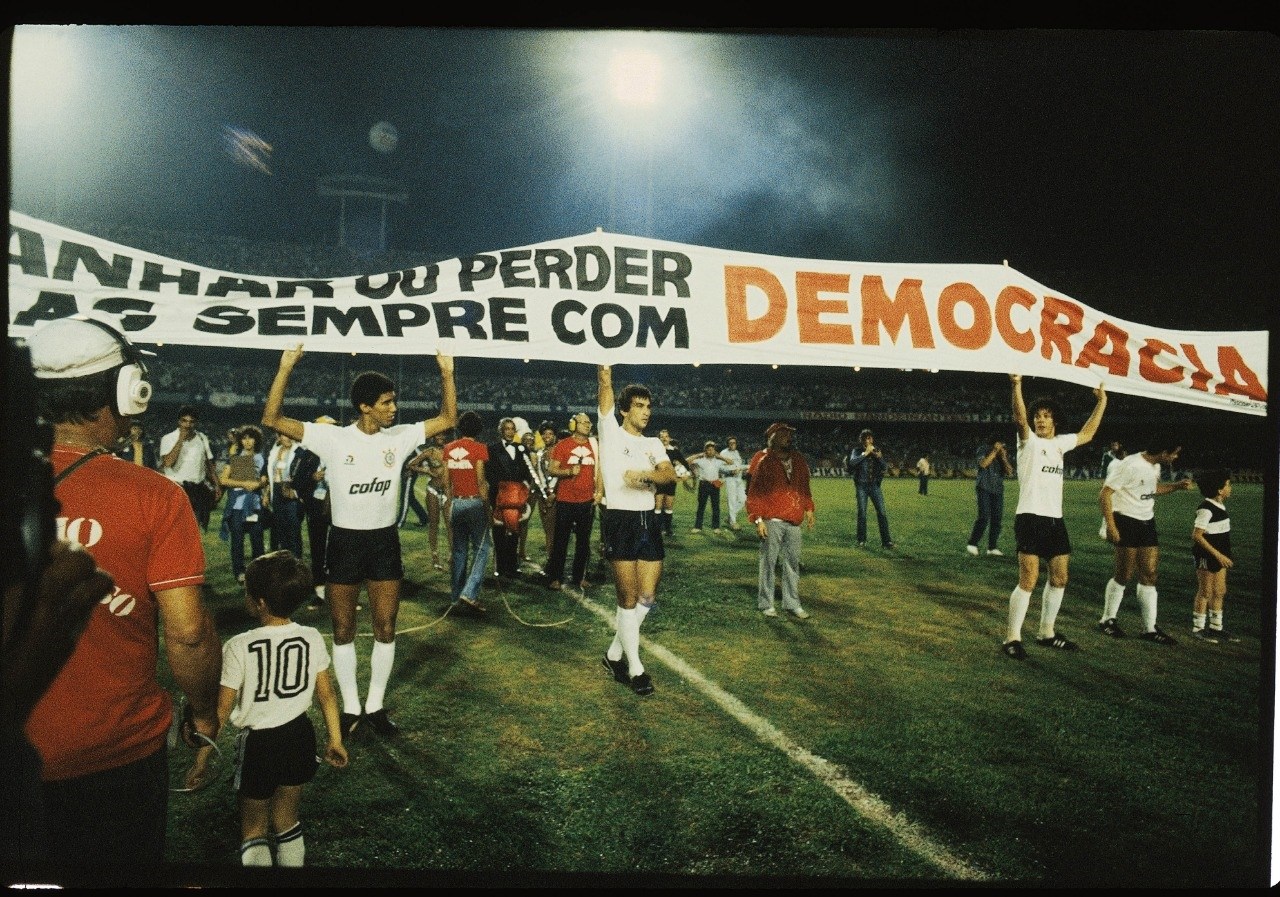 The following year, in April 1984, Sócrates even spoke at a 'Direct Elections Now' political rally in front of two million people.
There and then he hinged his impending transfer, on the outcome of a constitutional amendment; stating that if direct presidential elections weren't accepted by the regime, he would go and play in Italy.
This selfless act cemented Sócrates' political legacy in Brazil.
When the amendment of the Direct Elections Now campaign was overturned by congress, Sócrates kept his word and left for Florence, playing there for a season before returning back to his homeland of Brazil the following year.
Sócrates passed away on the day the Corinthians won the championship against Palmeiras in December 2011.
It matched a professed desire of his, having previously stated his wish: "to die on a Sunday when Corinthians win a trophy".
A minute's silence was held pre-match, with many in the stadium raising their fists in memory of the defiant Doctor Sócrates.
Corinthian's democracy concerned football, but not only football, it embodied the dream of every Brazilian; of removing the dictatorship and seeing the return to universal suffrage.
"That was the greatest team I ever played in because it was more than sport," said Sócrates.
"My political victories are more important than my victories as a professional player. A match finishes in 90 minutes, but life goes on."