PSG GOALKEEPER JOINS COMMON GOAL
Christiane Endler makes the 1% pledge
For Christiane Endler, joining Common Goal means giving many children the opportunity to develop and fulfil their dreams.
The PSG shot stopper has spent four years with the French giants, and joins the movement just two days away from a crucial clash against Dijon – where a win will see her Féminine side crowned league champions.
Speaking to Common Goal via video, the Chilean international said she had a desire to help unite the football world towards making a more positive impact on society.
And, after becoming the first Chilean to make the 1% pledge, Endler expressed her delight at being able to use her position as a footballer to help those she feels are most in need.
"The more footballers think about joining Common Goal, the more we can make a difference in the world," she said.
"I am very happy to belong to this group of people who are looking to help develop people socially and to help in some way those who need it the most – I think it is very important that we get involved.
"I think we can give many children the opportunity to develop, to fulfil their dreams, to be happy doing what they love and I think it's a very good way to help in some way."
Christiane's first pledge will go towards Global Goal 5 Accelerator – a collective project designed to advance the efforts of Common Goal partner organisations towards gender equality.
The 29-year old is passionate about the women's game and has been encouraged by its development in recent years.
"I think it has grown a lot, especially lately it has developed by leaps and bounds," she said.
"The more people and footballers unite to keep it developing, to keep it growing, and to put pressure on it, the more we will be able to develop it. 
"But I think that in the last few years there has been a very important growth."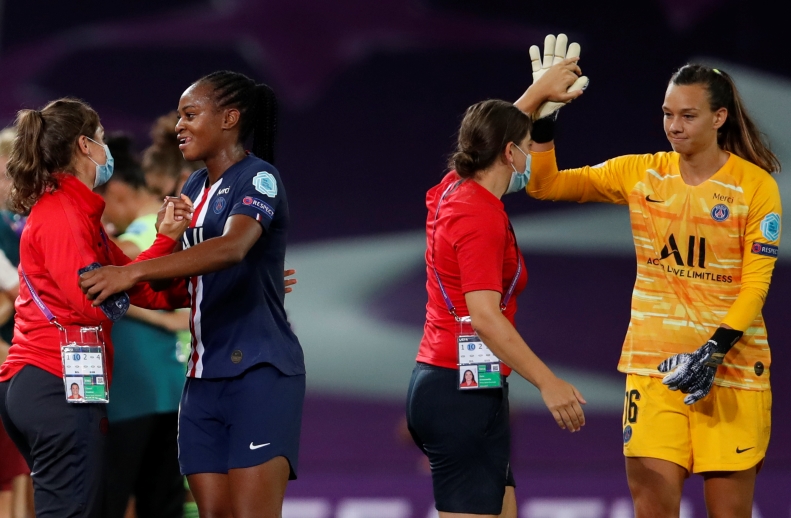 Endler has had a decorated career between the sticks, winning five league titles in her home country, as well as the Copa Libertadores and the Coupe de France in the past.
On an individual basis, Endler has won Chilean footballer of the year six times and, in 2020, was named as the world's best goalkeeper in The Guardian's annual list of top 100 players.
Now in the prime of her career Christiane hopes to inspire more players to join the movement.
"I would like to tell everyone to join in. It's a very big community that has worked and helped a lot of people globally," she said.
"It is a very good way to give back all that this beautiful game has given us by just giving 1% of our salary.
"I would like to extend a big invitation to you. I hope you will join, find out what it is all about and that we can work together to make this world a better place."