Goal Click Refugees
World Refugee Day 2020
To mark World Refugee Day (June 20) Goal Click and UNHCR, the UN Refugee Agency, have launched Goal Click Refugees - a new photographic series documenting the personal stories of refugees and asylum seekers, all told through football played in refugee settlements, urban situations, and among their host communities.
Goal Click, the global football storytelling and photography project, gave each participant a disposable analogue camera to capture the realities of their football lives and communities.
Among the intimate photos and stories that came back from camps in Jordan, Kenya, and South Sudan to the playing fields of London and Sydney, were the voices of six young people from four football-based community organisations within the streetfootballworld network.
Offering a platform to unheard voices, Goal Click Refugees highlights the experiences of refugees through the common language of football at Balon Mundial, Football United, Kicken Ohne Grenzen, and Red Deporte.
Sadio Malang, Balon Mundial
"I left Senegal because there was a bad situation in my region Casamance - there was an on-going war, so I decided to leave.⠀
Football changed my life, not only here in Torino where I live now, but in Rome too when I had just arrived in Italy.⠀
Through football I met a lot of people, a lot of friends who helped me so much. Thanks to football I found a job and a lot of good people.⠀⠀
Most of the photos show the refugees' football team of Balon Mundial, Senza Frontiere (Without Borders) Football Club.⠀
This is a football team formed by refugees and asylum seekers that practices all year and during the summer participates in the 'Balon Mundial – the World Cup of Migrant Communities'.⠀
The guys are all refugees and asylum seekers I met at Senza Frontiere.
Everybody has their own beautiful story."
Bahram Mia, Football United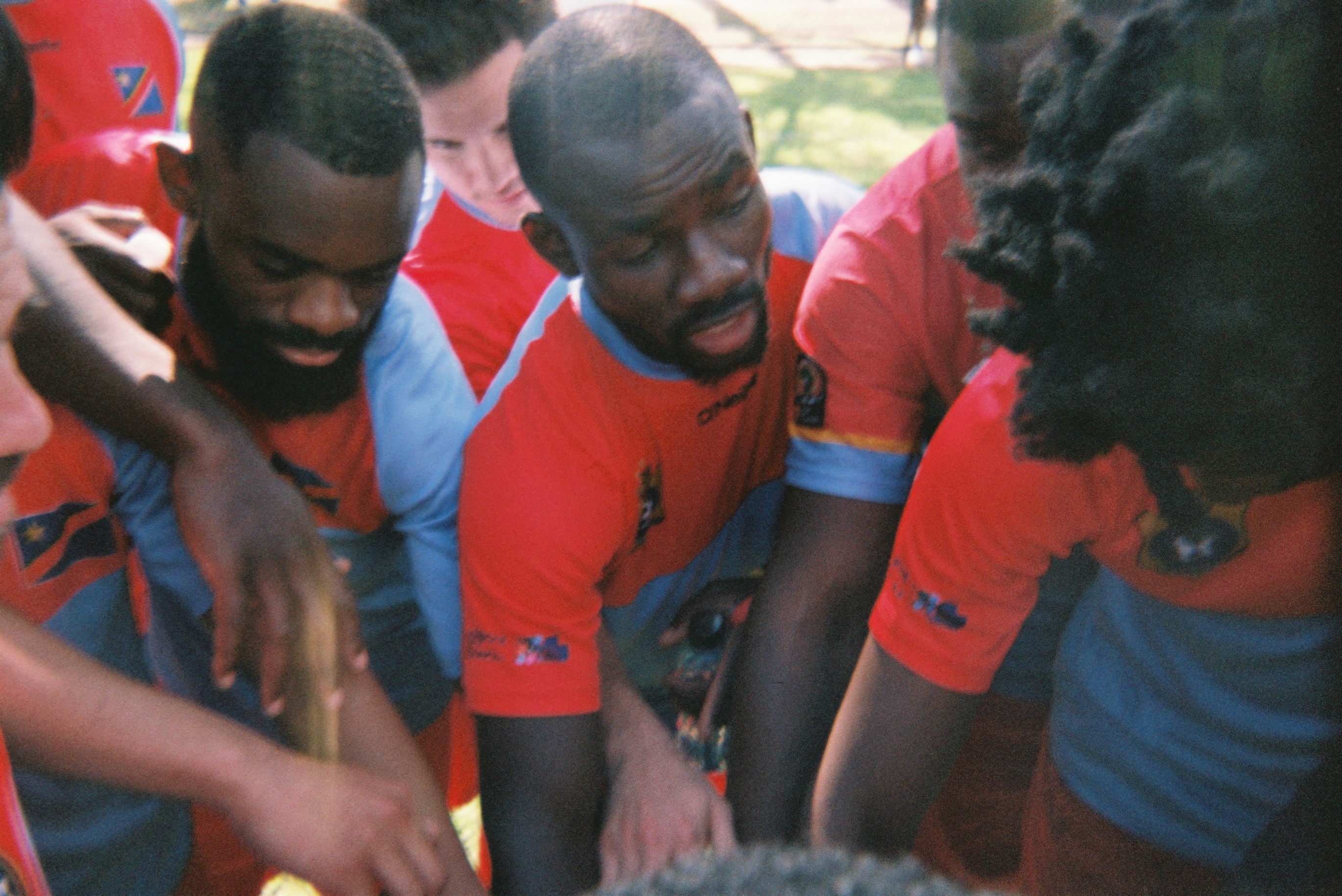 "My name is Bahram Mia. I was born in Pakistan, the son of Afghan refugees.⠀
I only started playing football after I arrived in Australia. I was a football coach for five years with Football United.⠀
These photos were taken at Progress Park in Auburn, one of the most diverse and multicultural suburbs in all of Australia.⠀
They feature players from the African Cup tournament contested by teams made up of players from the African diaspora. ⠀
The tournament is played every year, bringing together people from diverse cultural, racial, religious and economic backgrounds. Many players were Football United participants when they attended High School.⠀
I tried to show how they use football to instil that same passion in the younger generation, using sports as a tool to teach culture and heritage.⠀
When utilised properly, football and sport in general, is a life skills builder. It teaches those who play it communication skills, teamwork, and respect, it builds self-esteem and ultimately brings people and communities together through a common language and passion."
Shegofa Hassani, Football United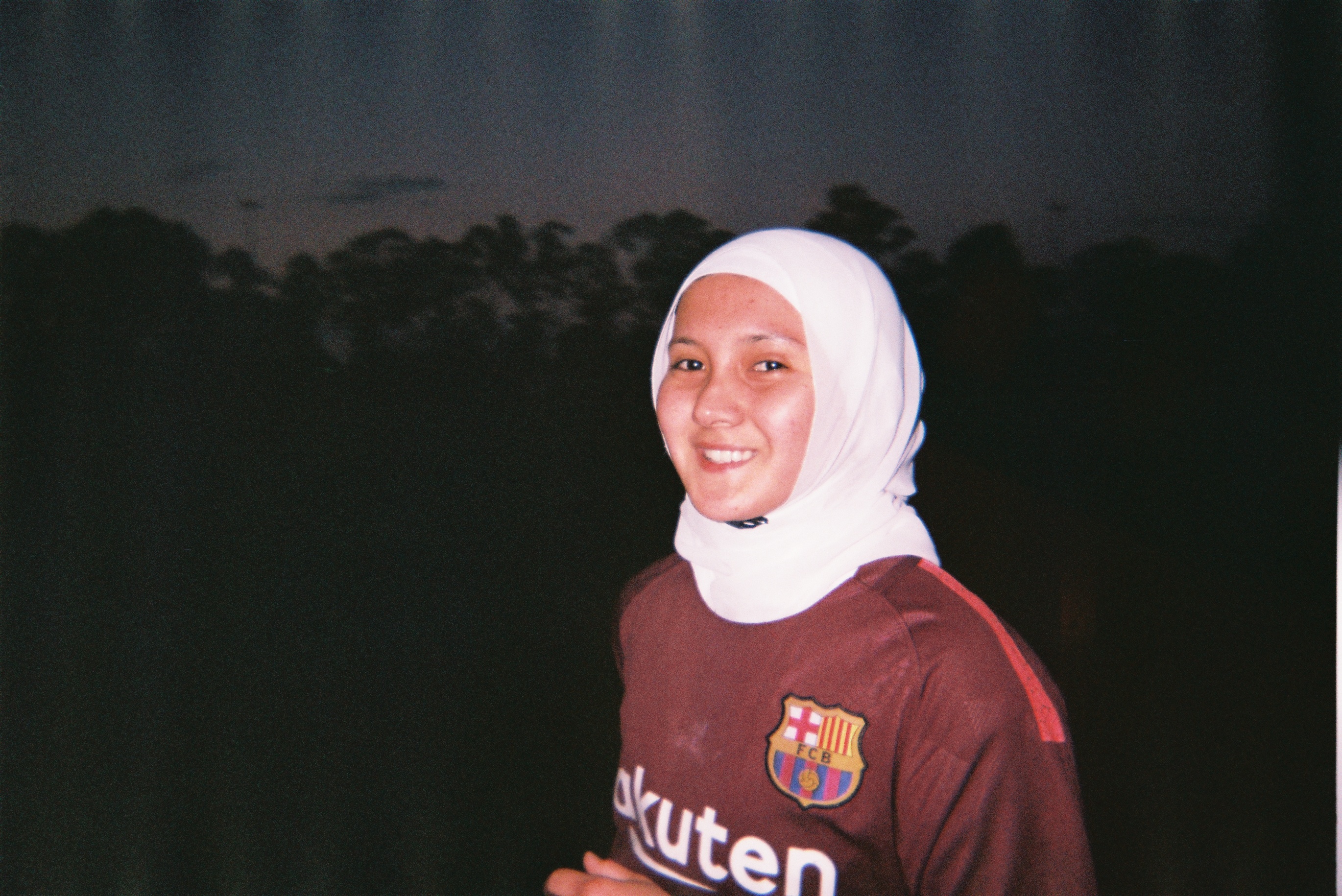 "I came to Australia as a 9-year-old. We fled Afghanistan because of the conflict, as we did not see a safe future there.
I started playing football in the park with my brothers and dad. As my brothers started to play with a club, naturally I wanted to follow but initially my mum was reluctant because of our culture and what people would say.
We convinced my mum to let me play and I've been playing for over 12 years – I am currently a player and coach with Football United. Now I manage an Afghan girls team called Sydney United Girls.
I feel like my truest self when I am on the football pitch. It is where I feel most empowered and most connected with people around me.
And recently it has given me the opportunity to reconnect with my Afghan community and my culture through the team.
It is important for my community because a lot of people still don't think Afghan girls should play sport, and this allows us an opportunity to prove them wrong and stay active and socially connected."
Khadija Ahmadi, Kicken Ohne Grenzen
"My name is Khadija Ahmadi, I am 20 and originally from Afghanistan. I came to Austria at the end of 2015.
At the first match we played with the men, some of the guys were still saying that we should stay at home. We talked to them and tried to show them that we belong here.
Football doesn't belong to men alone. We can play it too if we want. A week later, the guys apologised.
I never thought about playing football in Afghanistan and Iran. When I was there, I still believed that it was a man thing.
I ask myself how my life would look like if as a kid I would have known about gender equality and we would have played together with boys.
Maybe life wouldn't be so complicated, and men and women would be equally accepted. Maybe men wouldn't laugh at me, when I talk with them about football. I'm dreaming of a world like that.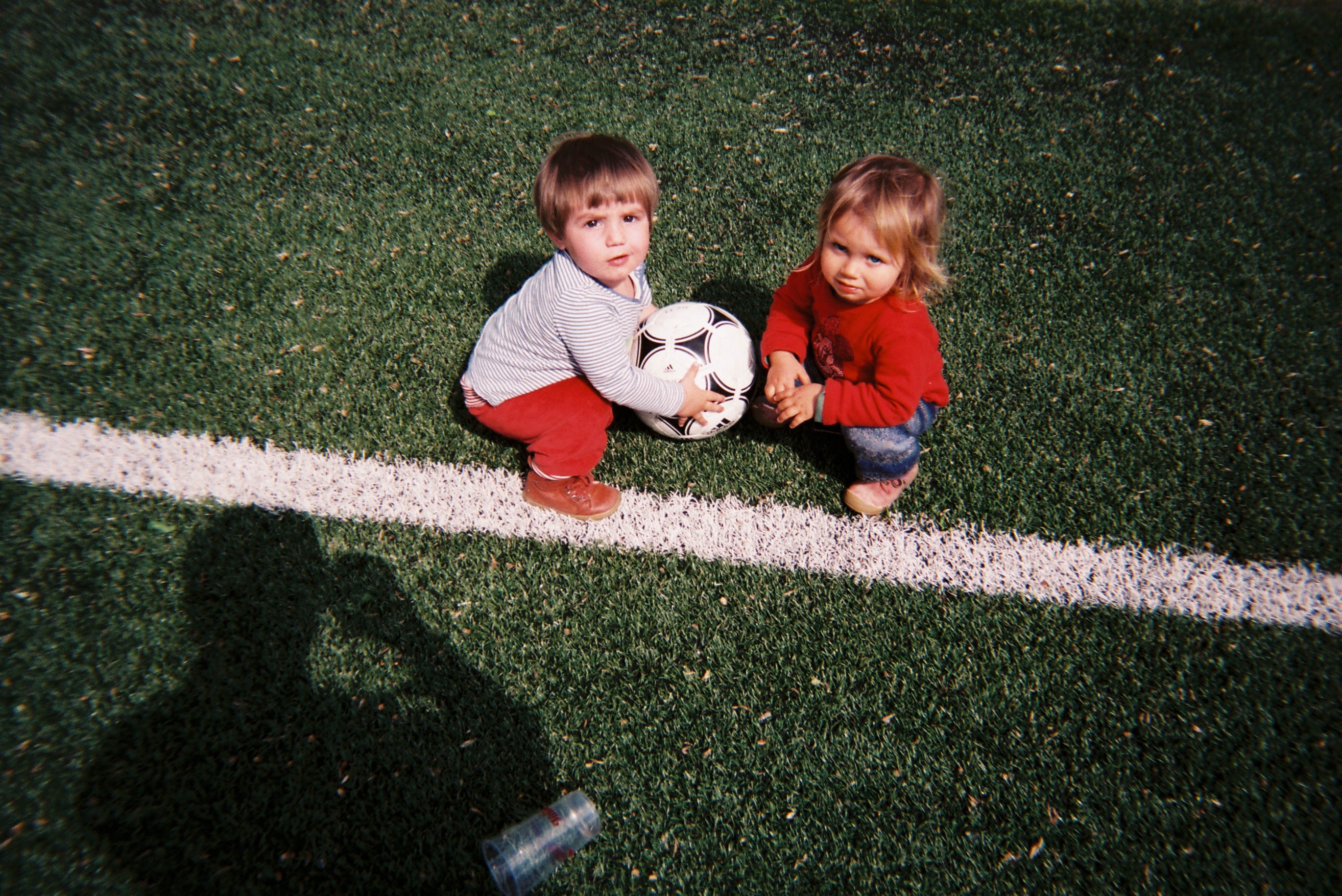 Through football and my new friends, I've been able to find myself again. When I say that, people may think that it's an easy thing to say. But in my case, it was different. I didn't know the language; I didn't know anyone. It's as if you are being born as a baby again.
I just want to have my peace and quiet here in Austria. I had to wait two-and-a-half years for the asylum decision. I finally got a positive decision a year ago. Now I want to live independently.
I did manual work two days a week at the production school. I was in the technology branch. The technology area is male dominated, like football.
It was nice when there were introductory sessions at the school, as everyone asks what everyone else is up to. I would say straight away that I'm a in a football team! Everyone always finds that cool."
Saleha Kashfi, Kicken Ohne Grenzen
"I wanted to play football before I came to Austria, but I didn't have a chance to play for security reasons and because men and women don't have equal rights in my home country.
When I play football, I forget about my problems. I think about winning and fun and feel no pain or troubles. This is very important for me.
I know that football has changed my life."
Yvan Bikambo, Red Deporte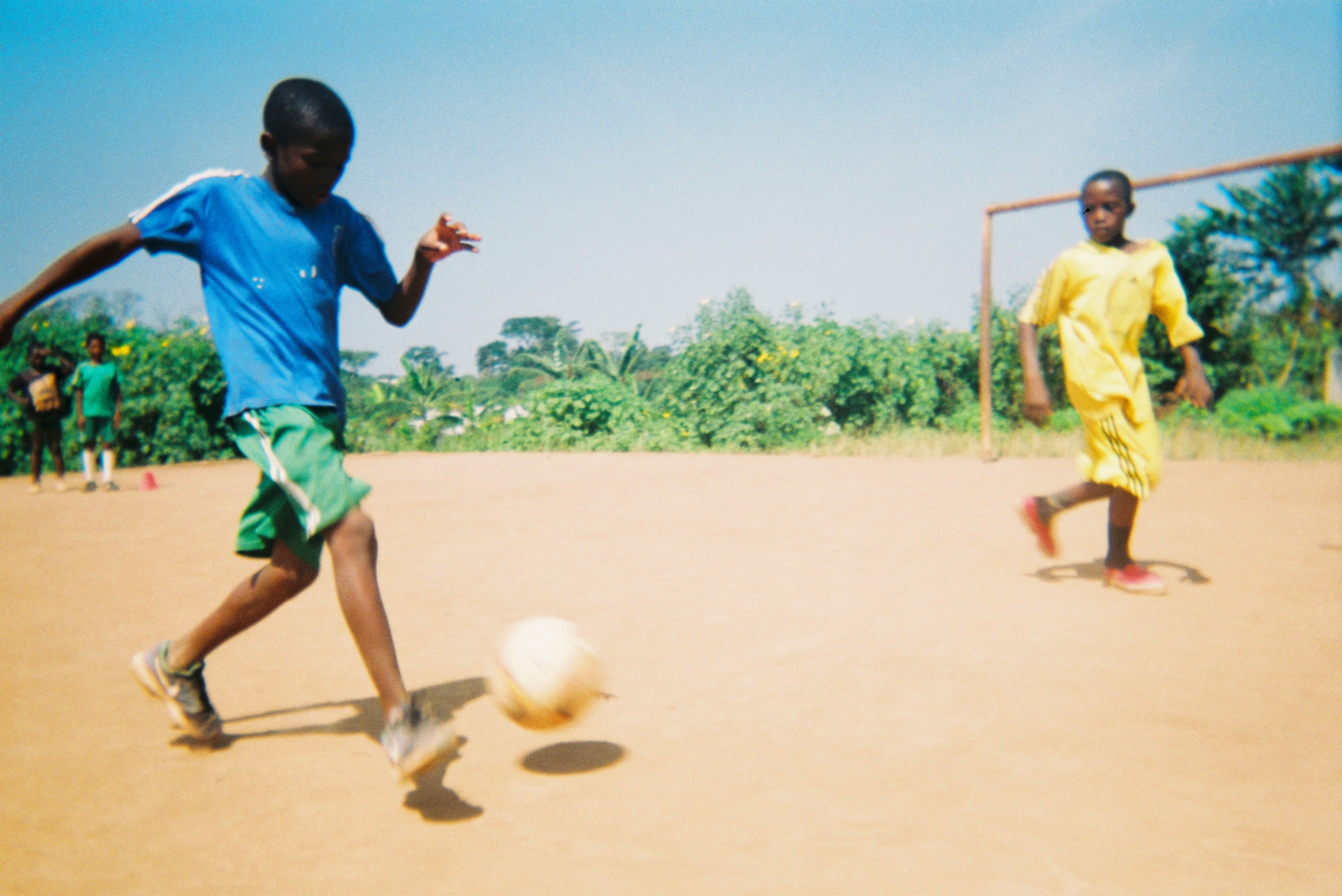 In Africa children are happy when playing football. There are many beautiful colours and blue skies, which means hope and light to me.
Every Cameroonian boy dreams to be Samuel Eto'o, but even if they won´t be that, they enjoy the dreaming and the process of personal improvement, and the friendship that is built on the way to this dream.
For me, football is a way to connect with people, make children happy and it is a tool for learning important things in life."
The year-long project will lead towards a physical exhibition during the UEFA European Football Championship in 2021; more than 60 male and female refugee stories in 20 countries across five continents are expected to be published during that time, straddling the period before and after COVID-19 lockdowns.
Want to support? The initiative is supporting donations to the Common Goal COVID-19 Response Fund.
Find out more about the project here.