Fútbol Popular
Unionistas: one year on since becoming the first Spanish club to join Common Goal
A year in the life of any football club is a precious amount of time. In the space of just twelve months, tales of triumph, titles, or perhaps defeat, relegation, and even liquidation can make or break a club and define an entire era for its loyal supporters. In the short history of Unionistas de Salamanca Club de Fútbol, a year is like a lifetime.
Founded in 2013, the club is just seven years old but year on year the story of the side from Salamanca is the stuff of fairy tales — and 2020 has been no different.
Since becoming the first Spanish club to take the 1% pledge a year to the day, the club has played host to Real Madrid in the Copa del Rey, had to endure the effects of a global pandemic, survived relegation, and now find themselves in a push for promotion.
Though unable to complete the upset of all upsets, they gave the 13-time European Cup winners a real scare. Through a 57th minute equaliser from Álvaro Romero, Unionistas announced themselves onto the world stage — proving all that hard work in raising a club from the ground up to be worth it.
Two games later, however, the pandemic hit. Sitting in 19th position of 20 teams in the Segunda División B — Spain's third tier — and with the threat of relegation looming large, the league was suspended due to Covid-19 without relegation or promotion.
This season, after 10 matches played, the club are top of the table and hoping to compete at the highest level in the club's history and make the Spanish second division in little over six years since its first ever game.

"We really have seen seven years of history and now we are living our best moment," says Miguel Ampuero, the club's youngest board member and one of 40 directors working voluntarily in the day-to-day running of the club.
His work, like all volunteers, is non-paid — only the technical staff, from coaches to players, are paid — and is done alongside his full time job as a computer engineer. His duties range from helping out with the club's social media, press obligations, IT maintenance and sometimes even cleaning the stadium on matchdays.
The club is his passion and like most Unionistas fans it is a way of life.
"If the petrol that runs the club is the funds, then we are the engine," says Ampuero. He joined when he was 16 years old and has fought tooth and nail alongside other fans to get the club off the ground but crucially in staying true to their original ideals.
"The media thought we would suffer [this season] but we trust ourselves. We trust what we do and how we do it. Every year people have told us 'you can't get promoted' or 'you can't keep improving' and every year we do the opposite — we continue to win."
"The most important thing [for us] is trust. The players are very together; they work together, trust each other, they trust the coach. We all have trust [in what the club stands for]."
Unionistas' philosophy subscribes to the notion of fútebol popular or fandom philosophy. The club is a democracy in which all members (at present there are more than 2,800) have a voice and a vote. All directors are volunteers. The aim being that never again would they be let down by a president or sponsors.

The club was originally formed by fans in homage to the spirit of UD Salamanca following its dissolution 90 years after its foundation as a professional club. Los Charros competed mostly in the lower leagues but spent a small chunk of its history in La Liga, experiencing its best ever season in 1974-75 when they finished seventh.
In the late-1990s players such as Portuguese striker Pauleta and soon-to-be Spanish international and Real Madrid galáctico Míchel Salgado wore the white shirt before going on to greater things. But despite the highs, ominous times lay ahead.
In 2013, the club's debt reached 23m euros. While the official supporters' group had put forward an economic package the president and business, Juan Jose Hidalgo, who had promised investment but delayed administration eventually used his ultimate power to liquidate the club due to the accumulation of unpaid debts.
"Unionistas [as a club] has two main objectives," says Ampuero, "one of them is that our fan-owned club is socially engaged but also to pay tribute to a historic club, which is UD Salamanca.
"Since we started, our vision is one related to people. [Through football] we want to give back to society what it has given to us. We think this should be part of football — for us that is how we live.
"We play matches, but it's not only being able to score, and win, and celebrate; we have a voice, we have a lot of supporters, our team is very popular, and we can help [with social issues] so why not do it?
"From the beginning, we started with this as one of the key aspects: to be actively engaged within our social reality."
Among the group of volunteers on the board is a smaller group dedicated to socially-engaged initiatives to promote solidarity across Salamanca. So far, in addition to joining Common Goal, they have promoted and raised funds for a local animal shelter and The Movember Foundation.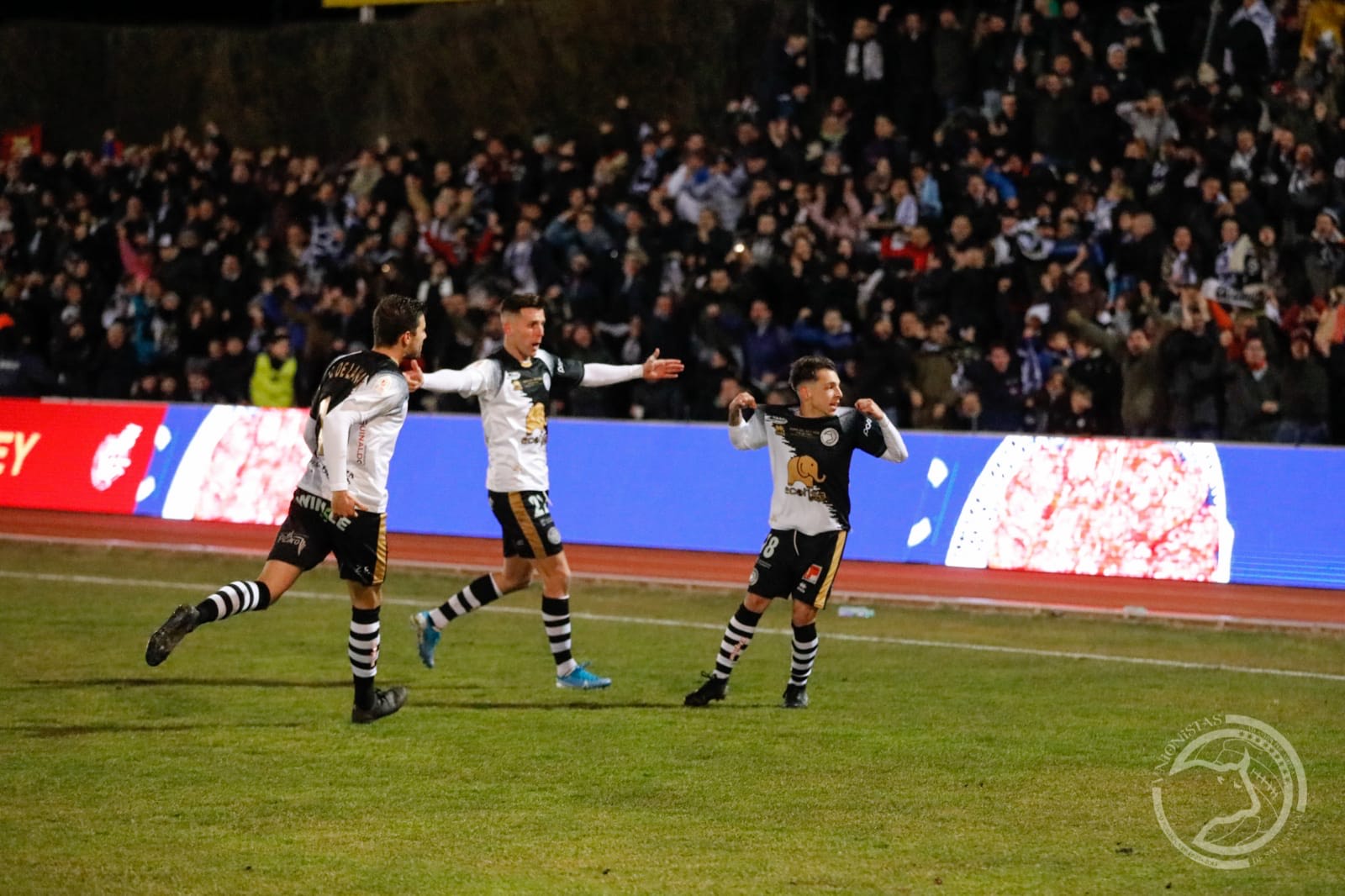 "We have been collaborating, it feels like, with everyone here in the city. We work with them to give them a voice. At the end of the day, we reach a lot of people. So if we promote them in our social media, we are helping them, but also sometimes during matches, we raise money for them and give them visibility.
"We try to do as much as we can locally but we also wanted also to have a global vision —that's why we joined Common Goal."
One year on, its 1% pledge has gone towards the Common Goal collective fund and later towards the Common Goal Covid-19 Response Fund. The club's commitment to driving social change includes the 'opt-out' clause in all subsequent contracts, with the 1% pledge now woven into the fabric of the club.
"When new players arrive, we explain to them everything related to the club and one of those things is Common Goal," says Ampuero. "What we've seen is a really good reception to the message — and that's really good. At the end of the day they understand our way of living, our way of football, and our beliefs that we have."
Asked if he would encourage other clubs to also make the 1% pledge, Ampuero was adamant: "Of course I would."
"I think football clubs have to do more apart from just playing football. [Joining Common Goal] is not a big economic impact — it's 1%. But [beyond the amount] it's a symbol of being active in this world from a solidarity point of view.
"I think it's something we all should do, to give just as a small percent of our life of our time, of our money to others who need it, for us is nothing but for others is a lot."
And when he says "our" money, Ampuero means it.

The owners are the fans and it's them that provide the club's funds through a membership system. Different categories of membership allows supporters to pay less — and only have free access to a certain number of games — right through to the level of socio colaborador. Those at that level choose to pay more, with the extra money going towards the running of the club. Former Spain and Real Madrid manager Vicente del Bosque is a member.
Even without the ability to attend games due to Covid, and the added costs of adhering to health protocols, the fans decided against reducing the membership fees. In fact, some people gave even more money despite themselves suffering from the financial effects of the pandemic. Not a single supporter asked for their money back.
"I know some of [the fans] that became unemployed but they have still saved money to contribute to the club. It's amazing. They know that this club is for everyone, they want us to compete, to promote [a different vision of football], and to try to dream."
Despite losing the matchday revenues from the following games, thanks to the profits from the Real Madrid cup tie, the club could continue paying its players a salary during the game's absence. Though, even this was done in typical Unionsitas fashion. Adamant to play at their home Pistas del Helmántico stadium, the club declined a €500,000 offer to play at the Santiago Bernabéu and refused to display any advertising from betting companies.
"It was a very stressful week for all the board and all the volunteers and a lot of people but it was also amazing to see Real Madrid play on our pitch — I couldn't believe it.
"For me it was magical and I was so proud that a lot of people from Spain but also from around the world got to know about Unionistas and about our vision of football. It was a day to be proud of what we work and what we fight for."
Acting as a steward in the stands Ampuero barely even had time to celebrate the equaliser: "I couldn't celebrate because I was checking that everyone was in their correct places."
"But I remember coming back to my room [that night] and staring at the ceiling thinking: 'wow, we just played against Real Madrid — and scored a goal.'"

Fast forward to present day and beyond, come this time next year the club could once again be making its way in unchartered territory. With a new stadium being built, if all goes well the club could be just one step away from La Liga.
The unfortunate irony is that as the fan-owned club experience its best ever moment, it's those very fans who are unable to experience it in the flesh — mainly due to Coivd-related restrictions.
While promotion itself would bring a whole new set of challenges and meaning the club would once again have to adapt, this time to legislative regulations set by the Spanish Football Federation, Ampuero would welcome a "miracle" in the form of promotion on the Salamanca horizon.
However, beyond whether they get there or not, what is most important is that they do it in the Unionistas way — with total trust and remaining true to the club's founding ideals.
"Our main objective is to be well established in the third division and to grow our followship in Salamanca.
"[Before the season started] we wanted to dream. So we left our objectives open. But our dream now is to reach the second division and that dream is halfway, so let's trust [the process].
"We are football romantics after all. It's going to be hard, but let's see."

Photos courtesy of Unionistas de Salamanca Club de Fútbol and Getty Images.