Common Goal: July Highlights
Uniting behind a common goal
July saw stakeholders from across the football industry use their voices and platforms to help create a more equitable world.
Two of the world's biggest football clubs -  Real Madrid and Juventus  - wore jerseys with Common Goal's Play Proud artwork at their sold-out Rose Bowl game showing the world that football can bring people together for social impact. 

July also saw Hyundai team up with Common Goal to accelerate football's climate action plan and the American Outlaws take the 1% pledge making them the biggest fan group to date to join the movement.
Danielle Carter also shared her piece on periods, football, and life and we heard the founding story of War Child, one of the movement's newest organisations.
Real Madrid and Juventus Demonstrate Football's Ability to Unite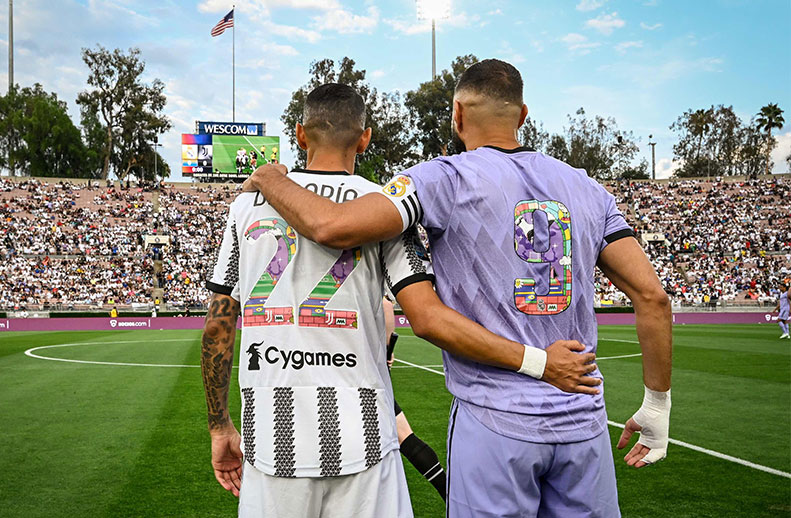 On 30th July, Juventus and Real Madrid played at the Rose Bowl Stadium in front of 93,000+ fans.
Both teams, with the support of adidas and Avery Dennison, united behind a shared commitment to creating a more inclusive and diverse game.
On the back of every player's jersey, Play Proud (football's leading LGBTQ+ inclusion initiative) artwork was embedded into each number.
Until 5th August, fans can enter a giveaway to win signed Pogba and Benzema jerseys from the match. Donations go to Play Proud to help create a more inclusive game.
Enter the giveaway here.
Read more here.
Hyundai and Common Goal Team Up for Climate Action
Hyundai Motor committed to pledging 1% of this year's FIFA World Cup sponsorship fee to Common Goal to accelerate football's climate action impact.
This partnership enables Common Goal to kick-off its climate action agenda in 2022 and develop an impact plan in collaboration with organisations, players, brands, and other stakeholders in football.
Common Goal will build upon the work and initiatives that are already taking place in football by creating a coalition, connecting existing projects, and developing an impact framework that enables everyone in football to be part of the solution.
Read more here.
The American Outlaws Join the Movement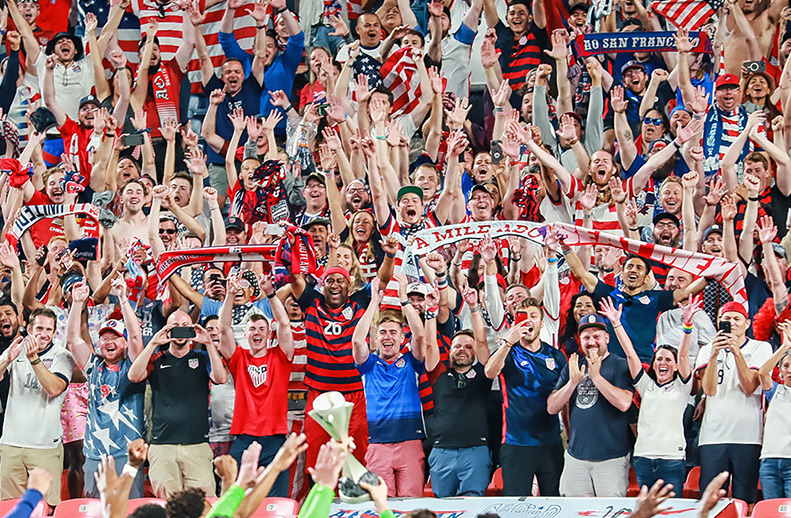 The American Outlaws, made up of 25,000 members from over 200 communities across the US, pledged 1% of their membership dues to help support the Anti-Racist Project, Play Proud, and football for good organisations across the country.
"Being a part of the community is about more than just being a fan, it's making sure we can help the community have access to the game they love, so that one day, anyone can have the opportunity to be on the field where we can jump and cheer for them," Justin Brunken, the group's Co-founder explained.
Read more here.
And the movement also welcomed Laura Juul Hansen, a winger for Sundby BK.
"I want to inspire others to make a difference and give everyone the opportunity to play football," said Hansen.
Let's talk about it, period – Danielle Carter
The Brighton and Hove Albion striker shared her piece on football, periods, and life.
"What I want to talk about will probably put a lot of you off," she wrote.
"I promise if you stick around though, there's a lot to learn.
"Just by engaging with this conversation, you can help give space for progress around it.
"I want to talk about menstrual hygiene. Yep, I said it — periods, cycles, tampons, pads, all things menstruation.
"Sometimes I wonder how we would view menstruation if men went through it.  
Read more here.
War Child's Founding Story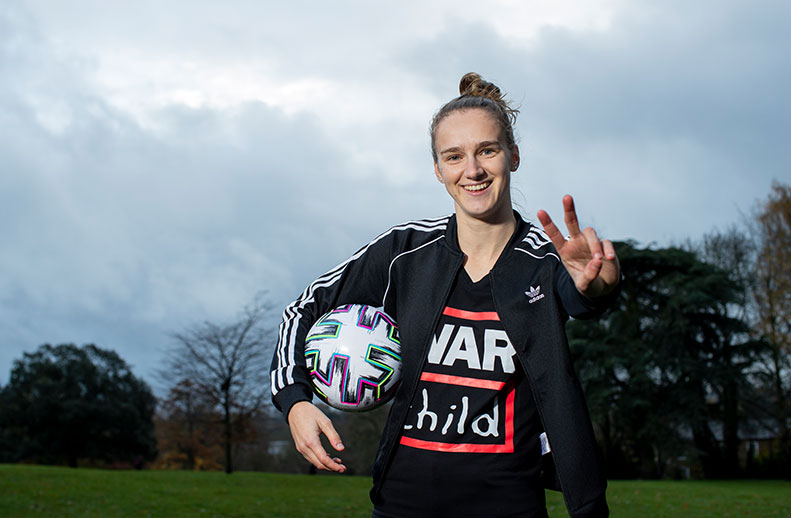 When War Child was founded over 25 years ago, the idea of prioritising mental health, and not just securing food and shelter for young people affected by conflict, was seen as radical. But things have since changed drastically.
War Child's mental-health-focused approach is now widely adopted, Vivianne Miedema, Netherlands' all-time top scorer and current Common Goal member, is an ambassador, and last year, despite corona restrictions and numerous other challenges, the organisation provided urgent humanitarian support to 648,477 young people and adults. This year War Child Holland joined Common Goal.
Read more here.