An Education in Football
Duncan Watmore writes Master's Thesis on Common Goal
As Common Goal celebrates its third birthday, we catch up with one of the most long-standing members who joined just a few months after the movement first kicked off.
Duncan Watmore has used his membership of Common Goal to promote quality education through football and, in his own life, has experienced how powerful the connection between education and football can be. In the midst of coronavirus lockdown in the UK, the 26-year-old winger recently completed his Master's thesis on the work of Common Goal.
Though the 26-year-old winger entered the world of club football at an early age – joining Manchester United as young as six – Duncan Watmore's career has never only been about achieving success on the pitch. While playing, he has continuously strived for an education and has completed both a Bachelor's and a Masters' degree.
Over the years, Watmore came to realise how mutually beneficial his pursuits on the football pitch and in the university lecture hall were. At first, however, education was more of a back-up plan. "Initially, it was probably because I didn't necessarily think I was going to be a footballer," Watmore remembers.
When deciding what to study, Watmore says that he was drawn to economics, a subject he had become fascinated by in sixth form at school.
"So much of the world revolves around the economy. I like how so much can be explained through economics. So many political decisions, so many world decisions are economic in some form and I just found that really interesting."
When the young winger signed with Sunderland his undergraduate degree in Economics and Business Management was already well underway. "It would have been easy to stop," Watmore admits. He weighed up his options and decided to continue along both paths. "Football is a very short-term career and I always have my eye on what I want to do next, and I thought having a university degree and studying could help."
The budding economist found that he enjoyed learning and noticed that his studies were not detached from his sporting ambitions, but that they fuelled his performance on the pitch: "It [studying] also gave me a break. Football's quite an intense environment and it was something that helped me to switch off when I came home from training. I think that by working hard mentally and physically, you then get the mental stimulus and I have more motivation when I get back to training the next day."
Watmore also became more aware of the mentally challenging side of football. "I think there are different types of intelligence. Football intelligence is a very unique thing on the pitch. Whatever the situation, there's a lot of reading the game, reading your opponent and reading the way it's going and some players are very, very good at that. That's something that I've had to work at, it's something I want to get better at."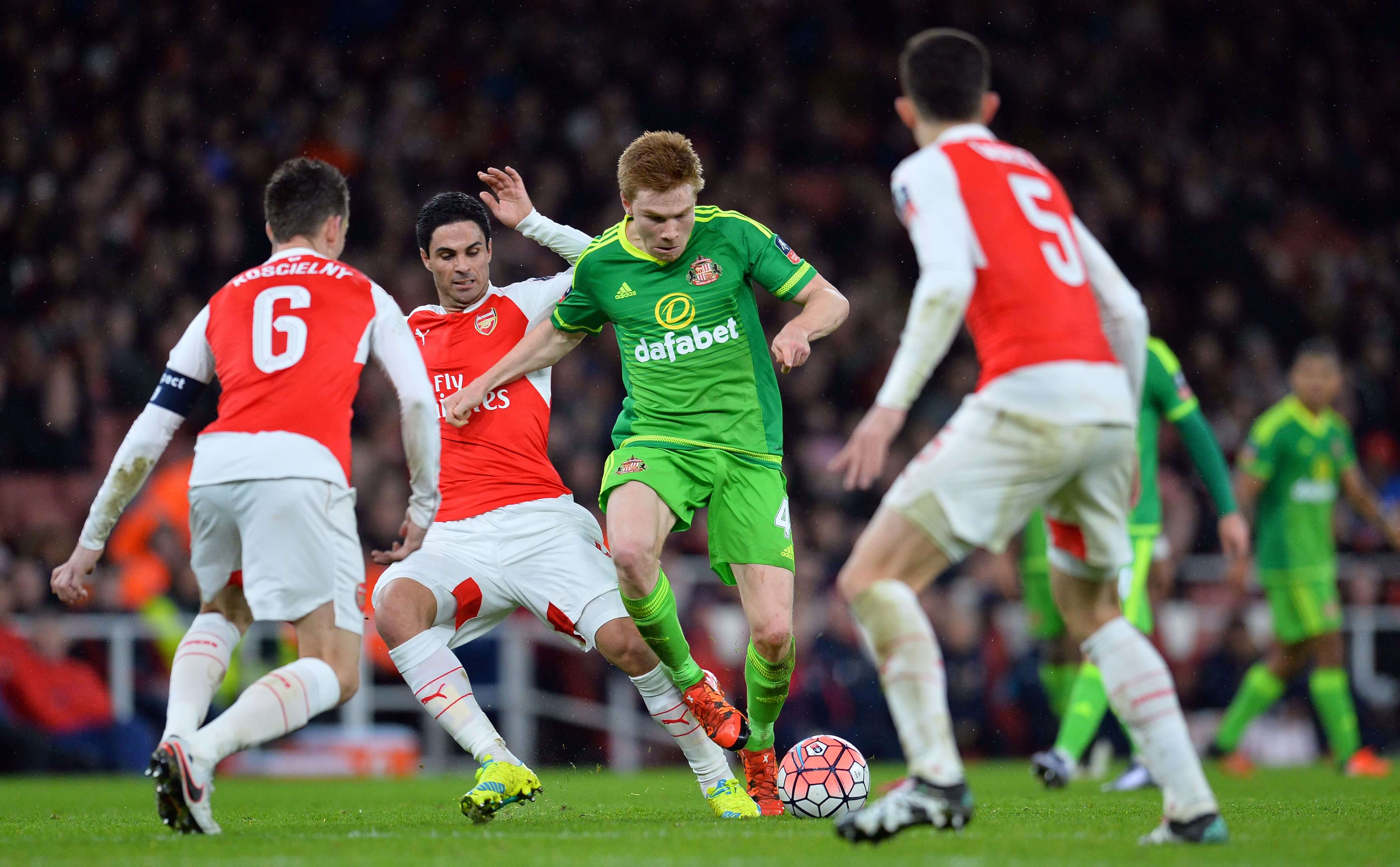 After completing his first degree, from which he graduated with First-Class Honours, Watmore focused again more on football before a succession of knee injuries meant an involuntary break from the game.
He decided to continue his education and enrolled in a two-year Master's course in International Leadership, Business and Management. As his studies were part-time and classes took place online, Watmore had the flexibility he needed to follow his rehabilitation routine and later also keep up with training when he returned to the pitch.
As well as offering a purposeful use of his time while away from the sport, Watmore notes how his studies gave him a different understanding of the game. "I find it interesting to not only play the game, but to have a look at it from a different perspective, an economical or business perspective."
As part of his Master's degree in International Leadership, Business and Management, Watmore was required to submit a thesis. As the topic of his research, he chose Common Goal: "I feel quite passionately about the organisation and what it does and also I'm really interested in how football can use its economic and business power, and political power and social power for good. I feel like the economics of football is a really interesting topic. So, by doing Common Goal as a dissertation topic, it allowed me to use my economics and football link."
Watmore was curious to explore how Common Goal had transformed from an idea into a movement engaging over 150 professional football players and managers [currently 159]. Another motivation, he says, was that he recognised the potential of Common Goal to grow even more rapidly: "I see how good it is and how good it is for society." He asked himself, "Why have we only got 150 members when I know so many footballers who would be willing to help society and there's an organisation here that's doing it?"
Watmore set about interviewing footballers who were not yet Common Goal members to find out what could prompt them to join the movement and what effect altering the pledge amount of at least 1% could have.
"The main motivation for people joining," Watmore says, "was understanding better what Common Goal does and getting that name out there." The 1% pledge, he found, was a successful way of creating this understanding, as many interviewees "said that they felt like it was part of Common Goal's makeup, part of their foundation as an organisation and if they changed from that, maybe the message would be lost."
Learning about Common Goal's impact was also an important contributing factor, Watmore adds. "Trust," he says, was a word that "kept coming up and up and up. There's a negative perception of charities in general. So, the idea of trusting that your money is going to a good cause is really important." Upon becoming a member, Watmore says that from his own experience, he highly valued the annual impact reports Common Goal sent him as they allowed him to understand how his pledge was supporting football-based community projects.
The 26-year-old submitted his dissertation at the beginning of July and has just been informed that he was awarded a distinction. Writing coincided with coronavirus lockdown measures in England. With football suspended, Watmore says, "the dissertation gave me a good focus. It gave me routine throughout lockdown, so I was actually really glad I had it during lockdown, it helped me."
The reflective activity of working on his dissertation was also an opportunity for Watmore to channel his thoughts around the wider societal implications of this challenging time. It made him more acutely aware of power of the collective, an important lesson he learned through his studies but also football itself.
As a young player, Watmore remembers, the sport taught him that, "you've got to be aware of all your teammates. You've got to help each other out. You're better as a collective than you are just playing as an individual."
Reflecting on the current situation of a world still grappling with the effects of the coronavirus crisis, Watmore says that he feels there are "many positive lessons" to be learned: "My main hope is that as we find a way to get over this virus, is that we realise that we are all so connected. I think that sometimes we can be very good at forgetting and I think it would be a shame if, after all this, we then just go back to being individuals not caring about each other."
Commenting on society's discourse of a "new normal", Watmore says that he looks to the future with hope: "We can, as a society, move forward together rather than going our individual ways. I think the world is a better place when we are connected and this virus is showing that collective effort is there and that it is possible. We should use it to our advantage going forward and make sure that, in future, we are all as connected as ever."