"In Fractions, We Make Marginal Gains"
Black players unite to foster an inclusive game
Imagine this scenario. On your football team, of more than twenty-four players, you're the only player of colour. Maybe, if you're lucky, you're one of a small number. This is the reality for countless Black players across the United States and Canada from the time they first step on the pitch as a child. Between the pay-to-play structure, lack of access, and racism within the game, football is often left inaccessible and unsafe for Black and Brown individuals trying to play the sport.
Off the pitch, it isn't much different.
As Brandon Miller, the second-highest ranked United Soccer League (USL) Championship goalkeeper of all time states: "Anti-Blackness goes beyond racial slurs. One can simply look at the number of Black coaches in the league to see how prevalent anti-Blackness is."
It took Miller ten years in the USL Championship before he played under a Black coach — assistant coach Brian Haynes.
Fare Network released a report in 2020 highlighting the extent to which Black people are underrepresented in leadership positions across the US professional football landscape. At the time of the research, there was not a single Black club owner or president in Major League Soccer (MLS) or the National Women's Soccer League (NWSL), and only two Black head coaches. There were 35 teams between the men's and women's leagues that year.
In 2020, against the backdrop of Black Lives Matter protests and conversations around the need for greater diversity, Black players from the MLS, NWSL, USL Championship, and USL League One came together to form safe spaces and fight collectively for greater representation across the sport. This culminated in the formation of MLS Black Players For Change, the Black Women's Player Collective (BWPC), and the USL Black Players Alliance.
All three collectives are taking actionable steps to create a more inclusive game for the next generation. For Black History Month, players shine light on the need for Black player collectives, outline their organisational goals, and share their thoughts on the power of collective action.
MLS Black Players For Change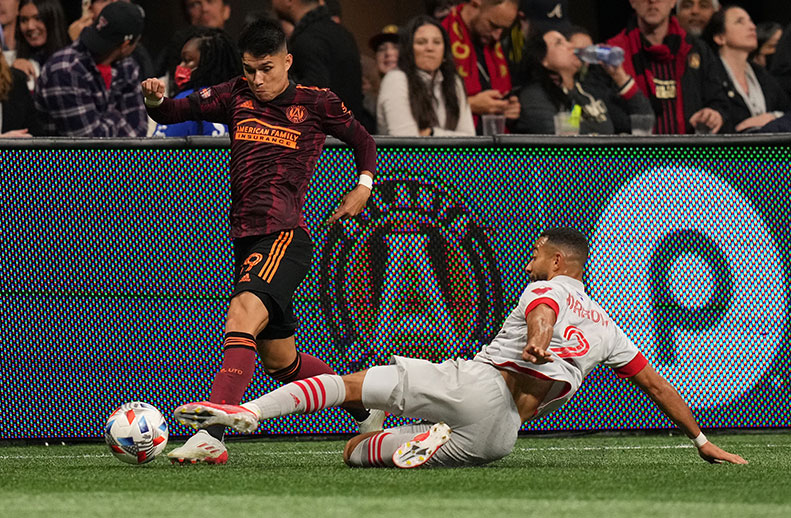 The MLS Black Players For Change started first and foremost as a safe space for Black players in the league back in 2020.
"It's a brotherhood where we can share our thoughts and experiences and be there for each other. Nothing like that had existed before, we never felt comfortable in our players' associations and certainly not in our clubs or leagues," said Justin Morrow, the group's Executive Director and former Toronto FC player.
"The thing that we've created that's unbreakable is this solidarity among each other. This feeling that, although we're competing against each other on match day, we're all in it together."
At the 2021 MLS Cup Final, this unity came to life when Black players from opposing clubs came together for New York City FC keeper Sean Johnson's MVP win.
"We had players from different teams around the league, who are all part of Black Players For Change, come together and celebrate Johnson. That's not a feeling or a community that usually happens in any sport. To have something like that really exemplifies what we're all about," noted Morrow.
Fluctuating slightly on the season, the collective has over 170 current and former Black MLS players, coaches, and staff with 40 of them heavily involved in the day-to-day operations of the group.
The group strives to make the game more inclusive and diverse within MLS and sees elevating Black voices as a key step.
"We interface with clubs and team governors to forge connections that didn't exist before," said Morrow. 
"When we interface with the MLS and speak with executives, we make sure the Black experience is heard and at the forefront of conversations. Not just for now but for years to come."
Looking forward, Morrow believes that, if players from different leagues and sports come together, greater change can happen.
"I think until we unify as one large group, we're doing ourselves a disservice in the pursuit of these goals. We're just so much stronger all together. In fractions, we can only make marginal gains."
Since forming, MLS Black Players For Change has teamed up with the Black Women's Player Collective, adidas, the U.S. Soccer Federation, and other stakeholders to build mini-pitches in Black communities across the United States. In the project's first year, it outperformed its original 12 mini-pitch targets and built 18 new fields across 14 communities, giving more young Black kids a fair shot at the game.
Black Women's Player Collective (BWPC)
Amid the pandemic and the murders of George Floyd, Ahmaud Arbery, and Breonna Taylor, Black players from the National Women's Soccer League (NWSL) came together to support one another.
As Gotham FC defender and BWPC Board Member Imani Dorsey says, "People realised there's still a lot of progress to go in this league (NWSL) in general."
"The conversations that we were having with teammates, it was very evident that people still don't get the problem."
In the 2020 fall series, Black players of the NSWL turned their private conversations into public ones, releasing several joint statements against police brutality and systemic racism.
Dorsey noted, "The public support from the fans was very overwhelming, in a good way, and helped us realise there is power and strength from coming together and protecting each other publicly. That's where it all began."
"Now with realising the power we have in coming together it's like lighting in a bottle. This is something we didn't have as kids, it's something we need to keep going and growing for the next generation."
Since forming two years ago, BWPC consists of over 50 professional athletes — Black players from the NWSL and white advocates from the league.
The group aims to elevate the image and representation of Black women, both in the sport and outside of it. Black female footballers use the platform the BWPC creates to share their experiences and break down institutional barriers that have left Black girls out of the sport.
Growing up in predominantly white central Maryland, Dorsey felt like her identity as a Black woman and a footballer were at odds.
"It didn't feel like soccer was a space to celebrate my Blackness," she said.
Only until recently has the USWNT diversified. For much of the late nineties and 2000s, keeper Briana Scurry was the lone Black player on the national team. In a reference to the complete lack of diversity on the 1999 World Cup team, Scurry called herself, "the fly in the milk."

"Growing up it's really hard to not see yourself represented in an industry that you maybe wanted to see yourself in, like the women's national team," said Dorsey.
Through the BWPC mini-pitch initiative with MLS Black Players For Change and other stakeholders, the collective aims to inspire young Black girls to play.
"It's our grassroots, boots-on-the-ground way of getting into the community and developing some relationships and some inspiration there which I'm really excited about," commented Dorsey.
At the heart of the BWPC's mission, "It's about giving more girls an opportunity to see themselves represented and from that remind them it's not just soccer that they can accomplish, it's literally anything they put their mind to."
USL Black Players Alliance
After talking candidly with each other, Black footballers realised their experiences in the US's second league were similar.
"The conversations we were having were around race, opportunity, representation, and access to the sport," said Brandon Miller, a member of USL Black Players Alliance's Executive Committee.  
"In order for us to make a change in our league, we had to come together and support each other.  We knew that if we didn't speak up, then no one else would."
The alliance formed in August 2020 to elevate Black voices and empower Black players to use their platform for positive social change within their communities. It is comprised of over 100 current and recently retired players from nearly every team of the USL Championship and League One — America's Division III league.
For Miller, representation is the number one issue in the sport. Not just only in terms of coaching, or at the executive level, but especially at the very top. Miller wants to see more club owners of colour across all leagues.
"Those (owners) are the individuals who truly are the decision-makers within a league," he said.
"With money comes power, and those with money have the power to create the safe, inclusive, equitable spaces that we talk about; it simply just isn't their priority."
"We need owners who understand the importance of diversity and what it brings to an organisation."
Fellow Executive Committee member Hugh Roberts agrees, pointing to the need for more diversity in hiring practices. "We need more minorities in higher positions because of the understanding component," said Roberts.
"When there's nobody in ownership who understands what a safe, inclusive space would be like for us, that's when tensions occur."
"It starts at the top. When the executive decision-makers reflect the same diversity that is on the field, there will be an equal balance creating equality for all races within the sport."
Through creating a framework for improved hiring practices and opportunities for minorities, the alliance aims to address the lack of representation within the sport and help foster a more diverse and inclusive game.