"I want to make an impact where and when I can"
AS Roma defender Allyson Swaby becomes first Jamaican to join Common Goal
Given the off-field commotion surrounding Allyson Swaby's career over the past year, she'd be excused for wanting to do anything but focus on playing football again.
Since helping take Jamaica to its first-ever World Cup last summer, the AS Roma defender has been involved in a pay dispute with her country's governing body, seen Serie A get prematurely cancelled as a result of the coronavirus pandemic after months of uncertainty, and, most recently, used her platform as a player to speak out about her own dealings with racism in football.
Yet after only three days since returning for pre-season training, in between the gruelling double sessions, she becomes the latest member to join the Common Goal movement – continuing to pursue her own goals of promoting equality through football.
"For me, it's about accountability, personal accountability," said the 23-year-old. "Much of my character comes from what I've learned through football: being able to work towards a greater goal, being selfless in working for others in mind.
"For me Common Goal represents all those things. Football is so transferable into real life and how you're able to find success."
"What football offers is a sense of community. I think everyone should know what it feels like to be part of something bigger than themselves.
"Growing up, I've had a lot of help along the way, and not always people who were into football but those who saw my passion and decided I was somebody worth supporting.
"I want to make sure that I'm able to make an impact where and when I can. Just like those who impacted me."
When deciding where her 1% would go, the process behind decision-making was straightforward: to football-based community organisation Soccer Without Borders in Boston, the city where the dream of professional football turned reality.
"Supporting an organisation in Boston sounded really cool to me because of my college days," she said. "It's also only an hour and half from me [her hometown of Hartford, Conneticut] so when I'm home I'll be able to get involved in other ways, to somewhere where I have a deep connection.
Being the first Reggae Girlz player to join Common Goal, it marks a career littered with firsts. Yet when speaking to Swaby, it's clear she would rather trade being a constant presence at the footballing vanguard for some normalcy. Though that is not to say she has ever shied away from facing the challenges all too often presented to female players that can, at times, look like a war of attrition against their love of the game.
It's almost a year ago to the day that the 2019 Women's World Cup came to its conclusion, with Swaby part of the history-making Jamaican squad teammate Konya Plummer put, will, "change Jamaica".
The team were the first women's team to sign contracts with its federation, yet the promise wasn't honoured and players went unpaid. For this reason, alongside her teammates, Swaby vowed not to train or play until the situation is resolved.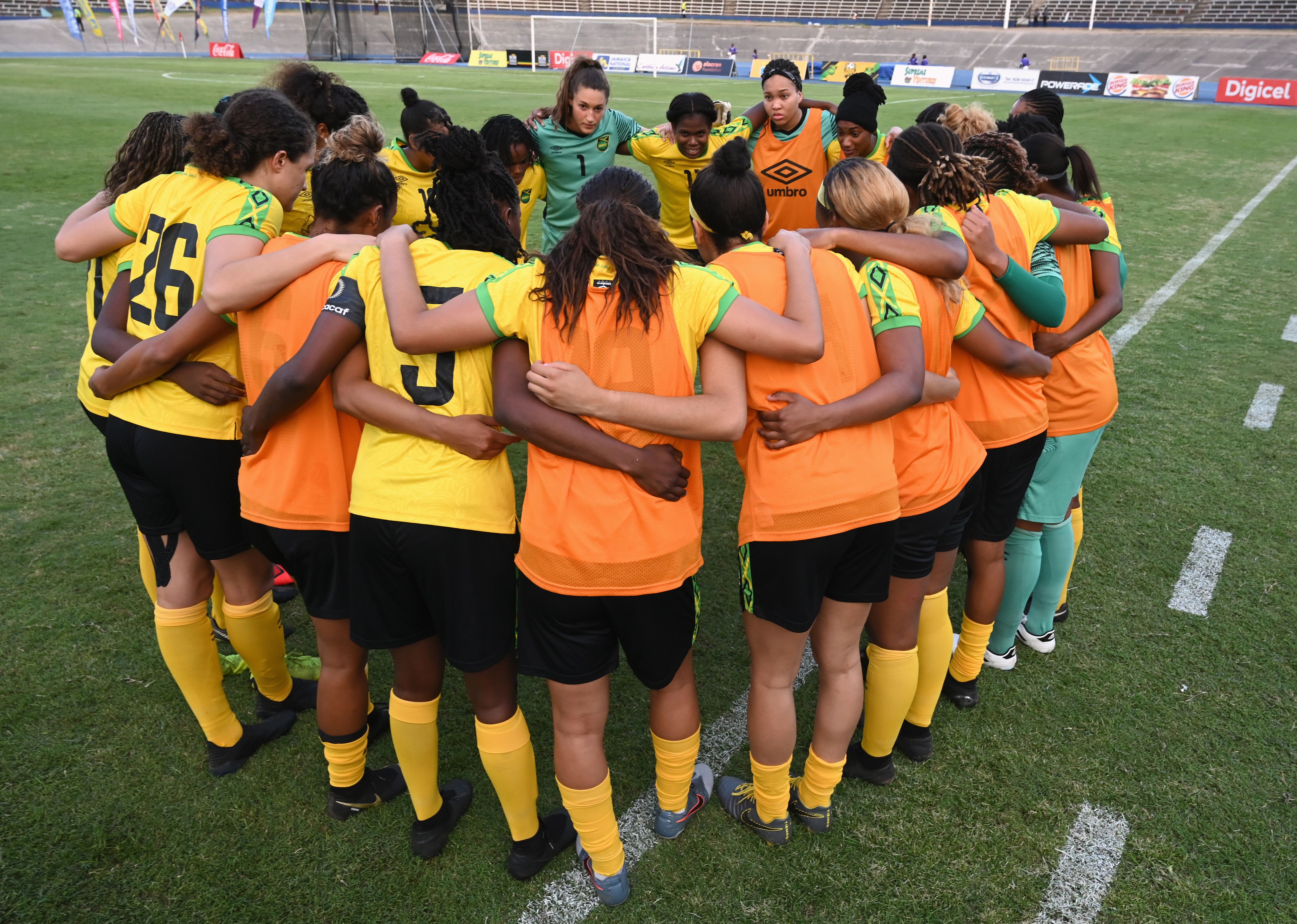 "It's exhausting," she said. "You just want to play and not be worrying, why haven't I gotten my salary this month? Or why are we taking these travel arrangements? As a player, it's distracting and as much you don't want them to take away your energy and your ability to perform, at the end of the day, it does."
She refuses however to hang on to anything but the positives from the experience.
"I think we did an incredible job with so little resources. We were a group that could roll with the punches," she said.
"When I think about what we were able to accomplish and how we were able to overcome that adversity, if in the next three years, until the next World Cup, we get the attention and support, we can really build upon that."
Already it seems their ability to defy the odds have made an impact, with the momentum gained behind the team on home soil forcing the federation to re-think its treatment of the team.
Back in Italy, the domestic game also felt the benefits of that momentum. Off the back of Italy's successful campaign, Swaby visibly noticed the larger crowds on matchdays.
With one of the biggest hurdles being, in Swaby's opinion, to convince fans to watch women's football in the stands, the 2019/20 season offered huge promise. It would also follow what was yet another inaugural campaign, this time for AS Roma, which though exciting, also had its pitfalls – a new team meant a constant flux of changes.
Amid a hugely positive second season, along came the virus. And after months of not knowing what would become of the season, and training at home with minimal resources, the league was eventually terminated in June, with Le Giallorosse just one point away from a Champions League place.
"It's a hard pill to swallow," said Swaby. "Maybe it wouldn't have gone our way but you can't accept that unless it actually doesn't."
Initially Swaby thought time away from the sport would perhaps provide some respite from facing more adversity; a chance to decompress and "not stress so much about those things" out of her control.
However, instead of dealing with these "real world" issues as expected upon returning to the post-pandemic world of football, the killings of George Floyd and Breonna Taylor forced a further inspection of her own experiences with racism.
"Being Black myself, when you see something like that happened to George Floyd, it's really easy to start thinking about your dad, your brother, or somebody that you know, who could lose their life over something quite small," said Swaby.
"That's a fear that you carry as a Black American but one that is exclusive to us."
Swaby opened up in a powerful, personal message about the racism she faced during her time at Boston University and how we can all do better via a social media post, which was retweeted and liked my hundreds.
"Writing my posts was more to reach the audience that I know I personally have," she said. "I know I have a lot of white followers who live in their own bubbles and don't necessarily feel the effects or the trauma of what's happening."
She wrote of the microaggressions she has experienced , in an attempt to open people's eyes to how ideas can create and reproduce stereotypes that people carry in society.
The seemingly never-ending conversations to follow have also left Swaby exhausted: "to the point where I need a break".
Ultimately though, she would never turn away somebody who is taking their time to do the right thing. "The most important thing people can do right now is to educate themselves on how the black community is being oppressed," said Swaby.
She is also adamant football can do more in terms of punishing racist behaviour but believes allowing players to peacefully protest is a step in the right direction.
"As players we hold the most power," she said. "We're the ones who get on that pitch and decide that we're going to play. So I think holding the people in power accountable is great start for us.
"People are quick to say let's keep politics out of sports, but quite frankly, this is completely non-political. It's a humanitarian issue. Arguing that 'sport is my break from reality' doesn't add up when, if you're a Black player, you can't escape the reality of being Black in America."
Whether taking a knee or having Black Lives Matter printed on shirts, the impact for Swaby is very powerful, with a reach of millions obliging all fans to listen to such pressing concerns.
It goes back to access and making sure football is as accessible as possible, something she hopes, through joining Common Goal, she can help contribute in providing more young people the opportunity to play.