Bo Svensson & FundLife International
Team Talk: Bo Svensson sits down with FundLife International
Team Talk is a series connecting Common Goal members in the professional game with the those at the hearts of their communities creating social change through football. a
Mainz 05 manager Bo Svensson and four young coaches from the Philippines are discussing their journeys into coaching.
Given they've recently started working together, the enthusiasm to share experiences and motivations is palpable — from figures of inspiration, to words of advice, the highlights, and the fears.
"What advice can you give us as aspiring coaches?" Svensson is asked.
"I think one of the most important things that you have to realise when you're a coach, or manager of a group is that it's not about you," he says.
"It's about the group, that your assignment is to try to reach this group and try to give the group what they need."
"It's about the group, that your assignment is to try to reach this group and try to give the group what they need."
Though the ends may differ, through common means the Bundesliga manager teamed up with our partner and football-based community organisation FundLife International in July.
Through Svensson's 1% salary pledge, from now on they'll be working together to make sure football plays a positive role in society — starting with a call between Svensson and four of the FundLife's young coaches — Ayo (20), Daniel (17), France (18), and Patrina — from Tacloban City.
And those ends, whether that's getting a result in the German top flight or providing access to education in the Philippines, are dependent on the coach.
"The manager or coach has to be able to reach out and talk to the player who's a little more closed and also to the player who wants to be open and talk a lot," continues Svensson.
"You have to be able to connect to every kind of personality. That's one of my favourite pieces of advice.
"The second one is: it doesn't matter where you're a coach, and at what level or where you are, I think it's very important that your players or your students, they like to come and have you as a coach, they like to come to training, they like to come to school, they like to be around you.
"Not because it's just fun and games but because they are appreciated, and that they feel a sense of you, that you like them, you like for them to be in your presence."
Patrina, otherwise known as Coach Patty, is one of the senior coaches at FundLife, a university humanities instructor teaching languages and literature, Coaches Across Continents Impact coach, and is an international ambassador for the FundLife in the Philippines.
Ayo, Daniel, and France are all university students and coaching part-time and share the title of FundLife 'youth mentors'.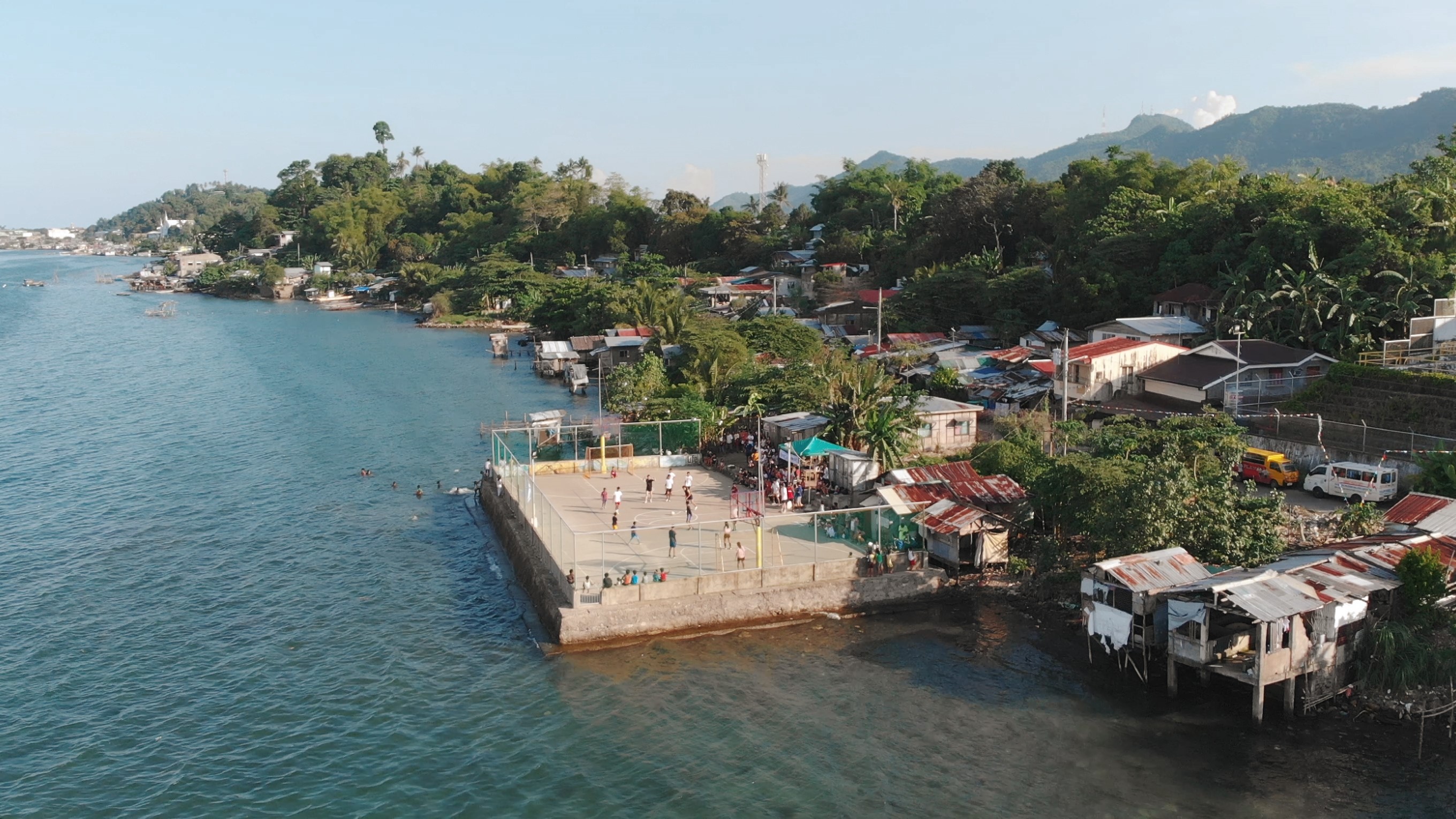 "They all used to be my players," Coach Patty says. "And now they're my colleagues. We use sports to teach values and social impact issues."
FundLife was founded in 2014 after super typhoon Haiyan struck, forcing more than one million children to leave their homes and claiming 7,000 casualties across the country.
Ayo, Daniel, and France were among the first players to walk through its doors and take to the pitch with FundLife.
Every year, around five devastating typhoons hit the Philippines creating mass destruction and widespread displacement. FundLife International seeks to deliver experiential education to children and young people from severely marginalised and displaced communities.
The Football for Life Academy (FFLA) – FundLife's flagship programme – was initially a play therapy intervention, and has since evolved into a community-based holistic educational programme which uses football as a medium to encourage children and young people to identify and pursue their dreams, as well as giving them the tools to break the cycle of poverty and dependence.
FundLife has created five safe spaces for displaced children to play, while the FFLA project employs 'community youth champions' who reach children across ten marginalised communities every week.
The organisation has also started a new project for the promotion of gender equality, titled 'Girls Community League', creating and overseeing girls' leagues across the Philippines.
And though Svensson and the FundLife coaches operate in two very different worlds, from Mainz to Tacloban City both environments present high-pressure situations.
And, as the less experienced, the young coaches are willing to soak up as much knowledge as they can.

"As a football player, a coach, and now manager, what was, and is still, your biggest fear?" asks Coach Patty.
Taken aback, Svensson responds: "My biggest fear? That's a good question.
"I think it's different from being a player to being a coach. I don't know if you could call it fear but that's life as a professional player. There's so much competition, you always have to evaluate yourself and think about if you're good enough to be playing at that level.
"As a coach, still I wouldn't call it a fear, but I think it's a bit different. For me, now, I've reached a certain point in my career, in my life, where I think more about going to work and being the kind of person and kind of coach that I think is the best version of myself.
"Act and take decisions that are according to how I think things should work and not be dependent, or not hear from everyone else what I'm supposed to do — and always be in line with my own ideas and my own values."

From fear to struggles, Ayo then asked Bo how he deals with the pressure as a coach.
Svenssons laughs. "Some difficult questions this morning," he replies. "I mean, pressure is always something that's going to be there. So sometimes it's important to know where it's coming from.
"Is it the pressure of not performing? Or is it the pressure from inside of trying to make yourself happy or anybody else happy with reaching certain goals and performance levels.
"I think the most pressure, that's also how I've experienced it as a player but also as a coach, comes from myself.
"I'm an ambitious guy, who likes to set a certain standard to how I want to work and how I like to work with my players and my staff. And if I'm not keeping that kind of level of performance, then I perhaps feel the pressure."
Who inspired you to become a manager asks Daniel.
"I always look at other managers. I was a player under Jürgen Klopp and Thomas Tuchel," Svensson says.
"These two guys played a pretty significant role in the decision making in my life. And it's still two people who I look up to, because I think not only the ways of playing football, but also in the way that they handle themselves, and just their character and their way of living their life is something that I connect very well with too."
Next topic: alternative career paths. What career would you have pursued if you hadn't become a professional football player asks France.
"When I was 18, I was actually going to university and studying literature," Svensson answers.
"So it's difficult to say what way I would have went, but I think I would like to have worked with younger people, kids, and people in this phase of their life where they're trying to determine where they're supposed to go; to try to be this influence on other people and especially younger people.
"I think I would have been a teacher at a school."
Keen to shift the limelight and find out more about these young coaches and what drives them, Svensson turns the tables.
"I have some questions. I would like, first of all, just to get an idea how your everyday life looks like. What is a normal, typical day, for you guys?" he says.
Coach Patty takes the lead.
"When we have sessions we get assigned the site and the communities that we're going to work with. And then beforehand, we prepare the session plans for the site," she says.
"We would have the sessions for two hours: warm ups, drills, and then discussions.
"The thing is, we don't just teach football skills, we also incorporate life skills and values in our plans.
"For example, just last week, we talked about freedom of expression in the sessions. So we incorporate these topics, and then use games that will teach these topics in other activities."
The pandemic, however, has affected how they usually operate explains Daniel.
"We also have initiatives through online sessions or we make educational videos, stay at home videos, because our players are not able to go outside due to the pandemic," he says.
The coaches have had to adjust. All of a sudden their session plans were upended and they now had to take into account physical distancing protocols and the fact players would be wearing masks.
"What is the best part of your coaching experience?" asks Svensson.
France puts it down to the positive impact the organisation has on young people.
"FundLife helps children," he says. "When I was Elementary, and in my High School days, people would say bad things to me. 'You're too skinny' or 'You're not fit enough to become an athlete'. But I didn't listen to them and continued to pursue what I like doing.
"FundLife changed me. It changed myself. It changed my physical appearance, how I act, and my behaviour also.
"It helped me to overcome my fear of being shy and be who I really am. And the greatest opportunity for me right now is that I can share those learnings when I was a player to the next generation."
Both Daniel and Coach Patty agree.


They too went from having a sense of low self-esteem and being shy, to being able to overcome these insecurities and show their skills, their talents, and take up leadership roles within these communities.
"Very good, very good," replies Svensson.
"I think all of you have experienced going through a change with FundLife and you developed.
"It's so important that you share these experiences with kids who are dealing with the same problems and fears that you also dealt with: I think that's the most important thing we can do as humans.
"To hear your stories and being so open, I really appreciate it. You're doing an amazing job, keep on hanging in there, you're making a difference in a lot of young people's lives.
"And that's one of the best things you can do."