Reconciliation Through Football
How Didier Drogba helped halt a civil war
Having just qualified for the 2006 World Cup, in what would be the first in their country's history, the scenes from the Ivory Coast dressing room were ones of ecstasy.
The date was 8 October 2005 and conducting the team's cacophonous celebrations was Les Éléphant's number 11, Didier Drogba.
'Didi', as he is known by his teammates, was singing from the peak of an already glittering professional career.
Not only was he leading the line at one of Europe's biggest clubs in Chelsea, he had just booked his place at the pinnacle of footballing competition, helping end his country's 76-year wait.
After a 3-1 victory in Sudan to secure their place, scenes of jubilation from within the dressing room were relayed to the world.
Amidst this outpouring of euphoria, then captain Cyril Domoraud, had invited a member of the media to join them.
While being filmed by the cameras from Radio Télévision Ivoirienne, Didi was handed a microphone.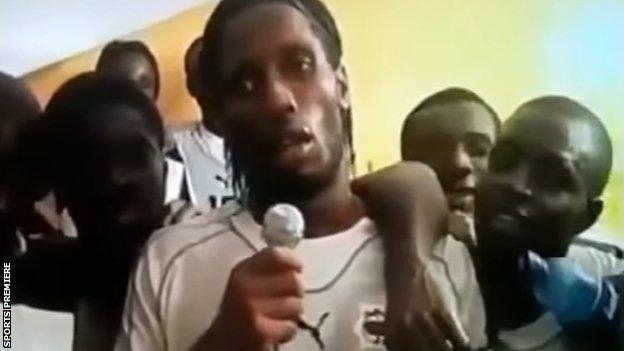 "Men and women of the Ivory Coast…" he began earnestly, momentarily quelling the celebrations of his teammates.
With an unwavering gaze, he looked straight into the lens and continued: "From the north, south, centre, and west, we proved today that all Ivorians can co-exist and play together with a shared aim – to qualify for the World Cup."
Drogba stood surrounded by his teammates, a group hailing from all corners of what had become a divided country, their arms draped around him and each other.
They stood in silence, nodding in unwavering unison to acknowledge their striker's every word.
The player idolised like a king then dropped to his knees, followed one by one by his loyal teammates. The players raised their hands to their heads, their palms turned towards the camera, echoing Drogba's plea: "Pardonnez!" – "Forgive! Forgive one another!"
Over the outbreak of desperate cries, from Kolo Touré, Emmanuel Eboué to Arouna Koné, from Muslim and Christian, to Baolé and Bété, Drogba begged his fellow Ivorians: "Forgive! Forgive! Forgive! The one country in Africa with so many riches must not descend into war. Please lay down your weapons. Hold elections. All will be better."
"We want to have fun, so stop firing your guns," they sung rising to their feet and resuming their jubilatory song, to the same tune however this time with revised lyrics.
Drogba's appeal came amidst heightening tensions in an already bloody civil war that had been raging for three years, with the lives of over 4,000 Ivorians already claimed and over a million internally displaced – the country remained locked in a violent stalemate.
In late 2005, as the country prepared to go to the polls, threats of worsening violence between the rebel-held Muslim majority north and a government-sup­ported Christian south saw the government postpone the upcoming vote.
The disavowal from constitutional law painted a dire image without resolution in sight.
Continuous fighting, upending elections so crucial to finding solution within crisis, brought forth a potentially ominous and unending spiral.
While grappling with its first encounters with democracy, in 2002 the seams of Ivoirian civility even­tually came undone.
The diversity of the nation's eth­nicities under outgoing President Félix Houphouët-Boigny were often fractious but likewise suppressed. Yet the looming end to a 33-year presidency held since the first days of independence would leave a vacuum of power in which ten­sions festered.
The notion of Ivoirité, a term orig­inally coined in 1995 to merge ideas of what it meant to be Ivorian - gained fresh currency with a debate arising on national identity.
The cultural identity being spouted was perceived as increasingly narrow and unrepresentative, instead accruing xenophobic and nationalistic sentiment based solely upon a fraction of the population residing in the south-east and in the capital, Abidjan.
A failed coup by military opponents of the government, originating from the predominantly Muslim north, forced the rebels to take refuge amongst like­minded dissenters.
The entanglement of a complex web of ideologies was super­seded by territory, cutting the nation in two, with President Laurent Gbagbo's government controlling the south and a rebel faction known as The New Forces of Ivory Coast, led by Guillaume Soro, controlling the north.
Across the county, families were separated in a crisis reaching every home. Violent flare-ups and political deadlock brought forth in the lack of resolution the increasing need for mutuality.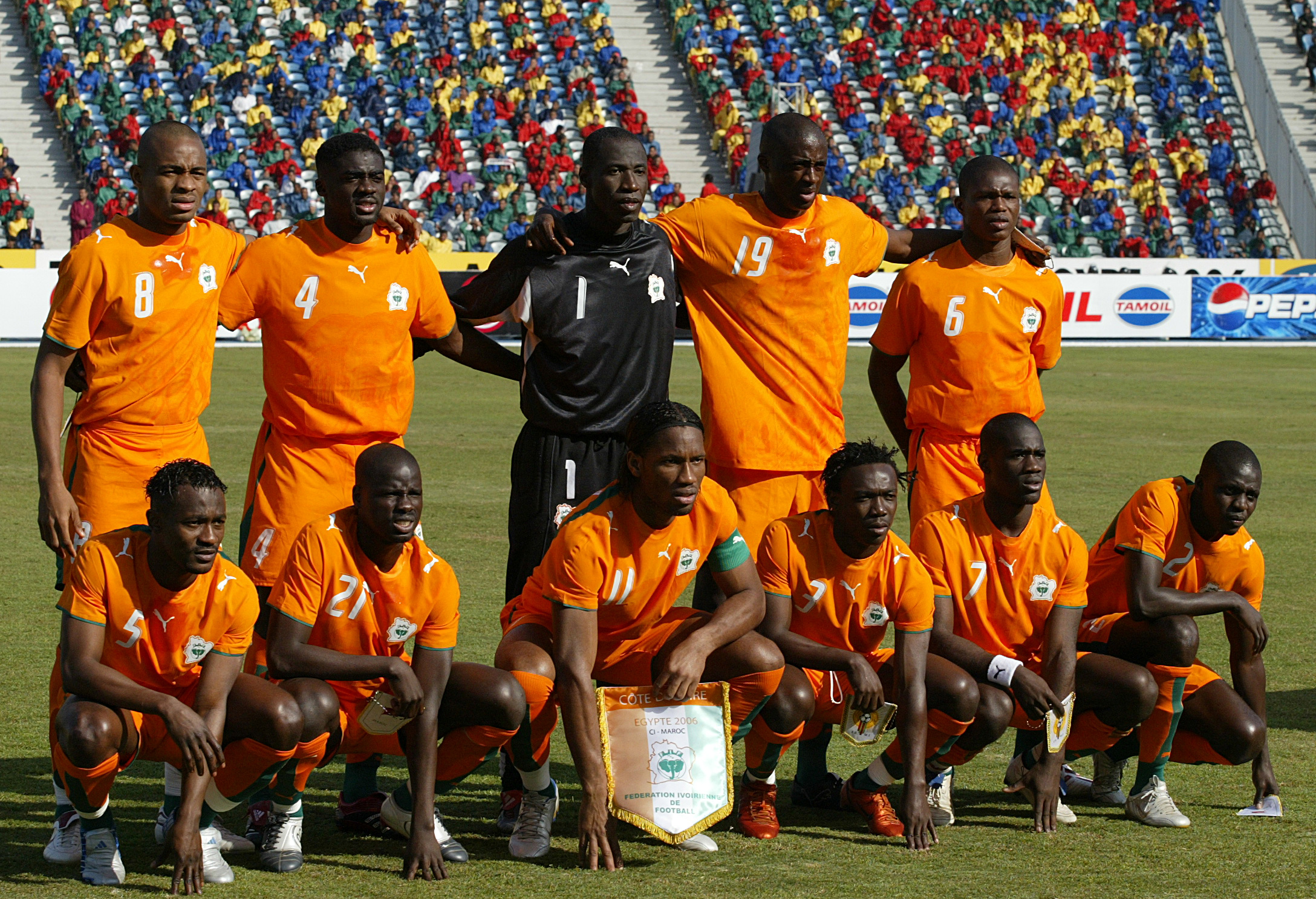 Through Ivory Coast's national team, a national institution truly repre­sentative of its diversity remained func­tioning.
Football has regularly been likened to religion in Ivory Coast. And amidst the ensuing chaos in the country, the sport remained worshipped by all.
Never more timely was the arrival of a golden generation of players, a crop more talented than those to ever wear the famous orange shirt, playing across the globe to thousands of spectators every week.
Their success on the pitch demon­strated the possibility for Ivorians, irre­spective of background, to gather in harmony and work together in shared struggle.
In those players, people began to once again identify themselves in one another.
Equally so, as those citizens saw only their country through their players, and not divisions, the players returned the sentiment. Thinking not of their his­toric achievement, instead, they thought of peace.
The message saw Drogba and his teammates met by a crowd of thousands awaiting their return at Abidjan airport.
For days, the images had been repeatedly beamed across the nation's television screens.
A week on following the scenes from the dressing room, serving President Laurent Gbagbo publicly expressed his hope that football could become an example of national unity and a ceasefire was temporarily agreed.
Later that year, upon being awarded the prestigious title of African Player of the Year, Drogba continued his efforts to help restore peace.
He travelled to Bouaké, one of the cities occupied by rebels opposed to the government, to share the personal accolade with his adoring fans.
Witnessing thousands of people take to the streets for him, a man from the south, another idea sparked in Drogba's mind.
What if, he thought, Les Éléphants could play their next home game, not in Abidjan, but rather in Bouaké, as a true symbol of healing?
As team captain, Drogba saw his wish realised. And On 3 June 2007, the Ivorian President Laurent Gbagbo and the rebel leader, Guillaume Soro, were in Bouaké's Stade Municipal singing the national anthem side by side before the match against Madagascar.
"To see the two sides together, to sing in unison the hymn of my country was very special. I felt Côte d'Ivoire was born again," declared the striker.
The momen­tous game ended with a 5-0 victory for Ivory Coast.
The next morning the title page headline of Ivorian newspaper 'Fraternité Matin' read: "Reconciliation through football: Five goals to end five years of war."