Playing my Part
"If football could inspire me to dream, it could help them as well"
Everyone has a gift. It doesn't matter who you are or where you come from, we all have something special about us. Something we have to offer the world. A talent if you like. I thought mine was playing football.
My name is Prosper Banda and I'm a young leader and youth football coach at BUSA in my hometown of Lusaka, Zambia.
When I joined the Bauleni United Sports Academy (BUSA) as a player, my sole ambition was to play professional football. It was my dream to one day do what I love for a living.
There was nothing else I wanted more in the world.
But when I turned 16, it was clear that my dream wouldn't come true.
With so much competition for so few places, opportunities at the highest level quickly disappeared before my eyes.
I was devastated. All I wanted to do was to play professional football.
I thought my only talent, my own unique gift, would go to waste. Or worse yet, that it never existed in the first place.
I didn't know what to do. From being driven by my dream of playing professional football, my future suddenly became cloudy and out of reach. If it wasn't me scoring the winner, then what's the point of playing, I thought. It was difficult for me to process, so I took some time off to digest it all.
Reluctantly, I stayed with BUSA, joining the Change Makers group as a coach and young leader. I thought this way, at least I would be around football – after all, I didn't know anything else.
As a Change Maker, our job was to become local role models for our communities through football. It seemed strange to me at first. How can others look up to me if I couldn't achieve my own ambitions?
Through coaching clinics, us coaches would travel to local schools to work with other young people from the ages of six to 15 and deliver training sessions. These schools lay on the outskirts of Lusaka, not too dissimilar to school I went to when I was growing up.
If they're like me, I thought, they're going to be so excited to be able to learn through football. I wish I could've done that.
Before visiting our first school, the training at BUSA prepared us for what we would later find.
"These are underserved communities," they taught us.
"These young people have received limited education," they said.
"When people don't receive adequate education, they have trouble getting ahead in life, have worse health and end up poorer than those who are well educated."
It was a shock to hear. I'm from a community just like these ones, I thought.
"People who are uneducated don't always have the skills or confidence to speak up for themselves. Especially young girls, who remain oppressed, yet silent and therefore unable to speak up on the injustices that take place around them," said our mentor.
When I started coaching everything we had prepared for was true.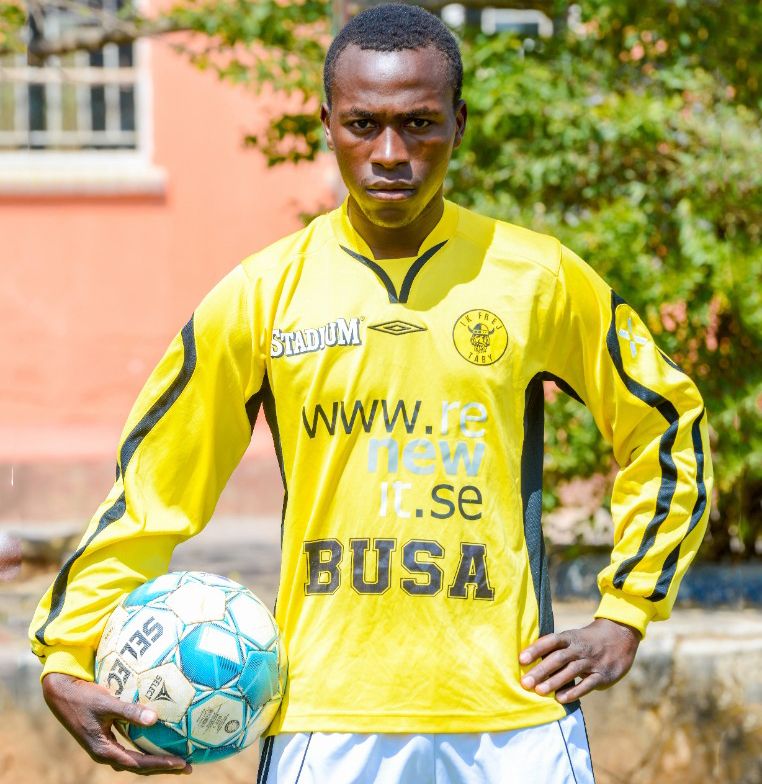 At first it was difficult for me to conduct lessons at a pace I thought normal. But there was a lack of engagement and my help felt ineffective.
More so, the young girls were very shy and they struggled to communicate.
It became clear that these young girls were the ones from the statistics I'd learnt about in training; likely to get married early and take up domestic chores as opposed to pursuing an education or a career.
I found that during sessions, pupils were often tired and without energy to play.
When I would ask, most of the time they wouldn't answer me. The girls found it especially difficult to open-up about their situation.=
Only later I discovered they were probably helping their parents with housework and even helping find and source income for food.
If they wanted to improve their lives, they didn't have the words to tell anyone. In fact, they didn't know even know they could improve their situation yet alone how.
Though I couldn't achieve my own dream of being a professional football player, at least I had a dream.
And if football could inspire me to dream, it could help them as well.
I made it my goal to advocate for equality through football, using the game as a tool to promote education and independence.
Through weekly training sessions, I made it my aim to create a safe space where gender stereotypes are challenged.
Educated side-by-side, slowly I felt these young girls grow in confidence which led to one of my proudest moments as a coach.
Last year two girls that I had coached graduated to BUSA's senior women's team. Seeing them seize their opportunity and making a direct impact was amazing to watch.
They played so well they were selected to play for the Zambian U17 national women's team. It was a special moment and I enjoyed it more than if it would've been me.
Not all women and young girls want to pursue a career in professional football, and that is okay, but football can give them skills that they can transfer to their lives outside.
Goal setting, for example, is crucial for success in society and personal life. If your goal is to buy a house for your family, you need to make a plan to ensure you can afford the home of your dreams.
With the help of their teammates and coaches, a young player learns to set goals and the value of working towards achieving them.
By working in a team environment, they will learn to become accountable for the contribution that is expected of them from their peers in the future.
I realise now my own life wasn't too dissimilar from the young people I coach, I just couldn't see it at first. It was disorganized and without direction.
Through coaching though, I feel focused, with a set of life goals of my own: helping young people become better players but also better people.
The responsibility BUSA has entrusted me with has empowered me with the social skills to help others.
While being able to support others, I feel like I have my own network of peers that support me and can share amazing life experiences with.
Next year I will begin my educational scholarship to study at a local college under BUSA's economic empowerment programme as they wish to support active young leaders to excel away from sport.
Though I felt really bad about my own footballing career, training the boys and girls and seeing the passion everyone put in was inspiring.
It's funny because when I used to think about football, I thought the only way possible to excel through the game was on the pitch.
It was only stepping back and helping others play in the first place, I realized that there were more ways to be successful in this game.
With leadership opportunities, I have excelled in ways unexpected and beyond what I thought capable.
More importantly, through sport I have been able to transform more lives than just my own.
And though that wasn't on the pitch, I can gladly say I played my part.