Let's talk about it, period.
Danielle Carter's piece on football, periods, and life
When I started playing at seven, I couldn't imagine where the women's game would be today.  Back then I used to play football with the boys. It wasn't out of choice. There were just so few girls around me who played.  
I grew up in the late 90s in England, only 20 years after the ban on women's football got lifted. Many people still had the mindset that football belonged to men, as if a ball had an opinion on who played with it.  
But that's not the important conversation I want to have today. What I want to talk about will probably put a lot of you off. Maybe, in a similar way many shied away from supporting women's football when I grew up, some of you may think this topic is not for you – even though around half the world's population has gone through it throughout all of human history.
I promise if you stick around though, there's a lot to learn. Just by engaging with this conversation, you can help give space for progress around it. What I want to talk about is menstrual hygiene. Yep, I said it — periods, cycles, tampons, pads, all things menstruation.
It's something that affects people in every community around the world. At any given moment more than 800 million are menstruating. Even on professional teams, it's a factor – players on their cycle often worry and stress over wearing white shorts on match day.  
So, particularly because of its prevalence and reoccurrence, it's shocking to me that talking about periods remains taboo in areas and spaces all across the world.
Sometimes I wonder how we would view menstruation if men went through it. 
Would we celebrate periods? Would there be ample opportunities to learn about your cycle in school and at home? Free products? A ban on white shorts for game day...?

I owe it to my mum that I learned about menstrual hygiene from such a young age. We had open and honest conversations and I became confident in managing my period safely. I never had to worry if I'd have enough pads and tampons to last me through my cycle. But that's not the case for everyone. 
Even here in England, many lack access to menstrual products and education. Every month girls miss school because they don't have enough supplies to get them through their cycle and fear having accidents.  And millions of girls around the world have no idea what menstruating is until it happens to them, leaving them confused about what is going on with their own bodies.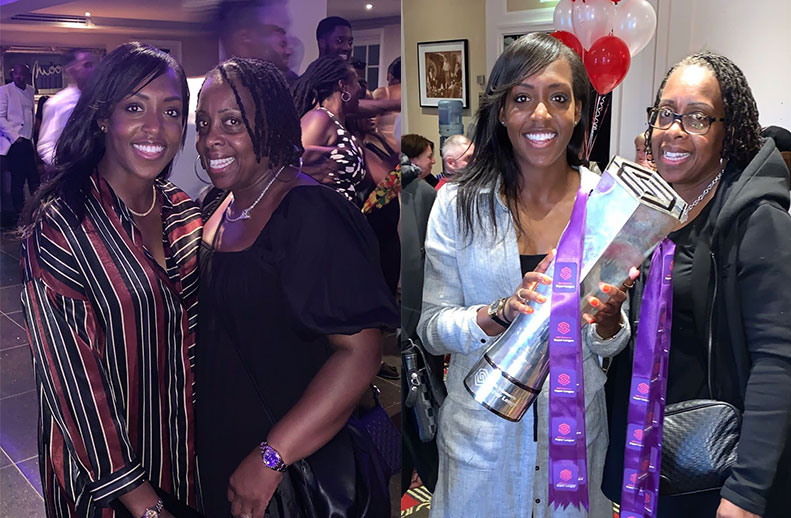 I want periods to be something people are comfortable talking about, something that, like they have been for me, are slightly annoying but not upending. No one should have to miss school because they don't have access to the products they need for a natural process or be shamed and made to feel dirty because of it. I want periods to be something that I don't have to try and convince people are important.
Last month I had the pleasure of talking with Muskan, a young leader from Yuwa — an Indian organisation that is part of the collective project I support through my 1%. 
The jointly-run Menstrual Hygiene Management project by Common Goal and WASH United uses football as a tool to create a world where menstruation doesn't limit girls' and women's capacities to achieve their full potential.
Talking with Muskan was really eye-opening. India has always been on my radar to visit but I haven't had the chance yet, so it was great to connect with someone so involved in her local community. Muskan has studied at the Yuwa school for many years and helps run the football programme there.
She explained that lots of girls in her area of Eastern India are unaware they need to change their pads throughout the day and lack access to sufficient products to get them through their cycles.
There are serious health effects to poor menstrual hygiene, which is why hearing how Yuwa is making a difference in rural Jharkhand was so encouraging. Coaches lead workshops on menstruation where girls learn about the importance of changing their pads, learn about their cycle, and get access to sanitary products.
When I look back at my upbringing, I think those similar conversations with my mum about periods and how to handle them played a vital role in my ability to manage my cycle safely and with confidence.
We need to keep opening up dialogues around menstruation and increase access to sanitary products so the girl in your classroom, on your team, down the street, and across the world from you feels confident every day of the month. And you, if you're still here, you're helping create that world by engaging with this conversation and destigmatising periods.
As individuals, teams, and a society, we can shift the narrative around menstruation, just like perceptions around women's football have changed since I grew up in East London. Sometimes creating change doesn't require a radical new idea but a conversation to make the things we think are scary, understood for their importance.
-Danielle Carter