Founding Story: Delta Cultura
How someone who never heard of Cape Verde or football for good started an organisation on the island that promotes social change through the beauitful game
Though a keen footballer himself, Florian Wegenstein never had any intention of using football for good on Cape Verde. In fact, he didn't know that either existed. That he ever ventured into the 'other world' of football and onto the volcanic island archipelago was the result of a win beyond the pitch. In 1997, Florian was living in Austria with his brother where they both managed a small art house cinema in the country's capital. The film reels were rolling, the Euros were not. The business was struggling to survive and so were the two brothers.  
One day, Florian spontaneously took part in a radio competition – for pure amusement and without expectation. He emerged as the winner of a cash prize and a series of vouchers. Florian immediately cashed in his winnings and headed straight to his closest travel agency. "Where can I fly to?" he asked excitedly. "Somewhere where there aren't too many tourists," he quickly added. "Well, there's a direct flight from Vienna to Sal on Cape Verde," the agent replied. "Cape Verde?" Florian said shaking his head, "Never heard of it. Where is it?" The woman smiled and pointed to a cluster of islands on the map spread across her desk.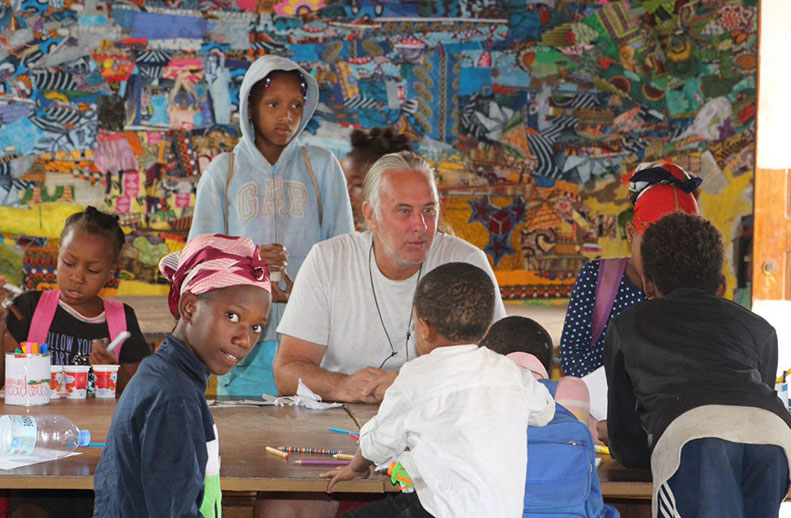 Florian took a moment to study the ten green pinpricks of colour dotted in the midst of the light-blue shaded ocean. The chain of volcanic islands was some 500 kilometres west of Senegal, with nothing but the gaping Atlantic to the west. It certainly seemed to be off the beaten track. The island of Sal was at the curve of the Cape Verdian boomerang. "Ok, fine, then Cape Verde, it is," Florian decided.  
Only a few hours later, he found himself on a plane bound for the African island republic. His first glimpse of Sal from the air almost made him regret his decision: spread out beneath him was a vast expanse of sand. Too many tourists, he feared. Even before touching down, Florian's decision was clear: 'I'm not staying here', he said to himself and never left the airport. He marched directly to the ticket desk and booked himself onto the next flight to Praia, Cape Verde's capital three islands further along. Even here, on Santiago island, there were still too many people for his liking, so Florian followed the advice of one of the locals he encountered one evening in a bar who told him to head up to Tarrafal in the north.  
The fishing port town was at the end of the road leading into the upper reaches of the island. It was further removed from the madding tourist crowd than Praia, so Florian decided to spend his holiday there. As he spoke neither of the island languages – Portuguese and Creole – Florian spent much time alone, writing on the beach and observing local life play out in front of him. "What really struck me was that everywhere I went, the children and young people were playing football." Having previously played the sport himself as well as attaining a coaching licence to train young people in Austria, he had a connection to the beautiful game. However, having long since given up coaching as he didn't fit into the rigid structures of the local clubs, Florian hadn't thought about football for a long time. Until now.  
Like an anthropologist in the field, Florian continued to watch the Tarrafal world go by. One boy stood out in particular. Florian observed how he would while away his days on the beach, waiting for others to join him and play football. "That really stayed with me," Florian remembers fondly. "I took the image of him hopping wildly across the beach home with me – as a souvenir," he laughs. That wasn't the only image he took back across the Atlantic.  
On the very last day, Florian broke out of his linguistically induced role of silent observer. A man with heaving dreadlocks approached Florian and spoke to him in English. He lived in Tarrafal and invited him back to his home. Florian stayed for dinner and found out more about the people of Cape Verde – and met his future wife, Marisa.   
Six months later, Florian was back. After a succession of flights between European mainland and African islets, the couple lived in Austria for a number of years before deciding to settle on Cape Verde. What they would do there, they were not entirely certain. "I never really worried about making a living. I knew we would get by somehow."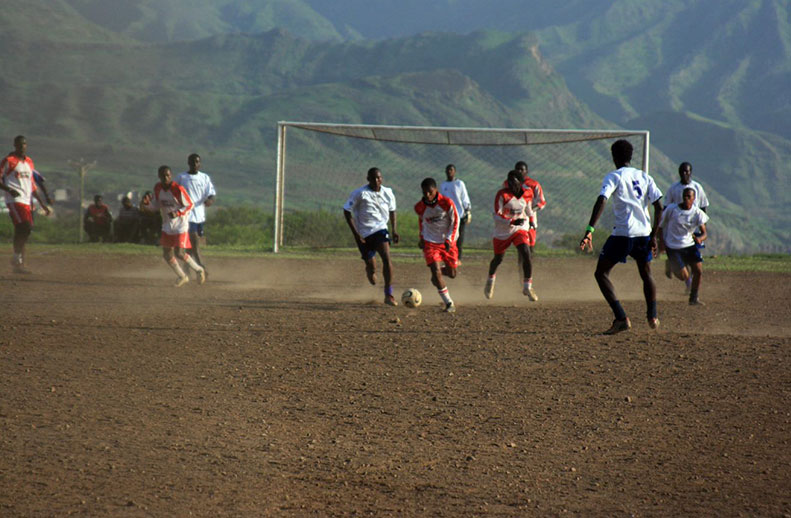 Having rediscovered his interest in football and observed the passion with which it was played by the local children, an idea blossomed in Florian's mind: he could set up a football academy.  
Florian sat down and wrote his first project proposal to apply for funding. He then phoned as many Austrian football clubs he could find in the yellow pages, asking them if they would support the initiative and donate footballs and kit. Austrian Bundesliga club FK Austria Wien agreed. Just before Florian and Marisa left Austria, the pair registered Delta Cultura as a 'Verein', an association, making the organisation official, if only on paper.  
On the day of their departure, Florian and Marisa went to collect the donation from FK Austria Wien. Though he found that they had kindly set aside kits, Florian could not hide his disappointment when he investigated the package further and discovered: "There are no footballs! It's only kits!" Florian quickly dialled the numbers of all of his friends who were remotely interested in the sport. His friend and today's President of Delta Cultura Austria, Liz Zimmermann, sprang to action. Six footballs were added to the container of their belongings to be shipped to Cape Verde.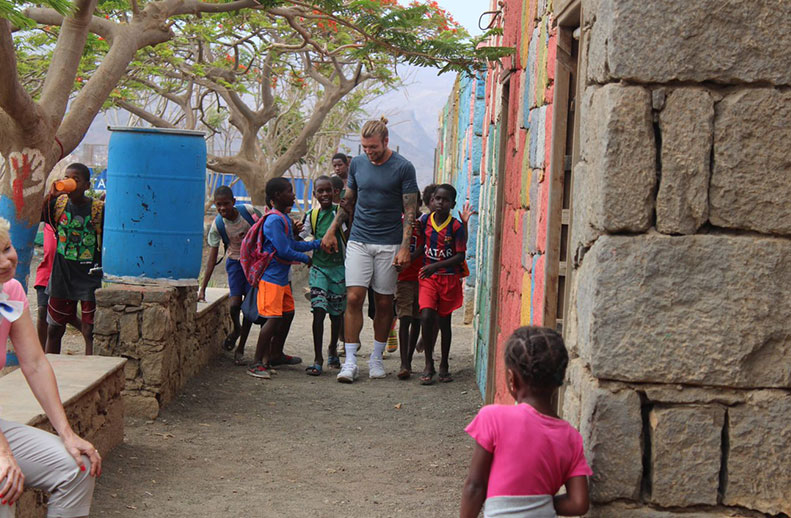 Upon their arrival on Cape Verde, Florian and Marisa began running a bar and a restaurant to earn a living. Far more interesting to Florian, however, was the football project. When the shipping container arrived one month later, he strolled down to the public pitch in the centre of Tarrafal and drew a sign. 'Sign up for new football school! First meeting will be on 2nd December in the old cinema' it read in bold scrawled letters.  
On the arranged date, Florian arrived at Tarrafal's old cinema with six footballs and a box brimming with FK Austria Wien kit, unsure of what to expect. The creaking building was still empty, but he didn't have to wait long. Moments later, a steady stream of children and teenagers began filing onto the pitch. In just a few hours, over one hundred children and teenagers had signed up. "I really didn't expect that many to turn up!" Florian says, recalling his astonishment.  
"At the time, it was only Marisa's brother and I doing it," Florian says. The pair divided the age categories up between themselves and began training. "In the beginning, we got up at six in the morning to train with the children and also did sessions with children later in the morning and in the afternoon."   
While the young players trained with energy and enthusiasm, they were also cautious. Incessantly, they would ask him: "How long will the football school be around for?" Florian was puzzled. "We are here to stay," he responded, "The football school is a permanent fixture."  
He later discovered what prompted this questioning. "What I didn't realise at the time was that that was typical here. Such initiatives popped up all the time, only to disappear a few months later. What these young people lacked was consistency." 
By running his programme every single day and by exceeding the lifespan of other projects, Florian proved to both the young players and the wider community that he was committed. Florian's advantage was also his visibility. The pitch he used for training sessions was situated in the very centre of Tarrafal and Florian soon became a prominent figure within the town.  
The fact that Florian arrived on the pitch day after day to support their children and stand up for their rights to structured training sessions won him the favours of the community. Up until then, the sport had mainly been played seriously by adults. "I knew that the kids enjoyed playing football and I wanted to offer them a time and place to do so, too," Florian says. "That's all that was on my mind. At that stage, I still had no idea of what football for good was; that it even existed as a concept."  
Though he may not have been aware that football could be used for social change, through his work he was inadvertently doing just that. The football sessions were not only a source of enjoyment for the young players and trained them to become better footballers, they also gave them a support system, a form of structure in their daily lives during which they were often left to their own devices. "Many of the children live below the poverty line. None of them are homeless, as they always have some family member to live with, but they are, in effect, 'street kids by day'. Some of the families want to help them, but don't know how or have the means. Other kids come from very abusive backgrounds."  
Compounding this, Florian explains, is a sense of fatefulness and resignation rooted in religion. "I want to make people aware that the reality we find ourselves in is not God given, it is the work of humans. We shouldn't just accept it! God has nothing to do with the fact that the people here are living in poverty!" Florian says enraged. "Changing this mindset is the prerequisite for change to become possible."   
Florian found out more about how such societal challenges could be tackled through football-based programmes when he was contacted by streetfootballworld. "They found me by researching for programmes that used football all over the world. And I found out about the other side of football." By becoming a streetfootballworld network member in 2004, Delta Cultura was later included in FIFA's Football for Hope programme. That not only meant funding for football for good activities, but also the initiation of the Tarrafal Football for Hope Center in 2012.   

Today, the organisation has a Kindergarten that is open daily from 8am until 4pm, runs football training sessions for 340 children and young adults each week, in addition to a variety of activities that meet the other interests of the participants - from homework support to languages, music and art. "I didn't study education or train as a teacher – in fact, I didn't finish school and went travelling instead," Florian remarks, adding: "But I always asked myself what an education system should look like. What we do today is give the children a safe space in the centre. They have a lot of freedom to decide what they want to do. It's all about intrinsic motivation, which means to say that their motivation for doing something comes from the action of doing it rather than from an external reward or consequence."  
When Florian first introduced this approach at the football school, he says it took a while for it to have an effect. "The kids are used to having a coach who stands in front of them and shouts orders and who punishes them if they make a mistake." He notes that it is the same at schools: "The children are used to being beaten by their teachers. Corporal punishment is seen as an educational tool." Though he says that he does not blame the teachers, as he says they "think they are doing something good", it is something he cannot accept.  
The children and young people have since learned that if they don't show motivation, he will not continue the activity they are doing. "Such an approach takes time and perseverance," Florian admits, but act resolutely according to his own ideals. As a result, he and his colleagues at Delta Cultura have witnessed the young people engaging with full concentration and contentment on something they have chosen to do. Watching such a development is what motivates Florian in his work. He says that it becomes acutely apparent on the football pitch. "Football, they simply love it! One of my favourite things to do is to go out and watch them play. With football everything else in life slips into the background. Football has the potential to make you forget the hardship of your life. When the players become fully absorbed by the game, they aren't just playing football, they are football!"