Football for the Future
The Swedish Postcode Foundation teams up with Common Goal
How Common Goal and The Swedish Postcode Foundation are stepping up the game's game for a better world.
Football has the ability to break down barriers, open doors and inspire change. That's why the 150 organisations in the Common Goal Community use football to bring about social change.
But until now, there has been no sector-wide framework to find out what kind of impact these 150 organisations – or the other hundreds of other similar ones out there – are making. And, if the change they bring about is sustainable. There is also no sector-wide framework for the larger sports for good sector, either.
That is why Common Goal, together with the Swedish Postcode Foundation, have launched a sector-wide standard to prove – and improve – the impact that football for good organisations have on this world. Called the Quality Management Framework, it unpacks and unveils the impact that football for good organisations have on social and environmental change. The framework is easily adaptable to the wider sports for good sector and sets a standard on transparency, quality and sustainability.
"We are excited to team up with Common Goal to initiate this sector-wide quality framework. We are aware of the positive impact that sport can have on individuals and communities; however, to back it up with data and to be able to communicate in a more comprehensive manner is a vital next step for the sector," said Marie Dahllöf, Secretary-General of the Swedish Postcode Foundation.

"Through this project we hope that organisations both in Sweden and around the world will have the resources, tools and knowledge they need to show the true impact sport is having on sustainable development and engage new audiences and partners in this innovative and growing sector."
The Quality Management Framework features a Quality Seal certification scheme, a targeted learning and exchange programme, and an impact measurement strategy to assess how the football for good sector collectively contributes to the social areas of the Sustainable Development Goals (SDGs).
The new Quality Management Framework therefore has the potential to increase the impact of organisations, inspire long-term investments across the sector and enable sustainable change in communities around the world.
The Swedish Postcode Foundation is supporting the creation of a Quality Management Framework for the football for good sector, with the aim of enabling its use in the wider sports for good sector. Founded in 2003, the Foundation supports non-governmental organisations, within Sweden and abroad, that are creating positive change towards the SDGs
Speaking on the partnership, project manager at the Swedish Postcode Foundation, David Given Sjölander noted, "We all know we are making an impact and having an effect but the next step is being able to show people in a tangible and digestible way. We need a way to say here is the data that shows how sport is being a force for good. That is what this partnership seeks to do."
The project has three pillars — a Quality Seal, a Community of Practice, and a Collective Impact Strategy. The pillars work to create a quality standard across the industry, provide space for organisations to discuss and learn from each other, and build a framework where the field's impact can shine.
The first pillar, the Quality Seal, is a symbol of transparency and trust in the football for good sector. Organisations that receive the Quality Seal go through a certification process to verify their organisational and programmatic quality and alignment with common values that support social and environmental change.
The Quality Seal helps assure potential donors and partners of an organisation's quality, transparency and sustainability thereby giving Quality Seal holders a certain stature and potentially an edge up over other organisations.
"We are excited to launch the Quality Seal, which will be a milestone for the football for good sector. The Quality Seal supports organisations to more clearly prove and improve the quality of their work," said George Springborg, Head of Community at Common Goal.
"The certification process, combined with the Quality Seal's targeted and collective learning opportunities, will strengthen the sector's impact, accountability and growth potential in a sustainable way. We welcome and look forward to members and partners joining us in this journey!"

The Community of Practice builds a culture of learning, collective reflection, exchange, collaboration, and innovation within and between football for good organisations. The upcoming online platform will be easily accessible and inclusive, providing targeted learning opportunities to community organisations of all sizes. Through establishing thematic working groups, capacity building and knowledge exchange will be cultivated on targeted SDGs.
"Communities are the basis of everything we do; they are where our passions lie. Through a Community of Practice, we can share methodologies and exchange on how different programmes are engaging communities. This space gives us a valuable place where we can all learn from each other to scale up our practices," said Tamara Awartani from Palestine Sports for Life, a member organisation of the Common Goal Community.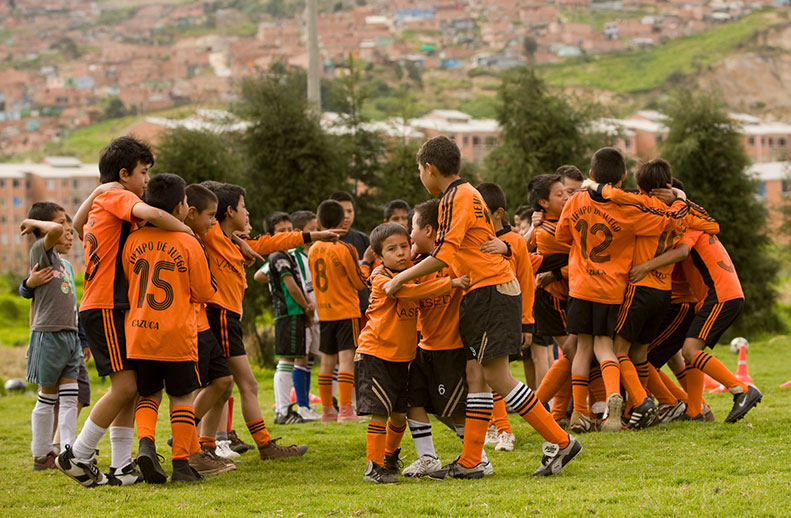 The third pillar of the partnership is creating a Collective Impact Strategy. This strategy allows local impact to be grouped by social themes directly linked to the Sustainable Development Goals for 2030 (SDGs).
Specific SDG indicators will be promoted among organisations to use to help track progress towards the Global Goals on a continent, country, and individual organisation level. Organisations can assess, demonstrate, strengthen, and disseminate evidence of how their programmes translate into tangible change for people and planet.
"To achieve global change, we need to connect the dots and realise the importance of collective power to achieve social change. The benefits of a collective impact measurement are its contribution to the synthesis of learning through best practices. The evidence collected through collective impact measurement will play an important role in the transfer of knowledge." said Anirban Charkraborty from Dream a Dream, a member organisation in India.
The Quality Management Framework is well-placed to become the primary method of measuring, learning and sharing how the football for good sector contributes to positive social, environmental and economic change in the world. It is also positioned to impact how this is all done in the wider sport for good sector.