Sharon's story
Creating opportunities for the next generation
adidas is teaming up with Common Goal, pledging 1% of global net sales of footballs until 2023, to strengthen their commitment to global football communities around the world and create a more inclusive game for everyone. Through this content series, adidas football collective and Common Goal explore community stories that showcase how young people can find their path and strength through football and become an active part of the change they want to see in their communities. Meet Sharon.
When Sharon was growing up in Kansanga, a neighbourhood in Uganda's capital city Kampala, she wanted to play in midfield, or maybe upfront. But the boys made her play in goal instead. It was sometimes difficult for girls to even get on the pitch back then. There were certain unwritten laws that governed village life in Kampala when she was growing up. Things boys could do, and things girls couldn't. Ball was for boys they were told.
Football has for a long time been the main sport in Uganda. When the national team played, the streets around Kampala and the National Stadium moved into gridlock, crowded with cars and people. Fans gathered in cinemas or at the stadium and made a day of it. It felt like a public holiday.
It wasn't like that for women's football though.
But, do you know what it is like to have an itch for something? Sharon grew up watching Arsenal. She idolised the Arsene Wenger sides: the flair of Santi Cazorla, the tenacity of Mathieu Flamini. Sometimes, with her brother, she would go and watch their matches in cinemas across the city that streamed the games.  But still, when it came to her career, things were more difficult.
You need role models in sport. Someone you can look to for inspiration, a trail to follow when chasing after whatever dream it is you have for your life. Every young person needs that someone. Sharon has had a few of those on her journey. When she was around 14, she was making trips out of town to far football pitches to play. Away from the noise and the judgemental looks, and the neighbours who would tell her mum about what she was up to. Here she could be free.
There she found girls playing football, and found American coaches Kate and Kelsey, who were in the country with the organisation Soccer Without Borders. They gave her training sessions. They moved her from goalkeeper into midfield, and then upfront. They told her that Arsenal had a women's team too and that in the US, there were women's teams playing professionally. As time passed, they even spoke with Sharon's Mum, convincing her to let Sharon play. These were her first role models in the sport. Every young player needs them.
The guidance spurred her on. She began to play for women's teams across the city, including Princess Diana High School in Munyonyo and Muteesa 1 Royal University in Mengo. She even represented Uganda at an international tournament out in Nigeria. They lost in the semi-finals to the hosts, but the experience made it worth it.
One of the teams she played for was KS Sparta 09. They were attached to the foundation Watoto Wasoka. They're a youth football for development organisation operating in Kampala. Ultimately, their aim is to use the sport as a tool for social change for the kids living in the slums of Uganda. Football Made in Slums is their tagline. With their team and a handful of volunteers, they have been running programmes and tournaments for kids in the slums since 2009. They support kids through school, support those who don't have access to basic amenities, and those struggling with vices or other things. And they do it all through football. In summer time, when school is done, they put on the coveted 'Slums Derby' where over a thousand kids gather for one of the city's biggest tournaments. Another one of their programmes, 'Christmas Camp' holds an attendance close to 3000.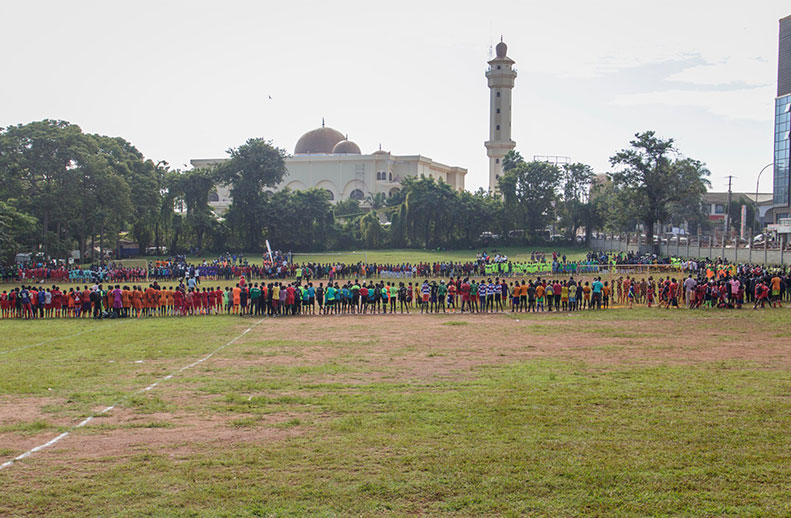 After playing for Sparta 09, Sharon began to get involved in the organisation, spending some of her time volunteering, and then eventually becoming a Watoto Wasoka coach. The organisation, that is supported by Common Goal, played host to mainly boys when Sharon started. So she and a friend went out into the communities looking for girls who might want to play football. But in their first session, only four girls turned up. So Sharon and her friend changed tack. They put on a menstrual hygiene management workshop in their offices, and invited girls to attend. It was their first programme. After, feedback began to seep through from the local communities, some from parents who were thankful that their children had been able to find these workshops.
Coaching is giving me that opportunity to put something on within the community and help young girls access opportunities like education, improving their health. I feel being a coach can help me be that role model within the community.
- Sharon
Community workshops are at the bedrock of Watoto Wasoka's work. Sharon has dived in. There is their 'Football 4 WASH' programme, centred around water, sanitation and hygiene (WASH). And there is BUREF too, short for Building Resilience through Football. It is a mental health and wellbeing programme that came into place after the isolation and disruption of the pandemic.
And, of course, there was ball. Football was at the heart of everything Sharon was doing. They began to integrate women's teams into the Slums Derby. At the last one, where 134 teams turned up, 47 of the teams were girls. They also put together their own version, calling it the Women's Derby. It was rammed. Close to 50 teams turned up for that one, ready to play 11-and-7-aside. Through football, they are engaging young people in the community with skills they will need for life.
I feel like the challenges that we went through gave me opportunity to grow personally. So I feel the opportunities I didn't get when I was young, I'm trying to create those opportunities for the young girls out there.
- Sharon
Things are changing now in Kampala and the slums. There is an avenue for girls to play football, a roadmap and a role model for them to follow. Sharon is still playing football too. She plays for Makerere University Women's Football Club. They recently won the Elite League, meaning next season they'll be competing in the Super League. Sharon was awarded the MVP, and some of her young nieces saw her on TV, playing in the season finale, and then collecting her MVP trophy. The next generation of women footballers in Kampala are watching, ready to make their own rise too. Organisations like Watoto Wasoka, and coaches like Sharon, are ready to receive them.