Common Goal: April Highlights
Stories from around the world
April saw professional clubs, grassroots organisations, players, and fans of the game alike take action to create the change they want to see in the game.
Play Proud kicked off a year of LGBTQ+ inclusive programming in Los Angeles with eight North American clubs committing to 100-hours of programming over the course of the year.
In London, German national team and Chelsea striker Timo Werner visited Street League to find out more about where his 1% goes, and we took a closer look at the organisation's founding story.
Over in Uganda, we heard how Watoto Wasoka uses the beautiful game to increase gender equality, and in South America we learned about the inspiring story of Marilay.
Play Proud
Eight North American clubs, a leader of their fan group, and local grassroots organisations convened in Los Angeles for a week of LGBTQ+ inclusive programming. The initiative runs over the next 12 months with the same cohort set to meet in Mexico in December for another week of in-person workshops.
To kick off the initiative, Common Goal and Amplifier teamed up to create a line of Augment Reality (AR) activated merchandise. Through scanning the artwork on a phone, a world of educational tools to help prevent, respond, and repair issues of homophobia opens up, enabling fans to directly get involved in the initiative.
Read more about Play Proud's year ahead here.
Timo Werner visits Street League
In April we saw Timo Werner visit Street League, an organisation enabling young people across the UK to access employment through football. In a video made in partnership with Common Goal impact sponsor adidas, Timo shared his experience and we heard from young participants at the programme.
Since 2021 adidas is pledging 1% of global ball net sales to Common Goal. Working together to change lives through football. For more info head to adidas football collective. 
To get a deeper understanding of Street League, we heard the founding story of the organisation. It all started in an unexpected place over 20 years ago: a hospital ward.
Read Street League's full founding story here.
Watoto Wasoka's drive to increase gender equality through football
In East Africa, Common Goal Impact Organisation Watota Wasoka are taking the initiative to rewrite the narrative and leave a lasting impact in the area that will be felt for generations.
Last month, in partnership with La Liga, Watoto Wasoka hosted their second annual Women's Derby in Kampala, Uganda.
Registration was free to encourage as many girls onto the field as possible, and every player went home with sanitary pads as part of Watoto Wasoka's wider effort to use football as a tool for menstrual health education.
"It's important for girls to have access to football programmes because football, just like sport in general, empowers girls to break barriers and prejudices around gender discrimination," said Francis Mugoya, CEO of Watoto Wasoka.
Read more about the Women's Derby and Watoto Wasoka's story here.
Stories from the Fields: Empowered to Empower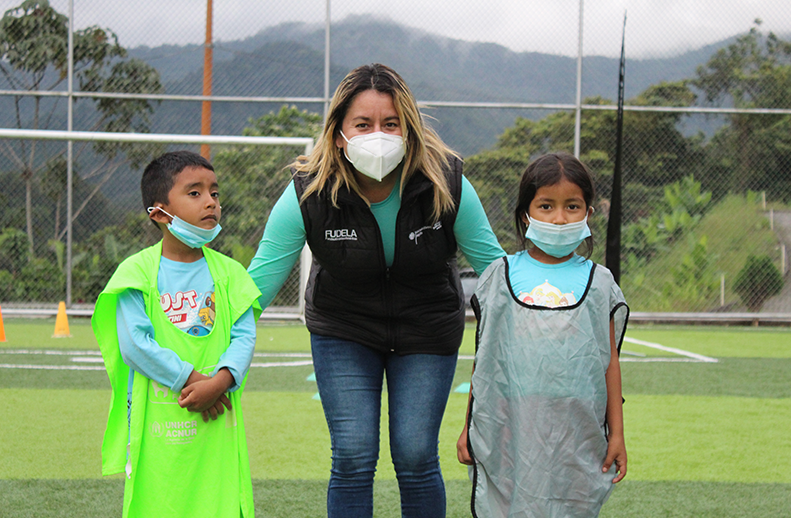 Marilay uses her experience overcoming barriers and obstacles to enable others to reach their full potential.
"The sport gave me much more than just the ability to play.

"It was an instrument to learn about the world; a world I could have never seen from the grounds of my humble Venezuelan village.

"It was through football, that my values became clear and I began to understand who I was and what I stand for."

Marilay's latest mission to use football as a tool for change is with SOMOS Equidad - the Latin American chapter of the Global Goal 5 Accelerator.
Read Marilay's full story here.