Agencies United Behind Common Goal
13 Football Agencies come together to support vulnerable young people
A coalition of 13 football agencies have united behind a project powered by Common Goal which will help support some of Germany's most vulnerable young people.
The funds raised by the agencies will be used to create virtual spaces to support those who lack access to education during the COVID-19 crisis in partnership with German NGO Die Arche.
They will also be used to establish safe spaces for young people – including mobile football pitches and youth community centres in Bundesliga cities, under the leadership of Common Goal community partner organisations KICKFAIR.
The agencies involved in the initiative are: arena11 sports group, Spielerrat, Sports United Management, Rummenigge Sport Marketing, IFM (International Football Management), think forward sportmanagement, Grass is Green, Equipe Sports Management, Apertura Sports, Haspel Sportconsulting, feel soccer, Bektas Demirtas, and AKA Global.
In a joint statement the agency owners said: "If we've learnt anything in recent times, it is how interconnected we are and that we need to work together. Football – through shared passion and the inherent value of teamwork – provides an opportunity to make a real contribution in support of our people and our planet.
"As agents we can play a leading role moving forward. This is only the beginning of our commitment – there is so much more that can be achieved and we encourage players, clubs and other stakeholders from the football industry to be part of it."
The activation of football pitches and youth centres will kick-off in the coming months in Munich, Berlin, Leipzig, Monchengladbach, Gelsenkirchen, and Wolfsburg.
These spaces will place the personal development of young people at the centre of community development and give them the opportunity to play, learn, and develop – a concept designed by Common Goal partner organization KICKFAIR who will lead the implementation of the project.
In the long run, spaces of this kind are to be established in all 18 Bundesliga cities.
Common Goal co-founder Thomas Preiss said: "We are witnessing the emergence of a new generation of change makers in the football agency space.
"There are more and more agents who genuinely see their role as pushing their clients and collaborators to be the best they can be, both as professionals and human beings.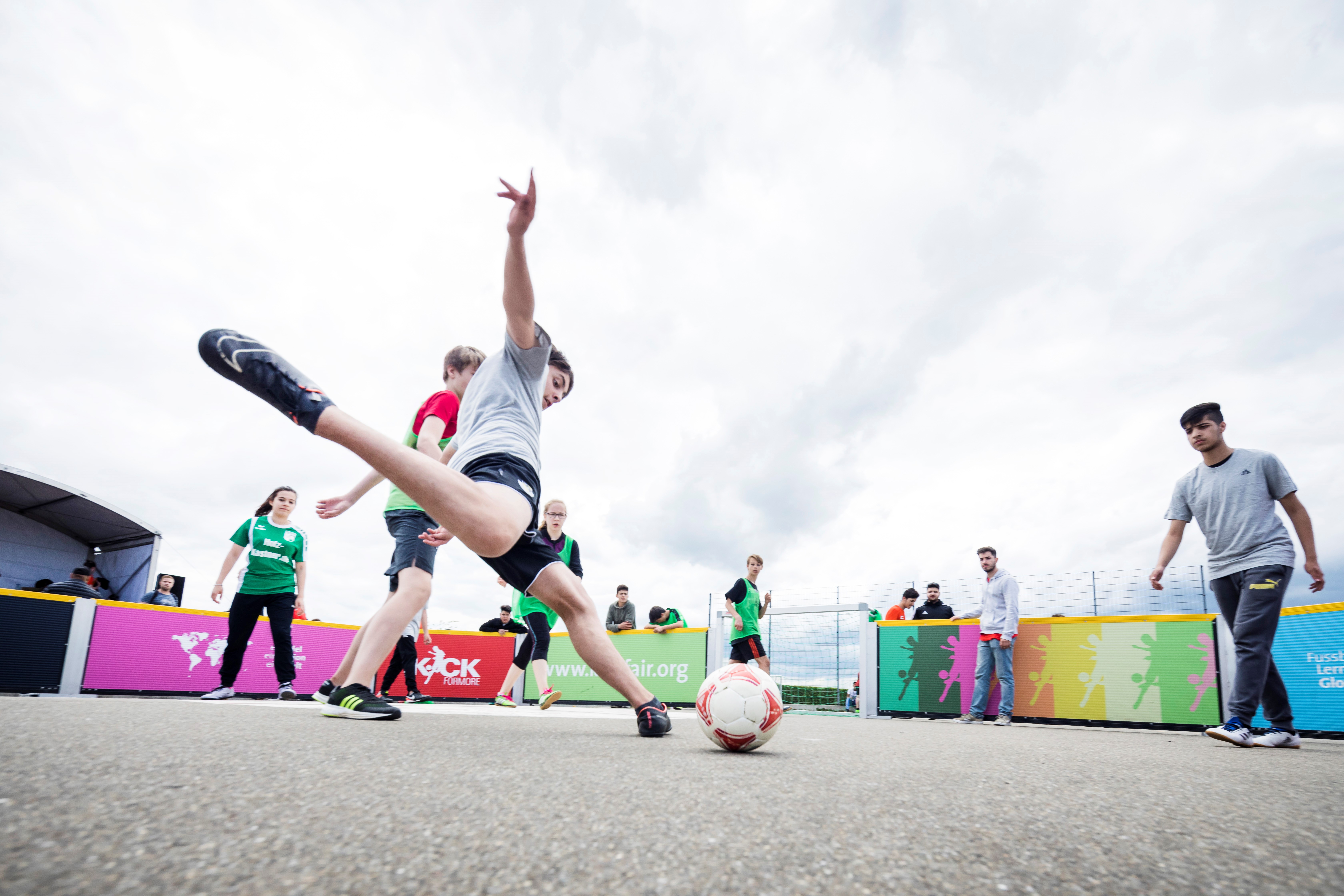 "This group from Germany is showing true leadership. Common Goal is based on the belief that football can best achieve its full potential as a shaper of the world, if there is teamplay, and this inspirational initiative demonstrates what can be achieved when we act collectively."
Where agents and agencies have in the past received criticism for failing to reinvest wealth back into the game, this innovative project that unites a coalition of rivals could prove to be a tipping point in the role of agents in the sport and set a new standard for collective social commitment in football.
One Common Goal member who has been following the work of KICKFAIR since joining the movement is Bayern Munich star Serge Gnabry and he says he is impressed by the teamwork on show in the project.
"I'm thrilled that Common Goal is launching this fantastic initiative and am struck by the solidarity and collaboration of the whole group of supporters. I hope that this team effort will encourage other agents and players to get involved and will spread beyond the borders of Germany."