"The onus is on all of us"
Supporter group leaders discuss how fans can help create an anti-racist game
With instances of overt racism continuing to plague the sport and microaggressions festering off the pitch and on social media, the world's game at times can feel more isolating than universal.

All too often, racist chants, slurs, and offences come from the stands. But what if the very place the fire is burning has the tools to extinguish it? How can fans – as groups and individuals – help create a truly anti-racist game, and what actionable steps can they take to get there? 

Donald Wine II and Lindsey Allen sat down with members of Common Goal's Anti-Racist Project (ARP) to discuss just that. In doing so, they shined light on the power that fan groups have in creating change and gave advice about how people can start to take action in their own communities.  
Wine is a board member of the American Outlaws (AO), the US national teams' supporter group. He co-founded the group's Washington D.C. chapter, has attended more than a hundred games with the AO, and has been a fan of the game his whole life. Founded in 2007, the group has grown to more than 30,000 members, making it the largest of its kind in the country. As the group's Diversity, Equity, and Inclusion chair, Wine holds discussions with chapter leaders about what they're doing well and what could be improved with respect to their DEI efforts. Inclusion is a top priority for the organisation, and Wine ensures it stays that way.

Allen is president of The Curse, the supporter group for the United Soccer League (USL) club New Mexico United. While the club team is young – beginning only its fourth season in 2022 – it's already fostered a large community in New Mexico, including the hundreds of members within The Curse. Their group has used its expanding platform to elevate Black voices in their community, and pursue anti-racist principles from its inception.

The Curse and American Outlaws are part of Common Goal's Anti-Racist Project, a collective effort working to eliminate racism from every aspect of the game. In honour of Black History Month, the two leaders share some insights on how supporter groups and fans can drive anti-racist change for the Black community.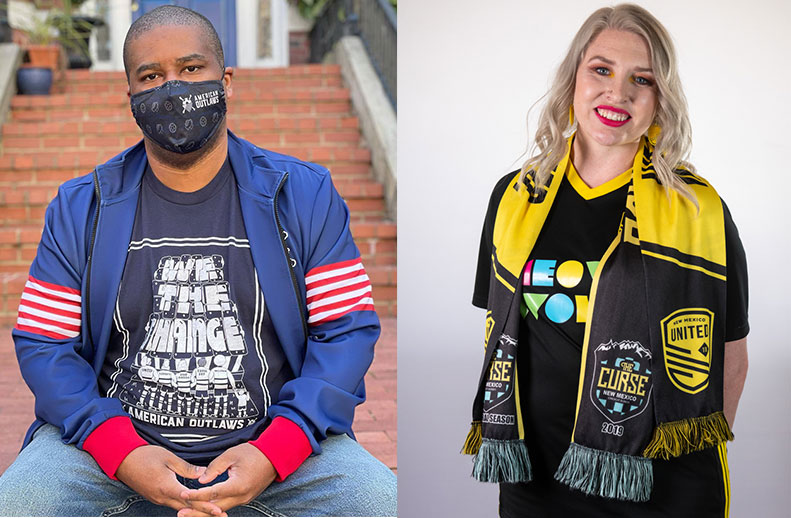 What role do fans have in fostering an anti-racist game? 

Donald Wine II: It's incumbent on everyone to take that responsibility when they're entering a stadium, when they're entering an event, when they're in their communities representing. They need to be the ones that step up and say, 'That is uncool. That's unacceptable and we do not tolerate that racism and intolerance here.' Reporting it, helping people who may have that story to say, 'Hey, look if you come forward with this, I'm right there behind you. I saw everything, I'm with you and you have support, you're not going to go through this alone.'

Lindsey Allen: I think the number one thing as fans is being diligent in calling out people when you see it [racism], and being able to create as fans and supporters sections a safe space for that to happen... We had an accusation last year of someone in our stadium who violated our code of conduct. We immediately launched a campaign, put out a statement within 24 hours, and opened a hotline so we could eradicate that behaviour from the game because it's not right in our stadium… Being able to encourage our fans to stand up, call it out, and stand up for our players is important. If we can't be diligent there, then we shouldn't be diligent on the pitch yelling for them when they score a goal.  
What actions by fan organisations can create long-lasting change for the Black community in football?  

Donald Wine II: A big thing is accessibility and affordability when it comes to ticketing. Kids don't need to be convinced to go, they just need the invitation. More groups need to reach out to communities and say 'Hey we got 15 extra tickets.' When you get the chance to see your hero, it inspires you to do more. We always talk about players on these national teams who were inspired by previous generations before them. Let's keep it going and give Black communities the opportunity to be inspired. I will say, some teams are stepping up recently to do better at that, but I think it's something that needs to continue to grow. 

Lindsey Allen: Our number one thing is inclusivity. Bringing diverse voices to the table, listening to each other, and working with each other is key. That can look like using your platform to elevate Black voices in your community that are doing the work on the ground. Sometimes listening is the best thing to do, you're not always the best-equipped person to speak about everything, and that's ok. 
What power do fan organisations have in lobbying their clubs to create change?  

Donald Wine II: You can boycott games. You can stop buying merch and concessions. You can make a statement by wearing a specific shirt. It all depends on the goal and what you think the best route in your community is to get there… I think we have more power than people realise. It doesn't always feel like that the way soccer is set up in this country, but there are places where clubs are 100% owned by their fans and the club has to go to them to ask for things. But even when that's not the case, if everyone works together towards a common goal, they have to listen, at the very least understand why you all want to go that way. Even if they try their best to curtail it, they still have to listen and once you get the chance again run with it. You can get so much done from working together and being organised. 

Lindsey Allen: Fan groups hold huge power. I've been able to sit at the table with USL executives to talk about a club owner we had an issue with. By showing up every game as an organised voice, people hear us and invite us to the table where our values can take a stand. And there are things you can do every day. At games, we hold signs to spark discussions leading to educational conversations. And social media is huge in helping us get behind actions. 

How important is collective action to ending racism in the football space?  

Donald Wine II: I'm glad with the Anti-Racist Project we have welcomed more fan organisations because I think it's important to trade secrets. What can we do to be better over here? Take a page from another group that may be doing it really well. Conversely, if another group reaches out and says, 'hey we're really struggling in this area, what have you guys done?' Maybe we can be the guide for them in that area. Of course, what may work in one area might not work in another, but seeing each other's work inspires solutions. It's great to have other supporter groups in the ARP to work with. The Curse, for example, reached out over an area they were struggling with and we had some experience with and could help. And you know, because of that conversation, I learned something as well… Also, I think the onus is on all of us to create change and collective action means we're all accepting that responsibility, and I think that's important. 

Lindsey Allen: Collective action is vital. It creates a system where we can support each other and hold each other accountable to achieve a common goal. We need to work together, across club lines, across league lines to create an anti-racist game. We're working with Black Diamonds, an independent supporters group that seeks to increase Black representation in the stands. We've been able to support them with our platform and elevate their voice. It's not my role as a white woman to take the mic during Black History Month, but I can use The Curse's platform to amplify their efforts.
What changes do you think need to be made in the sport in order to make a truly safe, inclusive, and equitable space for Black individuals?   

Donald Wine II: We need to increase Black participation at all levels of the game, especially in boardroom positions where decisions are made… We need to find people who are willing to be a part of the solution and put their necks on the line to hold people accountable because that is what is lacking. 

Lindsey Allen: I think there is a lot that can be changed for Black individuals to be safe... in the sport. Everyone from coaches, front office, to fans need to be involved - there need to be safe places for reporting and equitable investigations with options for external investigations available when the incidents are within an organisation.  Teams need to protect players with diligent social media protections for racial slurs or inappropriate tone. Action needs to be taken against fans who make attacks on social media or in the stadium.  There is much, much more that needs to be done, but if we can't truly listen to Black individuals, we will not be able to grow and make positive change.
What advice do you have for somebody that wants to create an anti-racist fan organisation but doesn't know where to start?   

Donald Wine II: Go to community leaders who already have invented the wheel several times and ask them how they made the wheel. You don't have to blaze a trail; you can take the good of what you're finding from everyone else and use that to cultivate the path that's necessary for your community. So, I would say reach out to people. Ask questions. I know it's scary sometimes to put your foot out and say hey I don't know you but I'd like to talk to you about this. You'll find that this community is super special and there's a reason why everyone is willing to work with each other.  

Lindsey Allen: Start small because any change that you can make has to start from somewhere. It might not take off right away, but it can grow into something beautiful if you take it one step at a time and don't give up.