"I want to create change"
Brighton & Hove Albion defender joins Common Goal 
Maya Le Tissier — recipient of Brighton & Hove Albion's Young Player of the Season Award for 2021-22, pledges 1% of her salary to advance gender equality through football. 
The 20-year-old has been making a name for herself by breaking barriers across the game.  
In 2018, she became the first female to play for Guernsey under 16 boys' team, the same year she made her England U-17 debut as captain. Climbing the ranks quickly, she got her first cap for England's U-23 team last year at 19 years old. 
Let's get to know this rising baller and find out more about her pledge. 
How did you first hear about Common Goal? 
Through social media actually. I saw that quite a few players and managers had signed up to it and just thought I want to be a part of that, I want to create change.  
What was it that made you want to join, to go that extra step, and actually take the 1% pledge? 
I wanted to give something back to the game. Growing up [in Guernsey] there were hardly any girls playing so I didn't have any opportunities to play football with girls. I was always playing with the boys, which for me was great, I loved it.  
But if there was a pathway for girls, that gives them a target. I was always breaking barriers so I think if I can make it easier for the next 'mini me' then that'd be great. The older players have left women's football in a great place and I just want to be part of the next generation that leaves it in an even better place.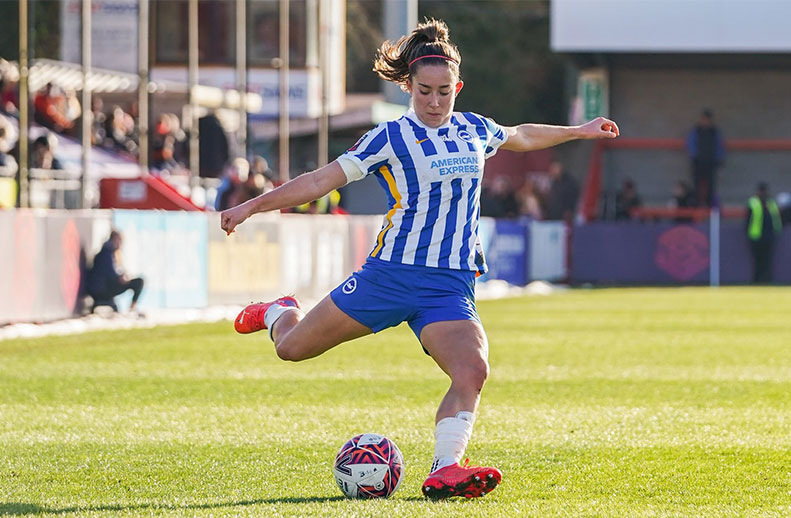 Coming from the Channel Islands, how big is football compared to the UK mainland? 
For me it was massive. That's all I did growing up. I was either playing football or I was on the beach. But back home there was just grassroots. You could play for Guernsey and that's great but there was nothing else. So, it's just on a much bigger scale over here: there's full-time professionals, coaches, staff, and the actual athletes themselves. They don't have those kind of facilities back home. It's a very supportive network and it's a good set up but over here it's completely different. 
How does it feel knowing that as well as talking about change you're driving it through your 1% pledge? 
It's always something I've wanted to do. I've always wanted to give back but I didn't know how, so when I saw Common Goal, I thought 'perfect'. I thought: 'I can be a part of something with a lot of other players'. That we can come together and create something bigger than as individuals, it's much easier to make more of an impact. It's hard to do something on your own.  
Where's your 1% going and why? 
It's going to the Global Goal 5 Accelerator project — to make it easier for girls to participate and create pathways for them. I'm not saying it's not good to have challenges but if you can make it easier for them, especially in less developed countries, then that's what we want to do. And that's what's going to raise the game and the standard for women's football.
I was watching the Brighton under 12s last night and I was like 'uhh I better be careful.' How they are on the ball, I wasn't like that when I was younger. Women's football is definitely on the rise and I just want to be a part of that.
Why did you want to start giving back at such an early stage of your career? 
Because the game is already giving me so much. I'm living in a different country just to play football. So from an early age, I want to give back to the game and hopefully do it for the rest of my career. You never know what's going to happen with football so I don't want to wait until I'm 25 and then start giving back. I might as well start now to help the next generation coming through.  
What would you say to other players who are thinking of joining Common Goal? 
Definitely do it. I was speaking to Dan Carter and a couple of the other players that have joined and there's never been anything like 'you shouldn't do it, there's no point.' It's such a good thing to do. Being a part of it, not just seeing others join, it gives you, not a responsibility, but it makes you feel good about helping others.