"Football can change the world"
Tom Iorpenda, 17, becomes one of the youngest to take the 1% pledge
From the start of his career, Tom Iorpenda knew football could help make the world a better place leading him to take the 1% pledge the same year he signed his first professional contract.
The move makes the 17-year-old Huddersfield Town midfielder one of the youngest to ever join the Common Goal movement and the first from the English club he signed a five-year deal with.
Tom joins the likes of Real Madrid Castilla's Bruno Iglesias and Real Madrid U-19's Marc Pina who took the 1% pledge as teenagers and is part of a new wave of young footballers determined to help create a more inclusive future through football.
Common Goal's newest member believes tournaments like the World Cup provide a unique opportunity to spark change globally.
"I honestly think football can change the world," said Tom.
"Especially events like the World Cup which billions, billions and billions of people are watching all over the world.
"I think if big messages can be broadcasted to everyone, then you could definitely see some changes happening in the world."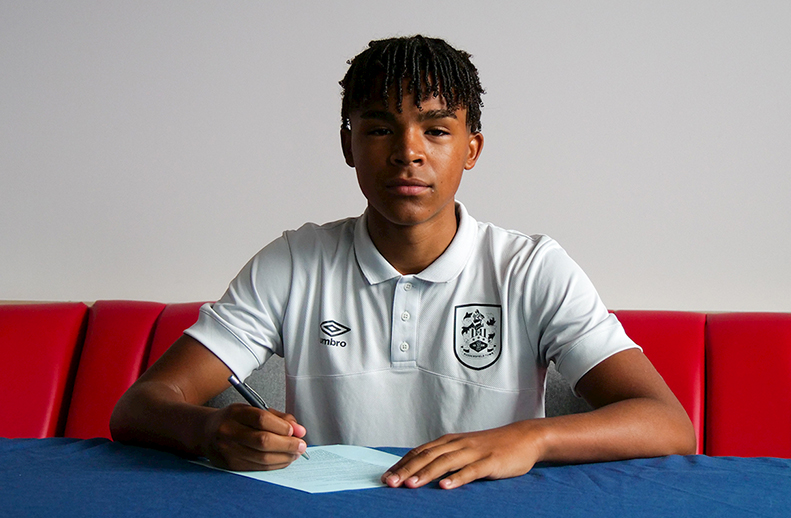 When asked how being one of the youngest members of the Common Goal movement makes him feel, Tom noted he feels, "really good, you could say proud almost. I don't think many people would be doing this at my age."
Tom aims to inspire other young footballers to do good through football.
"I hope if people younger than me or around my age see this and get educated by it, they can start doing something similar to what I'm doing and join the movement," commented Tom.
"Pledging my 1% to Common Goal as soon as I signed my first professional contract and started earning my own wage was an important thing for me to do.
"I felt that I had a responsibility to help people who aren't as fortunate as me.
"Starting early was key as I aim to continue this commitment for the rest of my career and however long after that."
In part, Tom was inspired to join the movement by his parents who are involved in TackleAfrica – a football for good organisation part of the Common Goal community. TackleAfrica uses football to deliver sexual and reproductive health rights and HIV/AIDS education and services.
For Tom, what makes Common Goal stand out is the global nature of the movement. Hearing from other players encourages him to do his part.
"Seeing the big global football names like Dybala promoting the movement is what makes it different. I find it really inspiring," commented Tom.
Through collective action Tom hopes to help kick racial discrimination out of the game and make football a more inclusive and welcoming place for all.
"I think if racism was completely out of football, it would make it so much better," noted Tom. "I think it's a change that many people would really want to see."