Sport4Life UK
adidas is teaming up with Common Goal, pledging 1% of our global net sales of footballs until 2023, to strengthen our commitment to global football communities around the world and create a more inclusive game for everyone. Through this content series, adidas football collective and Common Goal explore community stories that showcase how young people can find their path and strength through football and become an active part of the change they want to see in their communities. Meet Ezekiel.
Youth unemployment has been a problem in Birmingham for time. Then things got worse after the pandemic. In February 2020, it was at 6.3%. By April 2021 it was as high as one in five. A generation coming out of these dark days were feeling the strain.
But, there are local heroes in the city who have been doing their part to stem the flow for everyone.
Sport4Life UK are a charity based in Brum who use sport, football mainly, to tackle youth unemployment. Their mission is to get young people into stable work and education. They've been on the frontline for a minute now, dedicated gamechangers stepping in at the grassroots. Together, with Common Goal and adidas, they are showing how football is more than just what happens on the pitch. It's a tool for empowerment that their coaches and staff can use to help carve out a better future for the city's young people.
So, you might see their coaches, like Ezekiel, holding court and guiding the kids with footballs at sessions in Nechells in the North-East of the city. Or Hodge Hill out east. At the schools by Oldbury. Or on a Friday night at the Power League in Aston where as many as fifty teenagers chase footballs under the floodlights.
Ezekiel was living in Bilbao, Spain before his family moved to Birmingham. He was a right winger and a striker in them days, modelling himself on legendary Cameroonian number 9 Samuel Eto'o. Then the love for ball followed him across the continent. Him and his family came to the Midlands when he was 17, staying in Wolverhampton first, then onto Birmingham. He joined Solihull Moors, then Stafford Rangers and Darlaston Town. That's how it goes if you're from round here. If you call Birmingham home. If you're him. If you're the kids he coaches in the weekdays. Everybody has roots somewhere else: Somalia, the Netherlands, Nigeria, Switzerland. Ezekiel's parents are from Ghana. This city is a proper melting pot like that. Bare different cultures and communities mixing in together, trying to find their way through. Ball unties them. Ball gives them hope.
Ezekiel heard about Sport4Life UK when he was at Uni, studying for a Sports Studies and Development degree. He started out volunteering at sessions late last year, getting as many sessions as he could. Now, he's also part of Sport4Life's the Steps Together project. So, some days you'll see him walking on road after school, chaperoning kids from school safely, or pulling potentially wayward ones into football local sessions they're running. In big, and in small ways, he is part of an organisation shaping a better future for the young who live in the city.
The main football session is the Aston one. It rings bells in the city. Kick-off is five 'clock, but the teenagers usually show face half an hour after that. They come from across different bits in Birmingham. From Smethwick and Edrington and Handsworth and Perry Bar. Sometimes there's as many as 50 of them. Then he splits them into teams and gets a little tournament going: first to score two goals, or switch around after five minutes.
Birmingham is one of the most diverse corners of the country. Most of the kids who turn up are of Black and Asian descent. So being guided by Black coaches has its benefits for them says Ezekiel.
"I feel like they feel more comfortable because we can understand them. We've been there, been through what...We know what it is to be Black or to be Asian…So they feel more comfortable."
Football and coaching can change a life, even more so when you see yourself reflected in your mentors. Zeeks and some of the other coaches have become role models. If the teenagers need advice, the coaches are there for them. If they want to talk about school or academic life, the coaches are there. If they want to practice shooting or passing, they can turn up half an hour early, and the coaches are there to train with them. They are a local footballing family, who graft together to bring about real change in the community. The football sets the foundation, ball a tool to steer young people into work, away from dangerous paths, to encourage them to pursue whatever footballing dreams they have. As part of Sport4Life, Zeeks helps build a pathway from Birmingham, to whatever it is a young person wants to be.
One time, Zeeks spotted some coaches from Birmingham City's Development teams taking sessions on an adjacent pitch. So, he approached the manager, told him about Sport4Life UK and how there some really talented kids in his batch. Told him how he felt it was a shame they weren't playing for a team. The manager said they can come for a trial, and if they're good they can progress right through to the academy.
When Zeeks broke the news to the boys, they were gassed. It says a lot about their relationship, and the extra mile he runs for them. They have found a role model who looks like them, who has walked the roads they have walked, trod the path that they are now tredding. Little actions like that make the impossible seem realistic.
"That makes them enjoy the session more, that makes them like free themself more, be more open to us."
Mukhtar, 16 from Wardsend by way of Sudan and then Toulouse, is a main stay at the Aston session. It was difficult for him at first he says. A lot of the kids were older than him, and sometimes he didn't have the confidence to call for the ball or try a trick. But he's loosened as the months have passed, growing more confident in himself and what he brings to the pitch.
"They know that I'm there now," he says.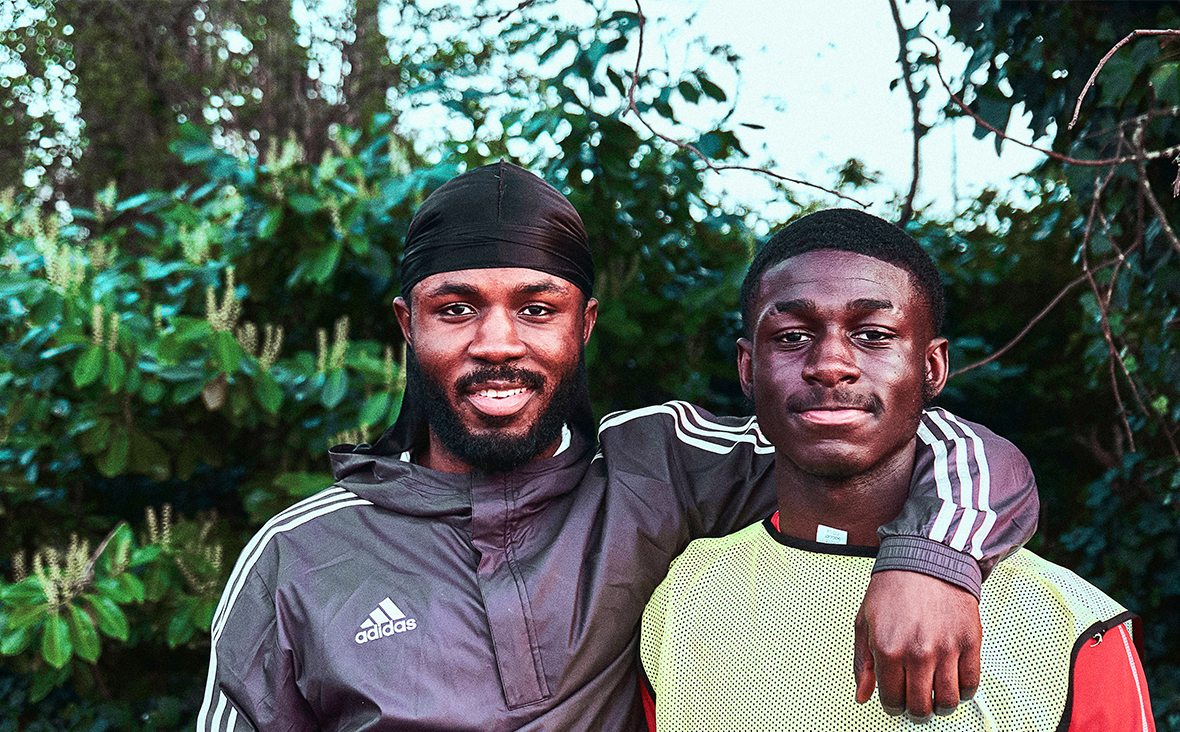 Another one of the boys who pulls up on a Friday is Souleyman, who lives in Erdington. His parents are from Benin. But he grew up in Austria before moving to Birmingham, another kid in a long line of first- and second-generation immigrants in the city.
"Football relieves my stress," he says, "Everything, I take it out on football."
When he was getting into a few problems, the coaches sat him down. they really spoke to me.
"They didn't speak to me like they didn't care because they did care about me, so. They took their time sit down and speak to me. That's when I started changing myself."
The sessions have become a safe space. It's this kind of change Ezekiel finds rewarding. At those sessions across Birmingham, when boys from around the continents gather on the 5G pitches, they are moulding lives.
"They literally use our sessions to de-stress from education, to disconnect from education, to come there, have fun, make new friends."
The plan for him is to continue working for Sport4Life. He's found passion and a purpose there, and is even writing his dissertation about the organisation. When he graduates, he'd love to work their full time, guiding kids like him down the straight road, into sport or education or whatever their dreams can imagine.