Veró Boquete: I think that the equal pay fight shouldn't be a fight
Ask Me Anything with Veró Boquete
This week Common Goal member Veró Boquete answered the questions of football fans as part of an Ask Me Anything with Reddit Soccer. Here's what she had to say.
I'm Veró Boquete, midfielder for Utah Royals FC, Champions League winner, two-time Copa del Rey Champion, Bundesliga Champion and Common Goal member. I captained the Spanish National Team to our first-ever World Cup appearance.
I've been an advocate for promoting gender equality through football and in 2013 led a petition for the inclusion of female footballers in the FIFA computer game series.
I recently worked with Off The Record Soccer to produce a film about my life, you can watch the film here. Off The Record Soccer is a soccer media company partnering with top players as co-authors to tell their stories off the pitch and from the heart, directly to the fans.
I'm a firm believer in the power of football to carry messages of social change and, as such, pledged 1% to Common Goal back in October 2017.
Ask Me Anything.
I have two young daughters and I love taking them to your games. As a fan and father, what can people like me can do to increase support for the women's game?
I think you're already doing it. Bringing your girls to our games and coming as a family so your daughters can have a female role models. It's a little easier because you have two daughters. Maybe talk to your friends who don't have daughters. I think it's a conversation you can have among families and friends to change the mentality.
Hi Vero from your fans in Saint Lucia. Who is the best player you have worked with and why? And when are you coming to see us?
I would say Marta. I was lucky enough to play with her for three years. She is a player who makes a difference. I just love to be on the field with her. I also want to go to Saint Lucia. I have a project with Common Goal there so I know they are doing a fantastic job.
Which players did you look up to? Is there one with which you compared your style or your career?
As a small girl I never had an example of women professional footballer, I did not know that this was possible, all my role models where men, I remember that the player that made a difference in my life was Ronaldo, the Brazilian, when he played in Barcelona, I had never seen something like that, I celebrated the goals like him, with arms wide open like as if I was flying.
What would you say was the dream moment or peak of your entire career thus far?
I will pick the Champion's League because it was a dream that I had since I was a child. I went to different countries to try to achieve this and lost a final the year before. The next year with another team I went to the final and won the title. So to win that was the best moment of my career. It's something I can't compare with anything else.
The last year has seen some incredible attendance records for women's football. Do you think this is the new normal (when crowds return to stadiums), or does the coronavirus perhaps reset that progress?
We have to see what are the consequences of this virus. It's not the best situation but I also think that women's football has already reached a level that I'm positive people will come back as soon as they can. I think the moment that women's football was in before the virus was great and we can't go backwards.
What are your views on USWNT's demand for equal pay?
I think that the equal pay fight shouldn't be a fight. It should be something we don't have to fight for in 2020. It's crazy this is happening here in the US where women's football is better than men's. They are the best, they won the last World Cup, the gold medal, they have role models for the fans here.
Where do you see women's football going in the next 10 years?
We are going to have more people in the stands. We are going to have more spectators following us on TV and wanting to know about us. Then the sponsorships and the brands are going to get more interested. We need to reach more people and for that we need more space in the media. I think the future is going to be great.
In 2018, your hometown of Santiago de Compostela renamed a stadium after you. I don't think many (or any) other women footballers can say that. What did that mean to you?
It was the best moment of my career or my life. First thing I thought they were crazy thinking I deserved to have a stadium named after me but then I realized how important it was for women because we've never had a stadium named after us. I'm still overwhelmed by it, every time I come home I see the signs on the streets and it's a fantastic feeling.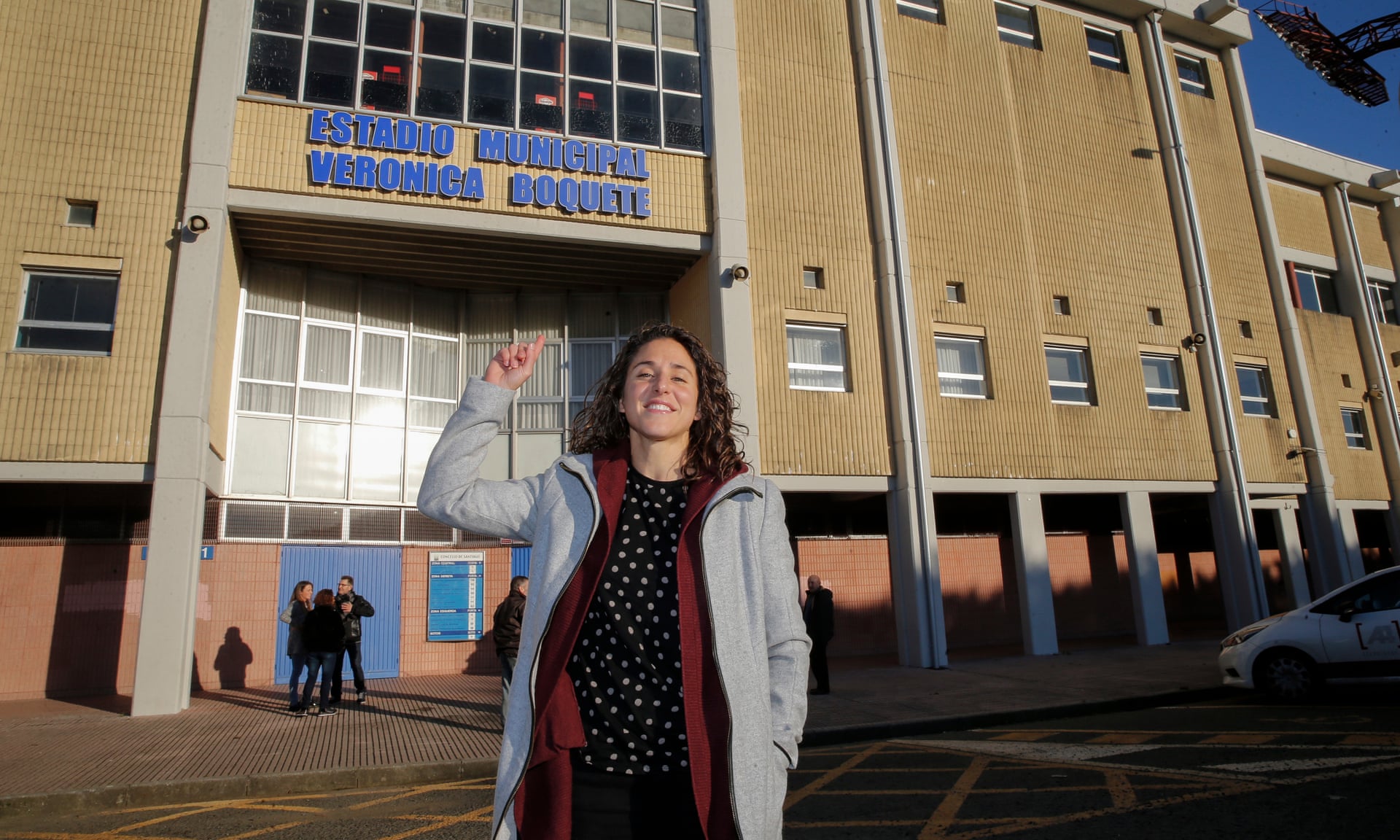 Read Vero's Ask Me Anything in full here.