Siobhan Chamberlain: A Different Picture of Football
The Manchester United goalkeeper gives an insight into life beyond the pitch - captured through the lens
"If you have 11 players on the pitch that were just 'players' and didn't really have any depth to them – who just go out there and do their job – I wouldn't really expect too much. Now, if you have several unique personalities, that are all working together, bouncing off one another, interacting and engaging in different ways, that is what adds to football."
Siobhan Chamberlain is a strong believer that there is more to life than football. The broader the personalities in the dressing room, she feels, the better the game.
Her own footbal career could be considered off-piste. The breadth of her own identity spans from Manchester United and England goalkeeper, to Common Goal member, up-and-coming photographer, mum-to-be, and a former university lecturer.
"I think the personalities that people have and who they are makes them the players they are," she says early on in a conversation where the ease with which she passes from topic to topic is striking.
In July, her announcement that she was embarking on her latest adventure of becoming a parent. , arrived alongside a statement that she intended to use the time to improve aspects of her game both on and off the pitch, remaining with the squad in a "slightly different capacity".
Since then, she has swapped leaping in the penalty area for further pursuits: trying her hand at taking over Manchester United's social media and press duties, commentating for the club's TV channel, and advancing her artistic venture as team photographer.
Like all the best goalkeepers should, Siobhan seems to grasp opportunities with both hands. Embracing the unknown is fundamental to her character, which combines a sense of adventurous ambition with applicative anticipation. Two traits which come in handy, both between the sticks and beyond.
The way she has approached this current chapter of her life, as well as previously managing to combine her many endeavours while playing, should come of no surprise to anybody who knows how she made her entrance to international football's grandest stage.
In 2015, with a world cup semi-final at stake, and after years of waiting for a opportunity she thought might never would come, the moment presented itself in sudden circumstances. When then England goalkeeper, Karen Bardsley suffered an allergic reaction, it meant Siobhan would be coming on.
However, instead of rushing into the frantic fray, throwing herself directly into the deepest of footballing waters, among her own tide of adrenaline, she remained inexplicably cool.
To the frustration of her Canadian opponents on the day, she calmly proceeded to carry on her warm-up, safe in the knowledge that everyone inside the packed 54,000 stadium would be waiting for her.
After an assured performance, helping book England's place in the next round, she revealed to the press: "I thought 'Well, they can't start the game without me,' so I took my time. If I'd started rushing or panicking I wouldn't have been in a good place."
In fact, she had already completed her usual pre-playing protocol in the half-time break, as she always had when starting on the bench. "As a goalkeeper you've got to make sure you're always properly prepared," she said, "in our position you know anything can happen at any point in any game."
Not only was she able to hold her nerve when it mattered most, she even enjoyed it – not feeling nervous at all.
The more she reveals about her journey, the harder it is to differentiate whether the position of goalkeeper was made for her or whether it was the other way around.
When asked when and how she became a goalkeeper, her answer takes her back to being a teenager where she "somehow fell into" what she enjoys most. "I was 14 or 15. One day we were playing hockey at school. I had never played before and didn't particularly have any interest in it but the goalkeeper got to wear all the padding."
"So, I volunteered to go in goal. I loved wearing all the padding and just I really enjoyed it. Not really the hockey side of it, but more stopping shots and throwing myself around. From then on, at the next football training session I went in goal and that's how it all started."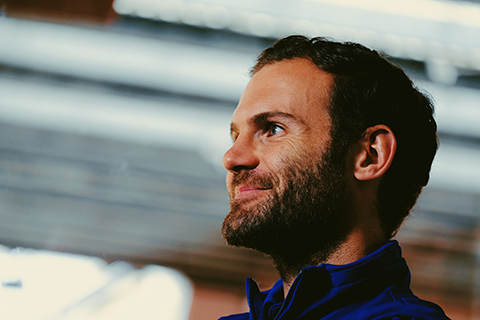 She had always been sporty as a child, seemingly with an inclination of testing gravity's limits, initially taking up gymnastics. But it wasn't until she was 11 that she discovered football. "I was a bit jealous of my brothers going down to the park with my dad so eventually I tagged along."
"My family were always very supportive. They had the view that 'whatever you want to do, you can do it'". Where other parents might not have offered such support for a young girl so passionate about sport, she was also lucky because she wasn't alone in another sense.
"There were other girls playing around the same time," she says, noting that many of her later teammates told her that, growing up, they had been, "the only girl playing football in their environment".
She played purely for the enjoyment, safe in her own assumption that, "there weren't really opportunities to be a professional footballer as a girl."
Instead, she played multiple sports and took her education seriously. Her layers of interests clearly stem from not being trapped in the "bubble" which she sees the new generation finding themselves in.
"It took my coach telling me: 'Listen, if you want to take football seriously, you need to stop everything else, you need to commit to it, to just playing football'".
In as much as she limited her pursuits in favour of football, at that point the career path it offered still meant simultaneously keeping her options open.
A scholarship at the National Football Development Centre, training full-time and studying, allowed her to be both academic and sporty, providing the adequate security to a career in football, which the game alone didn't offer women at the time.
Notably, when asked what makes a good keeper, her answer is "awareness". A trait that seems to tie in perfectly for a footballer with such an array of interests.
"I think you need awareness of what's going on around you." Also important, she continues, "is decision-making. You may not touch the ball for a long period of time but then you've got to make the right decision when the ball does come your way." Bravery and agility follow closely behind.
Barring agility, all of these traits seem hugely relevant in her decisions to take up photography and to join Common Goal.
"In a way, with photography," she says, "you also need to have an awareness of what's going to happen. You need to understand people's movements and be able to put yourself to where they are going, to be able to get the best pictures."
Her pictures display what can only be described as a footballing empathy, capturing moments perhaps only a fellow player could know are significant. Many of which are pauses in play, fleeting moments in matches when players are thinking at their deepest before they make a pivotal decision. She captures dynamic turns, set-piece planning, as well as the ecstasy of celebrations.
Her ability to understand people goes beyond the pitch or the lens, and has led to taking the 1% pledge.
"I think it's important to use your platform the right way. You are in such a privileged position as a professional footballer that if you don't use it to help others, to improve society and the way the world is developing, then I think you are wasting a massive opportunity."
Are these views discussed in the dressing room, with players ever-increasingly embarking on a career in professional football straight after leaving school?
"There are some young girls in our team, who've entered the environment of professional football very quickly and who haven't experienced much else."
Though their lives are not as detached from their non-footballing peers as it is the case in, say men's football, she warns that this singular focus can alter perceptions of reality, where "other people's fears are not quite their fears."
"When I was 16, 17, or even a bit older when I finished university, I was working full time alongside playing full time. These players are fortunate enough to be pro athletes straight away."
"I think that, ultimately, that changes your perception of life because you didn't have to compromise as much. It doesn't mean that it is not still incredibly hard to have a successful career."
She has taken it upon herself to spend her time on the sidelines to show the younger players good values and encourage not only discussions about what is going on in the world, but to form opinions as well.
"My advice would be to first be a good person and also remember why you are doing what you're doing," and adds, "I want help others help others. The women's game is growing so rapidly, every player is a role model now and they need to understand they're inspiring the next generation."
That being said, she is quick to emphasise the importance of enjoyment for success: "It's easy to lose track of why we're doing what we do. You need to enjoy being a footballer and play with a smile on your face because that's what got you here."
Siobhan Chamberlain
Born: 15th August 1983 in London, England
Current team: Manchester United W.F.C. (#1 / Goalkeeper)