FOUNDING STORY: training4changeS
Creating a football family across societal divides in South Africa
Daniel Thomae is the Co-Founder of football-based community organisation training4changeS. Having experienced how football enabled him to connect with others and feel at home growing up in rural communities in different African countries, he tells us how he and his wife Kendra set up an organisation in South Africa that uses the beautiful game to create a football family as an opposing team to the country's racial divides.
I grew up in Kenya and Nigeria where my parents worked in community development. Being from outside the cultures, football was a way that I personally connected with local people and found a home in those different cultures.

When I moved to the USA on a soccer scholarship, realising that I was not best player, the question weighed on me 'Why me and not other people?'
From the time I left high school, I had the dream to use football to create a platform for people to experience the world, to access education.
Fast forward to 2010: I had the opportunity to come to the World Cup in South Africa. That was obviously an amazing moment having grown up around the continent.
I came here as a fan, but also used the opportunity to connect with some people who could get me into the [football for good] industry. Through the trip I received an invitation to come back to work for a small grassroots organisation just outside Cape Town. They knew nothing about soccer, but they wanted someone to come in and harness the energy that was in the country at the time.
It was coming back from that trip in 2010, speaking to my wife back in the States that the idea of training4changeS was born.
Both of us had life experience in community development and moving between cultures, but we knew we wouldn't come up with an idea in America and then come and launch it in South Africa.
'That's just not gonna work. We need to know the context, we need to know the people. It needs to be a local thing, so let's just move and get embedded in the culture.'
And that's what we did.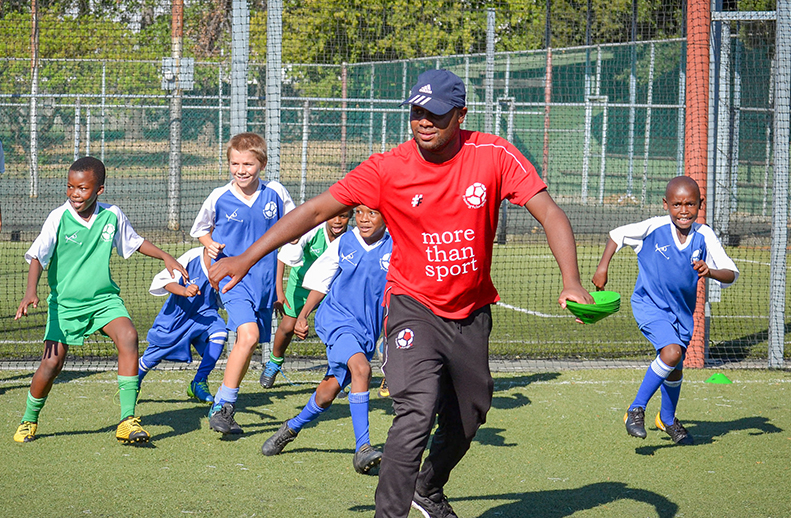 We didn't have money, we didn't have a venue, but we were determined not to let that distract us or impede us. It was just about grabbing life by the horns and going for it and I think that that attitude in life has been imprinted on the organisation as well.
We spent 2010 to 2013 more or less just putting ourselves out there, floating this idea, conducting research and development. Then, in 2013, through that experience and those three years of preparation, training4changeS was launched and registered as an organisation.
When we were trying to figure out our identity as an organisation, we identified a few common trends that were gaps in the system.
We saw that a lot of programmes would just focus on mass participation. You get a coach out on the pitch with 60, 70 kids and all that young leader can do is hope to survive the session! So, what we wanted to do is create a low ratio between each coach or leader and kids so that we could look at each and every one and know their story.
This was also why we chose to focus on futsal, because the groups were much smaller and one coach would have maybe 12 kids in a session. That would create much deeper social connections.
One of the most evident things in this part of the country is inequality and that is racialised.
Everything is racialised in South Africa. The majority of NGOs are working in a particular community and most communities are racially divided. You're doing great work, but you're still only allowing kids to relate to people who are like them. Our concern was that this played into the historical narrative which is 'you belong in your space'. From the beginning, we tried to work across those divides.
In Stellenbosch, different communities live on different sides of the street. How could we create a common ground for these people to get to know each other?
The [apartheid] system broke down families. Black mothers were busy raising white people's kids.
With that division being very evident, the relationship element was crucial.
The very first core value was that of relationships. "We're gonna create a family atmosphere", and we've said that to everyone we've brought on board, all the kids, the families…and I think that is evident today that it is a big family. We never want to lose that even if we continue to grow and scale in years to come.
One of the ongoing challenges is to create opportunities for girls to participate in futsal and to engage female coaches. We pitched the idea in the communities that we should have a girls' and a boys' programme, the kids were very young, only 5, 6, 7 years old. "Is it necessary or can they participate together?" and the community was saying: "We don't need a separate girls' programme."
In the first year, we had 119 boys and 1 girl and she was a legend. She was a good player as well, so she played a few boys off the park.
After the pilot project, we presented the evidence to the community: girls will not come and play. We need a separate programme.
It is still very difficult to get girls to attend, but we have just launched a partnership with a local grassroots women's club.
Working towards gender equality is also about more than getting girls' programmes running. There is a huge problem with gender-based violence and most of the perpetrators are men. So we have also asked ourselves, 'Even if we don't have girls' programmes running full time throughout the year, what are we doing to change the worldview of young men and how can we encourage them to proactively change the culture and help stop the cycle of gender-based violence?' We're trying to raise young men to champion equality.
Linking up through Common Goal with Tessel Middag it's been great for both the girls and the boys to look up to a professional environment and to strong female role models.
Another issue we are dealing with here is mental health. We know that all of our kids grow up in different types of trauma. One of our young boys – his father was shot dead right in front of him. His mom came to us and asked 'Can you help my son?` At that moment we realised that it's great that we're creating this safe space, but we need to develop partnerships to help refer people to the care that they need.
The coaches come from the same environment as the kids do. They can create safe spaces for the kids as they know where they're coming from, but that is done mainly intuitively.
With COVID, this year was obviously quite challenging. After more than six months of not being allowed to play football together, we just wanted to get back together on the pitch.
The girls were able to start back first, as they play in the Cape Town suburbs. In Stellenbosch things moved more slowly, so the boys were only just able to start back.
The biggest challenge will be for the kids to close the gap academically. During most of South African Lockdown, only 4 out of our 20 Futsal Academy kids received ongoing academic support, the rest were stuck at home with no support from their schools.
I think people appreciate that even when we weren't on the football pitch for a while, we still showed up at their houses, bringing food parcels and making sure that their kids are getting home school packets.
Their parents are giving us feedback to the effect of that 'it's very impactful to see how much you care about us and how much we are a family and it's not just about training or coming to run programmes.'
We don't know how it will continue, but we know why we got started and it's gotten us this far.
Images Courtesy of training4changeS.