Fighting hunger through football
Celebrating football's contribution to achieving Zero Hunger on World Food Day
Months ago, it seemed unthinkable that the hunger and passion of football fans for the game would be tempered in the middle of a season by a global health crisis.
But, as we became accustomed to a life without football, the true nature of our most basic needs became even more apparent.
While the beautiful game plays its part in the sustenance of our being, food is the essence of daily life and the bedrock of our cultures and communities – and something that on this World Food Day, many will unfortunately go without.
Preserving access to safe and nutritious food is, and will continue to be, an essential part of the response to the COVID-19 pandemic, particularly for poor and vulnerable communities who are hit hardest by the pandemic and resulting economic shocks.
Yet, Marcus Rashford has shown throughout lockdown - riches and abundance from one can complement the scarcity of the other.
Together, the power of football and knowledge of food solutions can go a long way towards ending hunger.
From the network of football-based community organisations Common Goal has partnered with, here are just a few examples of the many initiatives around the world harnessing the power of football to achieve Global Goal 2: Zero Hunger, fight food insecurity, and promote sustainable agriculture.
Football/Grootbos Foundation, South Africa
Founded in 2003 as the footballing arm of the Grootbos Private Nature Reserve, The Football Foundation uses the game to trigger positive social change in marginalised communities.
To foster strong communities in Gansbaai, Stanford, and Hermanus, full of healthy and empowered young people, The Football Foundation engages 2000 young people each week in football for good programmes that promote health and environmental life skills training.
Its Food for Sport Nutrition programme is a 12-week training programme, based at a local school teaching valuable lessons in organic food production, nutrition and life skills.
The aim of the project is to introduce the basics of nutrition and growing organic vegetables at home.
Pasión Petare, Venezuela
Petare, a neighbourhood in Caracas, Venezuela, is one of the largest slums in the world. Over 300,000 inhabitants live in extreme poverty, suffering from chronic hunger and malnutrition.
With little or no access to education and employment opportunities, young people are often forced into a life of crime in what has sadly become a feasible route to provide for themselves.
As the malnutrition crisis in Venezuela worsened, Pasión Petare created the Alimenta la Pasión (Feed the Passion) project back in 2017 to combat the dramatic reduction in access to food.
Noticing fatigue, a lack of energy, and malnutrition forcing young people to skip playing the game they love, Pasión Petare initiated a youth municipal football league to guarantee at least one meal for players, every single day.
"The cases in which young people fainted during training due to lack of adequate nutrition were common," said María Gabriela Rivas, a member of during an interview with El Pais.
"Due to the current situation, many families cannot feed the boys three meals a day and we decided to intervene.
"It was when we launched the Alimenta La Pasión program, in which we seek to give young people a plate of balanced food at the end of each training session, since many suffer from malnutrition, and to motivate both children and their families to continue participating in the practice of soccer looking for a better future for all."
In total, the organisation now has six soup kitchens, in operation five days a week, feeding more than 1000 children every day – all run by a team of volunteers including numerous parents of players. In just a few years they have served more than 10,000 meals.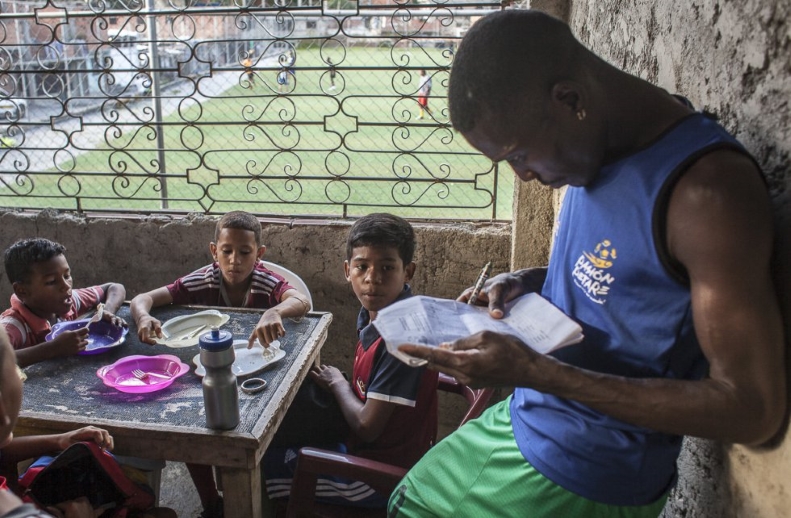 United Action for Children (UAC), Cameroon
More than one million children live on the streets in Cameroon. This is mostly due to the economic downturn taking place in the region in the late 80s and early 90s.
United Action for Children (UAC) uses the power of football to mobilise children and young people, particularly rurally-based, to channel their energy towards productive initiatives – thereby helping them become actors of development in their respective communities.
As part of its social enterprise programme for young people, UAC has set up a mobile food restaurant and poultry farm.
With support from local partners, they aim to set up a bigger poultry structure, including their own piggery.
The organisation has also embarked on their very own Agro-Pastoral football league.
"The aim of this is to use the power of football to help children and young people develop a likeness for agriculture," said Thomas Orock Eyong, Project Coordinator.
The project is open to both out of school and school going youth living in the surrounding communities of the Besongabang Football for Hope Centre.
Tiempo de Juego, Colombia
In Cazucá, one of the most marginalised, deprived and violent areas of Colombia, nearly 70 percent of the population is classified as displaced.
The strain on the young people often increases the likelihood of them joining gangs and can lead to drug addiction, teenage pregnancies as well as recruitment by armed groups.
Originally started as a football school in 2006, Tiempo de Juego now uses a range of sport, cultural and recreational activities to protect and support children in the most vulnerable areas of Colombia.
Part of the Common Goal collective project Social Enterprise Assist, its bakery "La Jugada" not only funds local football programmes in Colombia, but also combats malnutrition among children by making and distributing healthy food and drinks to the local community.
GOALS Haiti, Haiti
In Haiti, when a young person joins the GOALS programme, not only do they attend classes to improve their literacy skills, have access to clean drinking water, and participate in community projects, they also receive a free meal.
Following the recent natural disasters that have left destruction and devastation in their wake, the island struggles with poverty and high rates of unemployment.
With numerous villages throughout Haiti without schools, paved roads, electricity, or water, grassroots organisation GOALS Haiti took on the mission of helping young people realise their full potential despite such obstacles – starting with healthy meal.
In total, the organisation serve close to 400 meals a day in three rural communities to ensure nutritional support for young people.
Through the draw of football, the organisation is also engaging its players in agronomy through its community gardens, where they plant and cultivate everything from tomatoes, aubergines, cabbage, peppers, and lettuce.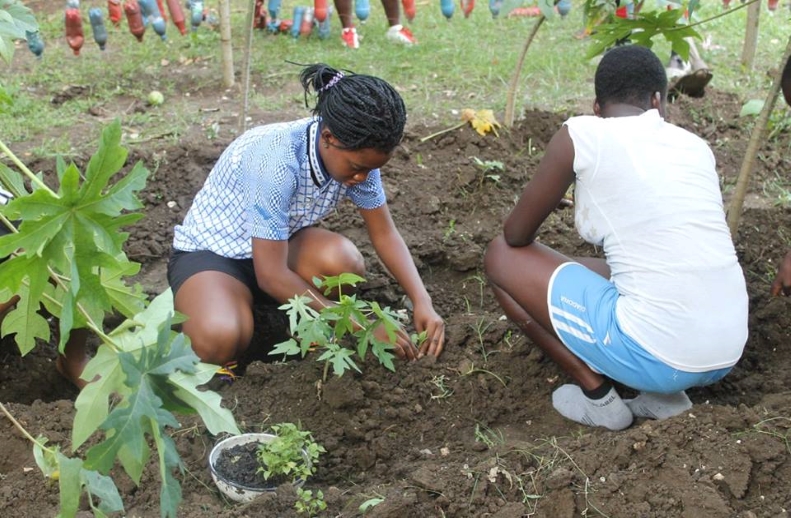 Single Leg Amputee Sports Association (SLASA), Sierra Leone
In Freetown, SLASA is combining football and organic gardening to promote sustainable living.

Its Football Garden is a sustainable agriculture mechanism aimed to guarantee safe food production, nutrition, and diet, and food security for its players – amputee victims of the Sierra Leone Civil War. It aims to turn unused land into both football pitch and nutritional garden.
In the wake of the Covid-19 crisis, those with disabilities in Sierra Leone were disproportionately affected. Inflated food prices across the country, accompanied by a loss of income due to informal work practices being brought to a halt by the imposed lockdown, meant in-house food cultivation provided much needed food security for the SLASA beneficiaries.
SLASA was originally formed as an idea for a single team to create independence and self-reliance.
Football, however, helped changed the mindset both players themselves and members of their community towards them – addressing gaps in social infrastructure for amputees by providing trauma recovery, addressing misconceptions of disabilities, promoting peace, and helping amputees reintegrate into society.
And now one team has expanded into 350 players, with both men's and women's teams, and six official seven-a-side teams.