"It's about having a team that we can truly be proud of."
Oakland Roots first US club to join Common Goal
For Oakland Roots the decision to join Common Goal is one that comes out of an ethos that the club strives to live up to each and every day.
The Californian-based club becomes the first American club to join the movement – pledging 1% of player and staff wages, alongside ticket revenues, to help fight social inequality.
Oakland Roots play their football in the National Independent Soccer Association (NISA) and follow Danish top-tier outfit FC Nordsjælland and Spanish Segunda División B club, Unionistas de Salamanca CF, as the third professional club to join the movement.
And, for club Chair Steven Aldrich, the move is one that is a natural step in the life of a club that was founded in 2018.
"Sports teams should show through action what they stand for," said Aldrich. "Oakland Roots was founded to be a force for good that expressed itself through soccer. Joining Common Goal is a natural step for us.
"Being members of Common Goal means we can be part of a wider mission to shift the focus of the football industry towards community impact."
"From the get go, the concept of Oakland Roots was to build something that connects to the streets, connects to the people, something that provides an outlet of hope and inspiration," said Edreece Arghandiwal, co-founder, Chief Marketing Officer, and Oakland native.
The club was co-founded with Benno Nagel, friend and fellow Oaklander, and their wonderings dating back years asking themselves the question: "why can't professional soccer exist in Oakland?"
Within their own right, the pair are both life-long football fanatics.
Arghandiwal is first generation Afghan-American, inheriting the football gene from his family's own footballing lineage honed in Afghanistan.
His father managed clubs, while his uncle, Ziaullah Arghandiwal, played as goalkeeper for the national team. A legacy maintained today by his sister Hailai, who played in the German Bundesliga for MSV Duisburg, and C.F. Florentia of Serie A.
Nagel meanwhile, now also Oakland Roots' President, is a UEFA B licensed coach who has coached in the Dutch Eredivisie and for Dynamo Zagreb at academy level.
With 240,000 youth players in the Bay Area alone, not including adults which is another 100,000, they saw a huge appetite for a football club that they themselves longed for growing up.
"There's pride and joy in being from a specific area, calling that your home, and supporting a team representative of that place," said Arghandiwal. "We didn't have that for soccer in Oakland, ever."
KNOW YOUR ROOTS
"Traditionally American sports, and US Soccer, has consisted of a rich owner parking a bus on a community that the person has no connection to," said Arghandiwal.
For Arghandiwal and Nagel, there was no need to instil concepts of brand and identity upon their Oakland community. That already existed. It was more a matter of channelling that identity, with football as its route.
After all, Oakland is a unique city. It is consistently ranked as one of the most culturally and ethnically diverse major cities in the United States. The city's cultural contribution to the nation is expressed through art, music, and activism, to an extent that far exceeds the city's size.
It's the birthplace of the Black Panthers, Tupac Shakur, Tom Hanks, and many others. Per capita, Oakland is home to more artists than any other city in the United States. Nicknamed 'The Town', Oakland is a proud, tightly-knit, socially conscious city, which places community at the fore.
Parking a bus simply wouldn't work.
GRASSROOTS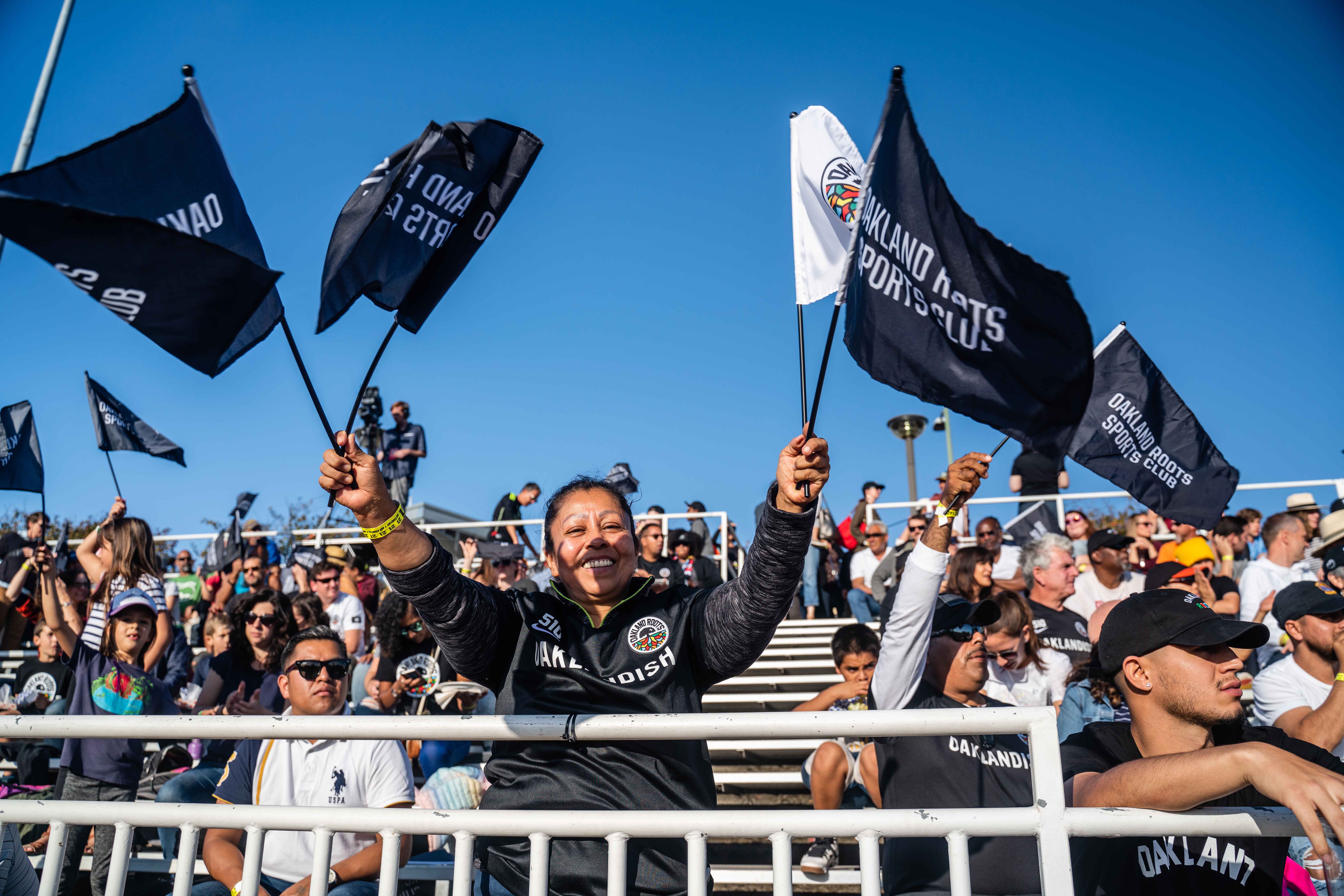 "We thought that approach isn't the way in which strong culture and good foundations are built. We believe it's built from the grassroots, by the people." said Arghandiwal.
The founders wanted to build something that countered what they feel has happened to other sports teams locally, from turning into corporate America.
"I want people to feel like they can wear a Roots shirt and be part of the movement for the rest of their lives," Arghandiwal continued.
"It's about having a team that we can truly, truly be proud of. That's what I would want for the community to instil in their everyday lives."
For the founders, the character of the team on the pitch would have to be indistinguishable from the community to which it belongs; as the voice of policy change and pillar of the community.
"Like we say: Oakland first and always," said Arghandiwal.
In 2018, they designed a crest and announced to the world that a professional team was coming to Oakland, despite having not kicked a ball or investment to fall back on. But they had their identity.
ROLE OF FOOTBALL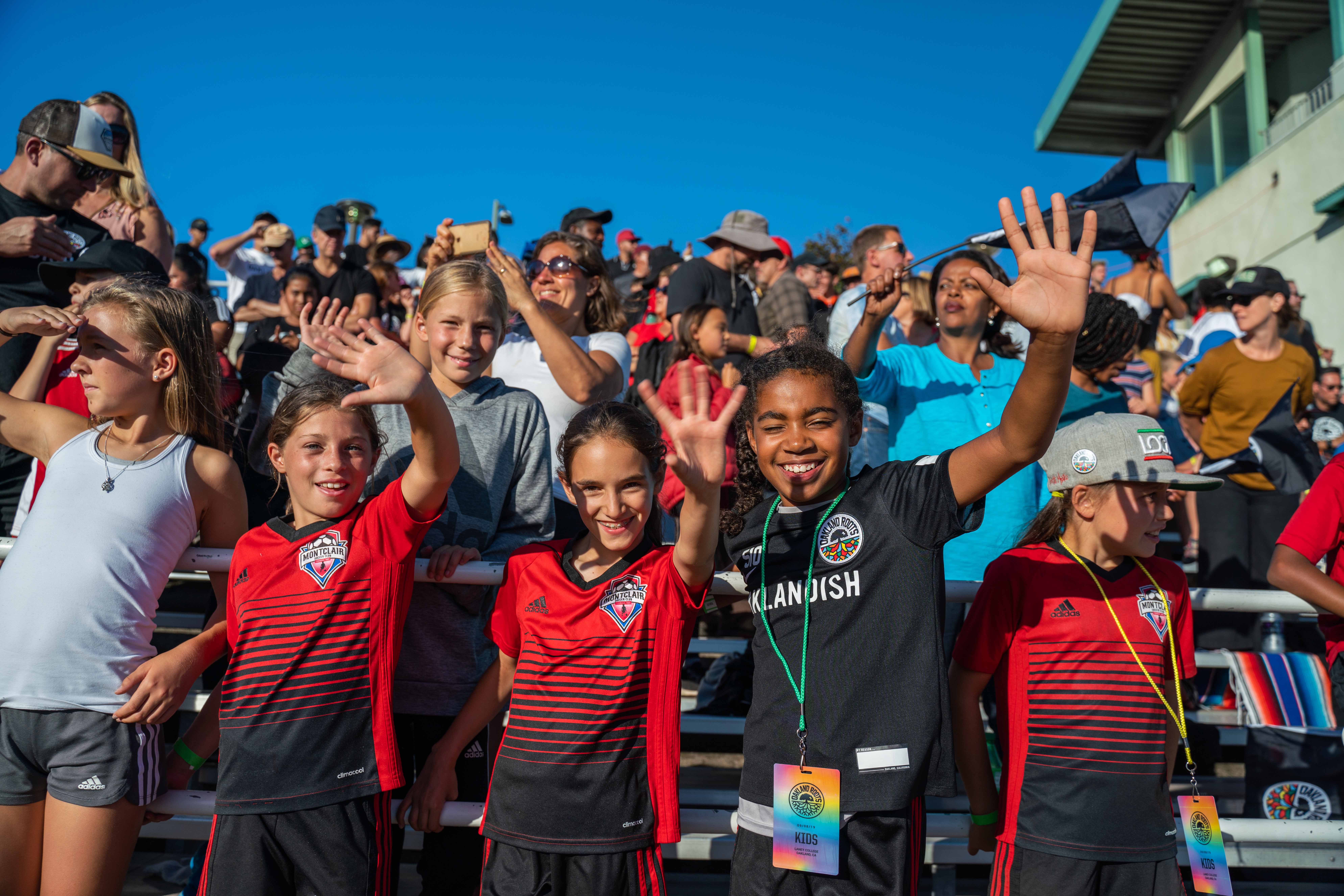 While sports clubs may be an obvious choice for ways in which a diverse group of people can connect with one principle and one idea, in the US, football is not.
US Soccer's pay-to-play model can be an obstacle at times pricing young people, especially from low-income backgrounds, out of playing and stifling the game's growth – placing revenue ahead of harnessing the game's potential to create positive impact.
"Most people think revenue and impact are two separate things," said Arghandiwal. "But we've seen the more good you do in the community, the more the community supports the club."
"Our belief is: if you impact your local community they will show up to games, they will buy merchandise, and they will participate in your revenues."
Part of building the team has meant asking themselves what they would do for underserved young people in the area, for women, and for black and ethnic minorities through a game criticised for being known as patriarchal and 'so white'.
"If one part of our community is suppressed, we're all suppressed," said Arghandiwal. "Liberation and freedom can't truly happen if even the smallest section is not free."
GAME TIME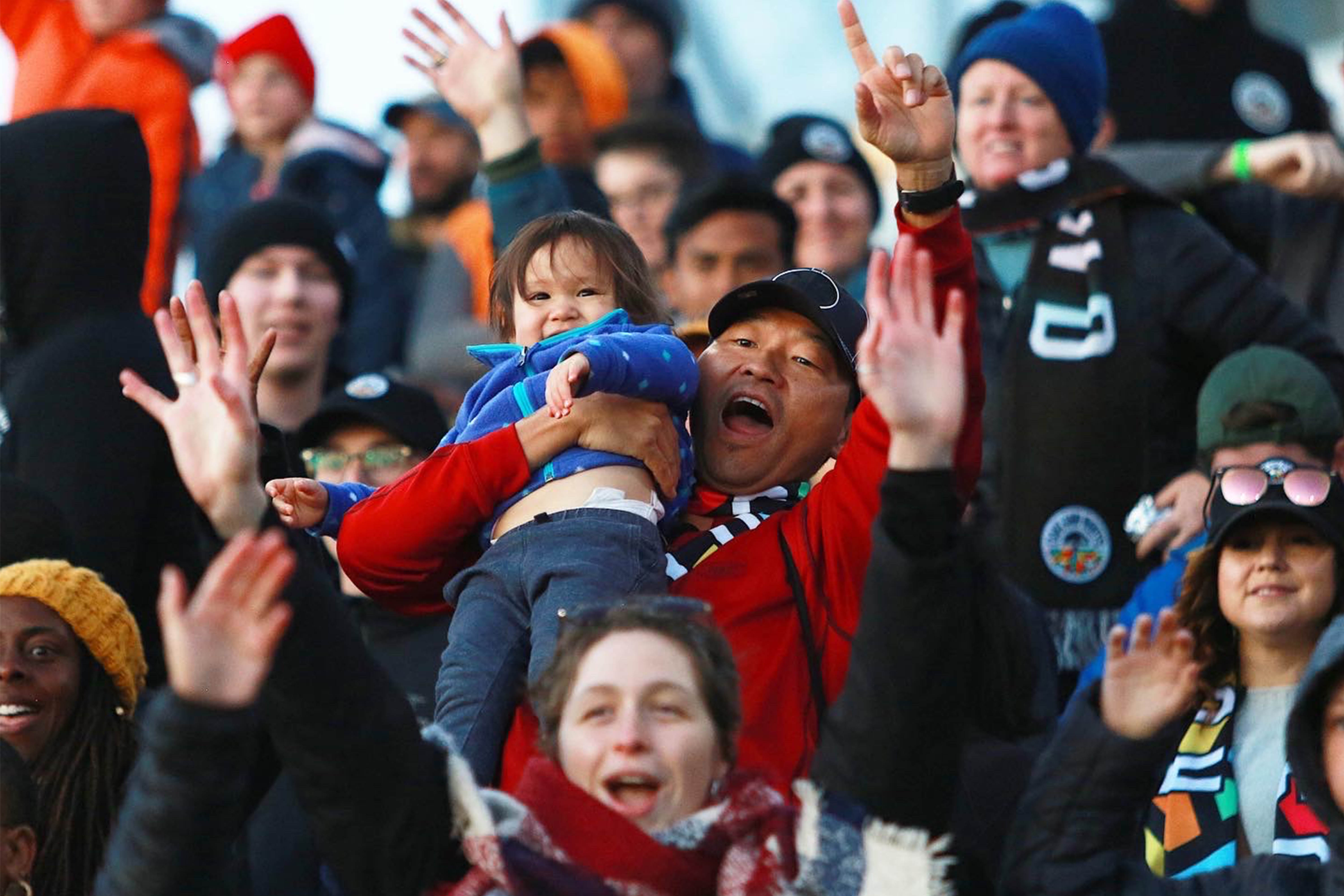 Fast forward to the club's first-ever game, Oakland Roots showed the mentality upon which they mean to go on: by sticking firmly to its roots.
As unique as it was having the club's first three signings in Devante Dubose, Julio Cervantes and Yohannes Harish, all being Oakland natives, so too was its decision to grapple with the violent history regarding its subjugation of Native American people.
In front of 4,500 people, a woman from the Ohlone tribe came to bless the land before a ball was ever kicked.
"We did it because this tribe calls this land home. We're just playing on it," said Arghandiwal.
The club also created the 'All Access' programme, where they "bussed in" at times over 400 local young people to games, fed them healthy meals, and then got them home again safely.
Some of those young people were from local football-based community organisations already associated with Common Goal in the form of Street Soccer USA and Soccer Without Borders, which help provide access to the sport in urban landscapes and integrate refugees into US society through football as an education platform, respectfully.
Harish, himself a refugee immigrating originally from Eritrea, was a former Soccer Without Borders participant.
"You can't expect a young Black kid to be an advocate of the sport if he does not have access," said the co-founder.
"We provide that because we want them to go home and tell their mum, dad, cousin, whoever: 'I had an incredible experience.'"
MEASURING SUCCESS
Through its unique storytelling and merchandise, Oakland Roots have tried to separate itself from being pigeonholed as just a football club, or sports team for that matter.
Without picking up a single league victory in its first season, some could argue this larger-than-life Oakland identity has come at the cost of results and success.
However, that depends on how one measures success.
Of course Oakland Roots want to win, as any football team does, affirms Arghandiwal, but the club won't be defined by it.
"Our belief is that the new billionaire isn't someone that has that capital but someone or an organisation that can positively affect a billion lives," he said. And the same goes for winners being judged solely by results.
Instead of three points, a good example of what Arghandiwal is proud to champion came during a home game this season.
Whereby upon each goal kick of the visiting team, a small section of the home crowd were blurting out vulgar and discriminatory messages.
After an official warning, the next chant that followed was met by the objection of fellow home fans, who stood up, letting their peers know this is not tolerated in their home.
"There was that sense of accountability we've tried so hard to instil," said Arghandiwal proudly.
THE FUTURE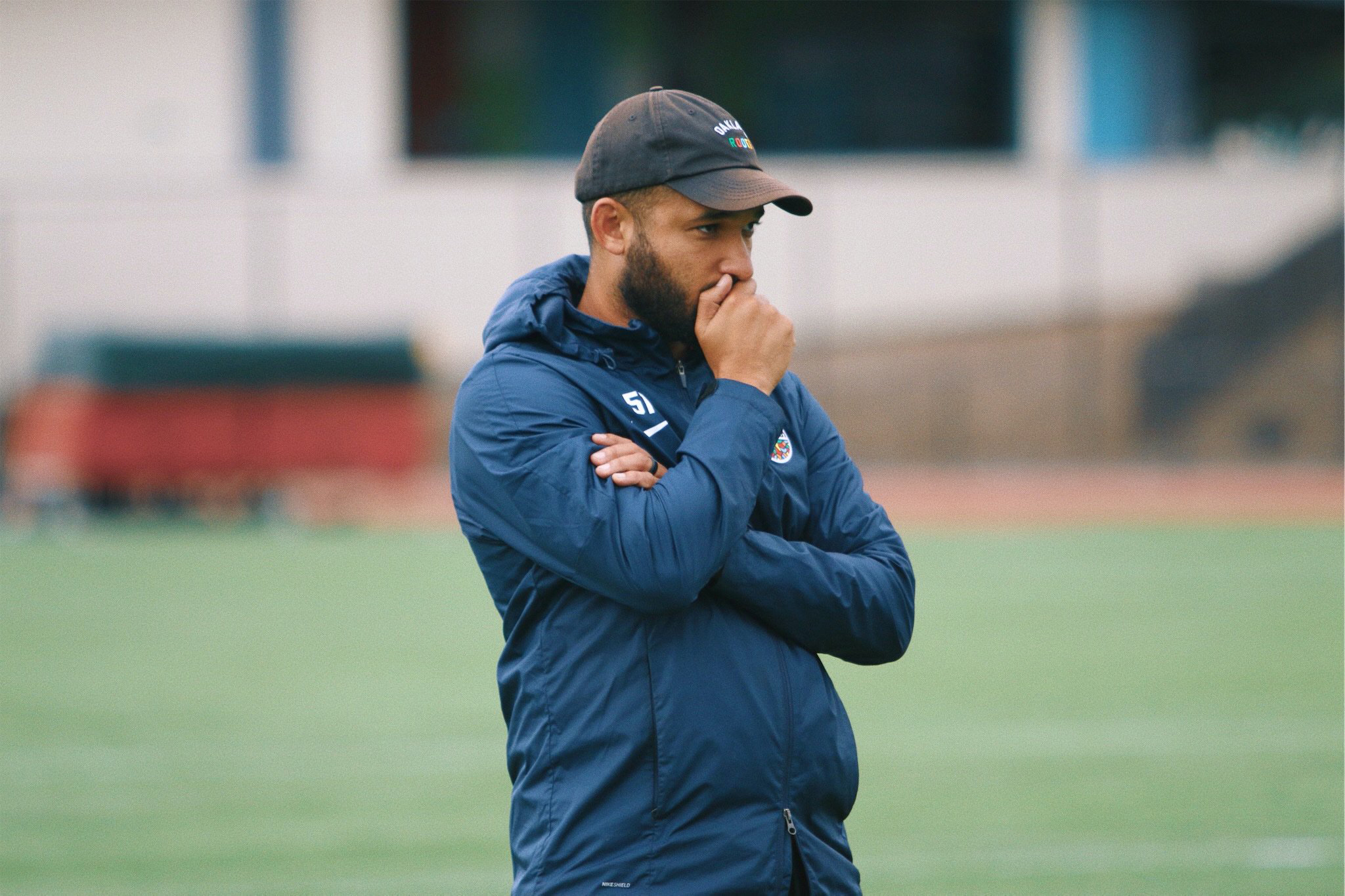 Instead, success must be seen through the 'Oakland first always' lens.
Having difficult conversations are not hurdles to be overcome to the detriment of progress. They are part of the same fabric.
Best seen through the club's insistence on promoting homegrown talent, and its response to the two global issues currently facing the world: COVID-19 and ongoing racial discrimination.
Project 510, in tribute to Oakland's area code, currently acts as the reserve team and an attempt to tap into that huge pool of talent in the Bay Area aforementioned.
Through which, it has created partnerships with over 30 local clubs to provide avenues to playing professionally, with Ariel Mbumba, a 17-year-old first team player, a testament to its early rewards.
Likewise, to overcome the pay-to-play model, the club has organised multiple open trials. That's how Josiah Romero was spotted, who's been going back and forth between first team and Project 510.
Arghandiwal believes one day we could potentially see a US national team predominantly made of players from the Bay Area.
That same Oakland lens was the one in which the organisation approached both COVID-19 and support of Black Lives Matter. Though the tone in which the club communicated about both issues seemed not too distant from its usual ones – through local, diverse storytelling.
For COVID-19, the club lent its platform as a mouthpiece for relief efforts, from food deliveries to the distribution of their own masks.
The same masks they would later give to playing and backroom staff, who they supported in attending Black Lives Matter protests throughout the Bay Area.
The weekly discussions via video call used throughout lockdown, giving voice from players to the front office about how they've been affected by the virus, were adapted specifically to address the never-ending topic of racism.
"We have Black players, we have a Black head coach, one of the very few in the world, who used that platform for honest and emotional dialogue" said Arghandiwal.
"Hearing our Black players having discussions with their white colleagues about the prejudice they face and how that manifests internally, or listening to Black mothers on our team talk about living every day with fear for their children, was hugely moving for us".
The Roots' white team members have also been working internally on their specific role in confronting white privilege - not only during times of national attention but day to day - via events and discussion groups.
As a group they made a joint decision on how best to use their social media channels: to educate, provide reading material, contribute financial resources, and keep telling black stories.
Arghandiwal himself is somewhat sceptical of what we've seen on social media in the last couple weeks, where Black Lives Matter posting feels more like a PR stunt, ultimately done because it looks bad not to.
In a city historically accustomed to racial dissonance, whether its supporting local businesses impacted by the protests or telling Black stories, Oakland Roots wishes to be at the forefront of making a tangible difference to the people they represent.
COMMON GOAL
All of which leads us to Common Goal and how the movement fits into the club's goals and vision for the future?
"Common Goal holds us accountable to our own idea of allowing for our actions to speak louder than words," said Arghandiwal.
"The alignment in mission is tremendous. Joining Common Goal has enabled us to stamp a message of impact and purpose at the forefront of everything we do."
By positioning themselves alongside Common Goal, the club feels better equipped to contribute towards sustainable, long-term positive social impact.
Exactly where its 1% will be directed, whether towards fighting racism, gender inequality, unemployment, or social exclusion, is to be decided after consultation with the team's employees, players and community..
Though one thing is for certain, they'll be sure to put Oakland first, always.