"Football is a game for the people. We must protect that."
Associação CAIS: From Football for Good to the Champions League final
For Lisbon football for good organisation Associação CAIS, this weekend's Champions League final is another stark reminder that two worlds of football exist.
With Bayern Munich and Paris Saint-Germain preparing to face off at the Estadio da Luz for club football's top prize, the football-based community organisation is busy trying to resurrect achieving its own goal – tackling poverty, homelessness, unemployment, and social exclusion.
While one game will be played behind closed doors with the eyes of the world watching, the other – which intends to open doors towards a brighter future – is left in limbo whether it can return to the pitch at all.
As the professional industry and grassroots football continue to come to terms with the enduring impact of the coronavirus pandemic, coordinator of CAIS' Futebol de Rua [street football] programme, Gonçalo Santos, believes the virus has provided a wake-up call as to where the game's priorities should really lie.
"Futebol de Rua is intended for young people facing situations of poverty and social exclusion, for those who mostly come from social housing and orphanages and have access to little or no resources," said Santos.
"This was supposed to be our biggest year, we were expecting huge developments in terms of increased number of projects and participants and then suddenly our whole world was shut down: we couldn't deliver events, workshops, or any training sessions for the kids.
"It's created a sense of isolation for them where we still don't have the full perspective in terms of its impact on well-being and mental health."
In 2004, Futebol de Rua was formed in anticipation of harnessing the football fever of another elite European competition that was about to grip the nation – Euro 2004.
Since then, CAIS has created a nationwide network comprising 120 plus partner organisations, that provide a platform for vulnerable young people to play football and receive support and opportunities to become active, independent citizens.
Last year, the organisation delivered more than 1,000 training sessions to roughly 1,500 young people.
Due to years of widening inequalities caused by the economic crisis, Portugal has one of the most unequal income distributions in Europe and poverty is high.
Among a section of its young people, it has led to feelings of mistrust and disenfranchisement towards traditional pathways of personal and professional development.
They don't see the educational system as a route to better conditions, instead they see it as a path to mediocre or temporary job opportunities, or flat out rejection, simply due to what their background is.
"These are chaotic environments typically with histories of violence and alcohol abuse, with a systemic lack of educational or vocational opportunities," said Santos.
"That's when you get young people either dealing or taking drugs, taking part in robberies and it just escalates.
"It opens up a space to make bad choices in life."
As a form of non-formal education, football has proved successful in empowering Portugal's young people to gain control of their lives.
In normal circumstances, up and down the country weekly training sessions are followed up by boot camp workshops for employability pathways.
More so, football is a safe space where they can play as they are, as oppose to who people think they are, irrelevant of skin colour, gender, or post code.
During the pandemic, access to the support network created for each young person by CAIS including psychologists, social workers, and volunteer mentors remained, however, it was the ability to play football that was lost and now they're anxious to start playing again.
"Over the last few months for the most part football had been missing from Portuguese life, which is insane because the country lives and breathes football," said Santos.
"We tried to recreate our work online, offering webinars, seminars, and so on but what we found out is that it's very difficult to engage kids if it's not something active.
"So suddenly, we're trying to promote personal development through a computer and that doesn't really work. It didn't work before – that's why we started playing football.
"But because we use public spaces and we're not a top sports league, we don't get answers as to if we can play. At the end of the day we're not the priority, in fact, we're last in line.
"It took us a long time to explain [to the authorities] that, maybe just maybe, the impact of our work and the care we have for young people is greater than professional or semi-professional sports."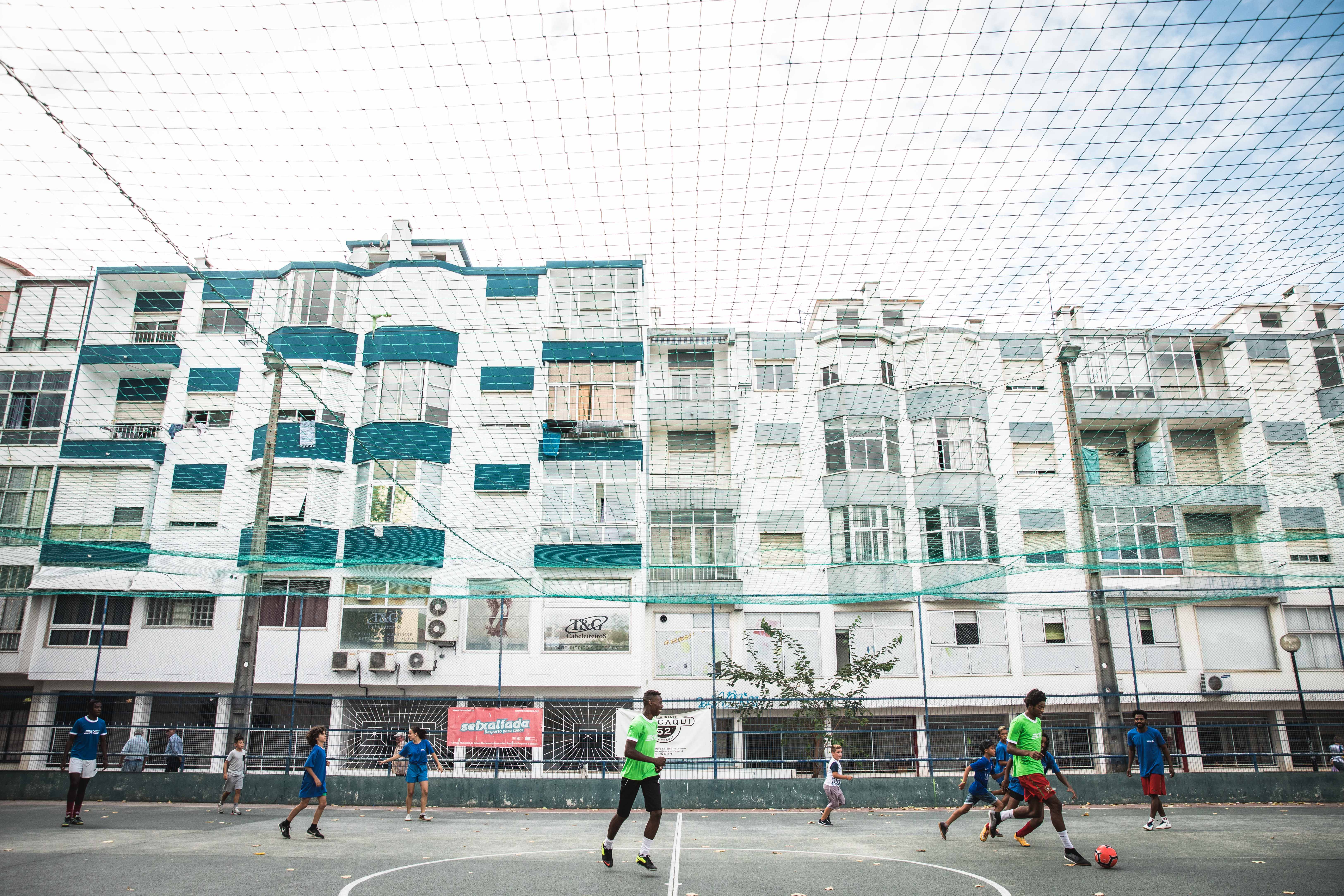 Rather, what happened was, attempts to regulate playing in public spaces, in accordance with social distancing regulations, only made it more dangerous and instead young people flocked to the parks to play the old-school way: using jumpers for goal posts, playing by the dozens.
"The idea that youngsters, from underprivileged backgrounds and who don't live in the best accommodation, are going to stay at home is nonsense," said Santos.
The worry for him is that the effects of COVID-19 might exacerbate a more long-term issue: ignoring the lifeblood of the game.
Through which, Santos feels football won't fulfill its full potential in changing lives, and worse yet, it could one day kill the game all together.
As first time beneficiaries of Common Goal funding as of last year, Santos is aware of the positive impact a mutually beneficial relationship between the professional industry and grassroots can have.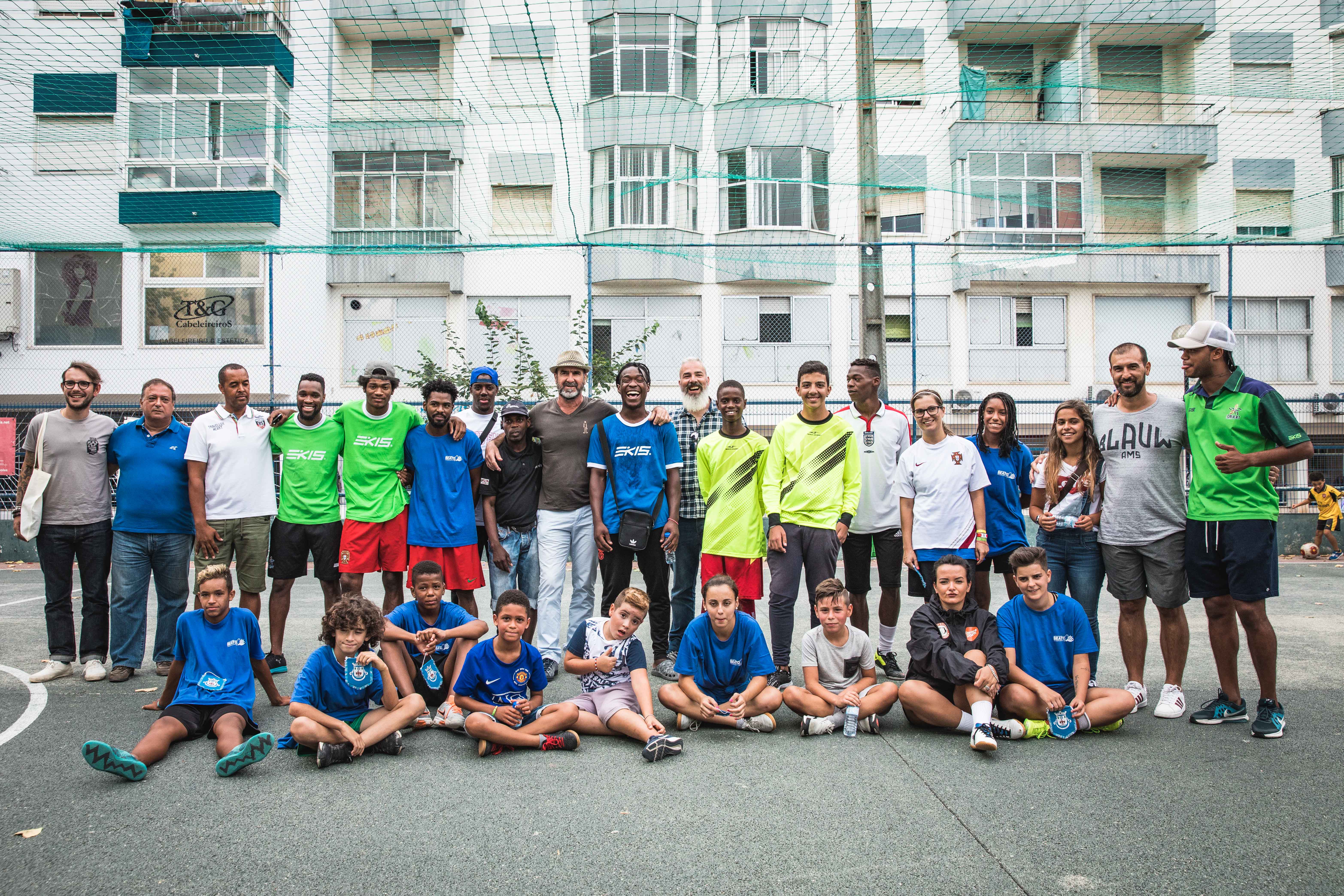 And now more than ever, he feels, the game should be giving back.
"For so long these people have been treated as invisible in their daily lives that they start believing it themselves," said Santos.
"A concept like Common Goal, which is a bridge to unite these two worlds, is absolutely necessary."
"I'm sure that players would want to give 1%. It's nothing for them. But within the football industry bubble they live in, surrounded by agents for example, they can't make decisions anymore. So, they need support as well."
"Let's not forget that many these players, playing for the big clubs in the Champions League, are 0.1% of the young people that come from same communities as the young people we work with, but sports-wise were good enough."
"What better way to prove that our participants are not invisible than through the players – the very people they support week in, week out, without asking anything in return."
"What makes football so beautiful is that it's a game for the people. It's for everybody. We must protect that, otherwise it becomes an elite sport only for the few."